A complex, intense recovery effort is unfolding across eastern Hamilton County and Northwest Georgia as the scope of the loss becomes clear after violent storms raked the region Sunday night and Monday morning.
"There's been loss of life, there's been significant loss of property," Tennessee Gov. Bill Lee said Monday. "And there are teams on the ground right now beginning that process of evaluating all of the damage and all of what needs to be done to support those down in that community and in those communities that are suffering this morning."
At least two people died in Hamilton, including one man who was killed by a tree that fell on him as he slept, and at least seven people lost their lives in Murray County, Georgia. The National Weather Service in Morristown, Tennessee, said Monday afternoon that a storm survey has found EF-3 damage with winds estimated around 145 mph.
Photo Gallery
Bearden vs. Mount Ida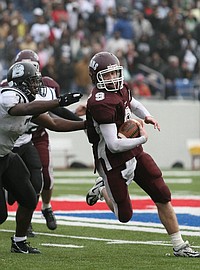 During a Monday afternoon news conference, Chattanooga Mayor Andy Berke said the path of the wreckage in Hamilton County was about a half-mile wide and four miles long.
"If you can think about what that is like to see four miles of relatively consistent damage - I saw houses that were destroyed, places where roofs had shingles knocked off of them, places where outside pools were turned over - everything you could see, I saw from the sky," Berke said. "It was devastating.
"The human toll of this is extremely difficult."
(READ MORE: Powerful overnight storms kill 7 in Murray County, Georgia; at least 23 people injured)
National Weather Service meteorologist Anthony Cavallucci said one tornado estimated at nine miles long and 1,500 yards wide ripped through Hamilton and Bradley counties after traveling from at least Louisiana, but the tornado in Polk County, Tennessee, potentially was a separate storm.
The destructive storms rolled from Mississippi and Alabama to Tennessee and Georgia, bringing more turmoil and misery to everyday lives already disrupted by a global pandemic. The devastation also hit just six weeks after tornadoes devastated Middle Tennessee, killing 25 people across Putnam, Davidson and Benton counties.
Monday's first confirmed death in Hamilton County was a man crushed in his sleep in his Wilcox Boulevard home by a falling tree.
Raffell Jenkins, 29, died in bed next to his fiancee with three kids in the next room. Jenkins was crushed by a tree that took out the corner bedroom. His fiancee was missed by the tree and managed to crawl out from under ceiling debris with minor injuries, according to his aunt, Flossie Parrish.
Parrish said it took nearly two hours for first responders to get there and that Jenkins' body lay under the tree for six hours before a landlord called for a contractor to cut the tree.
"He was just laying in bed next to her and he might have made it if response was faster," Parrish said. "He was in there with her and all those kids. It breaks my heart. This tornado just came through and tore everything up."
Video from TVA helicopter crew showing the path of devastation from an overnight tornado in East Hamilton County. The video shows the damage to high-voltage transmission towers along with nearby residential structures. #TNWX #ThankALineman #ThankALineworker pic.twitter.com/G4XwiNSmt0

— Tennessee Valley Authority (@TVAnews) April 13, 2020
At 6 a.m. Monday, 500 first responders were conducting a "grid search" of the hardest-hit areas.
"We're still in the rescue mode and that's pretty much going through the area which was affected, going door to door to make sure that we got everyone accounted for," Hamilton County Emergency Management Communications Director Amy Maxwell said. "Obviously, there's significant damage in East Brainerd and East Ridge, but the total destruction is in East Ridge."
Twenty-one patients have been treated at three Erlanger emergency departments since the overnight storms, according to a news release from the hospital Monday morning. Many people suffered broken bones and laceration injuries from collapsed buildings and fallen trees, the release states.
After the Sunday night storms hit, about 60,000 EPB customers lost power, or nearly one-third of all Chattanooga households and businesses served by the city-owned utility, with major outages in East Brainerd and Ooltewah. The outages were expected to take days to address, even as workers across the region were expected to work at home to slow the spread of the COVID-19 virus.
"We are doing everything we can to get power back on to our customers as quickly as possible," said EPB spokesman J. Ed. Marston. "Some people will have power restored today [Monday], some will have it back on in the next few days, and we're hoping to have complete restoration in the next seven to 10 days."
North Georgia Electric Membership Co-op officials said more than 20,000 of its customers lost power in Northwest Georgia.
"It sounded like a train went through the house and I had to ask my mom if there were trains nearby," Spencer Reinke, 24, said of the storm that hit his mother's house off Shallowford Road in Chattanooga, where he is visiting from Indiana.
(READ MORE: 'Don't come out here. Let us get our work done first': Chattanooga Mayor urges public to stay home and let first responders do their work)
Reinke was one of many people surveying damage to homes and businesses on Shallowford Road and throughout the Hamilton Place area in the early hours of Monday morning after storms shook the area. Just after 1 a.m., scores of first responders lined a half-mile stretch of the road, tending to those whose homes and businesses were shredded by the 110-120 mph winds. Power poles along the road were pushed into odd angles or were snapped in half.
The path of Sunday night's storm, according to the city of Chattanooga's data website:
Chattanooga fire Chief Philip Hyman said Monday he believes it'll be about 72 hours before officials know the extent of the damage.
With the debris field's size and the amount of work that needs to be done by public works and getting power lines back up, "we're looking at the number of weeks before we get back to normal," Hyman said.
Even efforts to respond to the storms went awry, as a family reunification center set up at Grace Baptist Church suffered storm damage and became "a near total loss," according to Maxwell, and the shelter was moved to the nearby YMCA.
Around 50 residents of The Lantern at Morning Pointe, an Alzheimer's living facility on Shallowford Road, were moved to a nearby hotel, Maxwell said.
She added that Hamilton County dispatch took more than 1,300 911 calls about the storm, 500 of which were related to collapses involving trees, power lines, buildings and vehicles.
At the YMCA on Shallowford Road, employees were pulling together supplies, CEO Janet Dunn said Monday.
"We'll probably end up mostly helping first responders, but we don't have power so it's a little challenging," she said.
Food was on its way at midday, the Red Cross was setting up, the Salvation Army had brought blankets and employees from the nearby Publix were stopping in to see how they could help.
Laura Yeager stood in her front yard on Ashford Drive on Monday morning, making phone calls and trying to find a hotel where she and her family could stay while they waited for power to be restored and to learn what repairs their home will need after trees fell on it.
(READ MORE: Gov. Lee tells Southeast Tennesseans 'we are with you' after deadly storm damage, extends COVID-19 'stay at home' order)
"The storm came across the top of the house, and the house was shaking," she said. The storm cut a path across Ashwood and nearby neighborhoods along Shallowford Road.
"Our dogsitter lives in Drake Forest, and her house is destroyed," Yeager said.
Jasmine Thomas was in her room on the second floor of her house late Sunday night when the lights started flickering. By the time the power went out and she heard the telltale locomotive sound, a tree had already fallen into the house.
"We ran downstairs, but it was already hit," she said.
Local responses
"Our area was just dealt a terrible blow, with many businesses and individuals already struggling to deal with the effects of COVID-19, we now have the added challenge of rebuilding after devastating tornadoes. In the face of adversity, we always come together to help our neighbors, no one in this community is alone in their struggle. My staff and I stand ready, at every step of the way, to help our community get back on its feet."- Congressman Chuck Fleischmann (TN-03)
Half a dozen volunteers were already picking through what's left of Cornerstone Apostolic Church off Igou Gap Monday morning. They were looking for some of the church musicians' favorite guitars. They had found two of them - but not a third.
Pastor Raymond Slone said his congregation, about 100 strong, is OK. Some homes aren't, but the people are. He's led the church for 11 years, and it moved into its new location in 2017.
He went out to check on the devastation around 12:30 a.m., as soon as the storm had passed.
"The church is fine," Sloane said. "This is just a building. Once we get through this, we are going to rebuild. We are going to keep going."
(READ MORE: 'The worst we've ever seen': East Brainerd Elementary, one of Hamilton County's top school facilities, victim to severe storm damage)
In an effort to mitigate the traffic to impacted areas, Chattanooga police Chief David Roddy said that, starting at 8 p.m. Monday and until 8 a.m. Tuesday, the department would be implementing an "access enforcement program," increasing patrols in hard-hit areas to ensure no unnecessary people or would-be looters are around.
"Give us a day or so," he said. "Let us get in and do what we're doing now. Let's get to the next stage of this and then we can figure out how volunteers, how Chattanooga can be what Chattanooga always is."
In looking at the path of damage, he said, "it's pretty obvious what businesses were damaged." So if people are coming into the community "for other reasons" they can expect to be stopped by an officer, he warned.
The storms caused significant damage to Morning Pointe of Chattanooga and the The Lantern at Morning Pointe Alzheimer's Center of Excellence Chattanooga, both on Shallowford Road. The two facilities are temporarily uninhabitable.
"Upon realization of the tornado's impact, our priority was the evacuation of residents. Management quickly assessed the damage to our communities and moved residents to two local hotels," said Greg A. Vital, president of Morning Pointe Senior Living.
Morning Pointe officials and staff worked throughout the night to identify all residents, assess medical conditions and facilitate an evacuation of both buildings. No deaths or major injuries were reported, though some residents were taken to a local hospital for evaluation.
In Marion County, Emergency Management Director Steve Lamb said a woman was swept away by flood water in an engorged stream in Kimball as a vehicle was being driven across a flooded bridge.
The man driving the vehicle was rescued after the vehicle went into the water about 10 p.m. CDT Sunday but the woman got out of the vehicle into the floodwater. Her body was recovered later by searchers, Lamb said.
"It's tragic," he said.
Staff writers Rosana Hughes, Sarah Grace Taylor, Dave Flessner, Ben Benton, Wyatt Massey and Meghan Mangrum contributed to this story.
Contact Mary Fortune at mfortune@timesfreepress.com or 423-757-6653. Follow her on Twitter @maryfortune.