Homeowners and their friends and family, some wearing face masks - a reminder that the COVID-19 pandemic is still brewing - are rallying together to continue cleanup efforts in tornado-ravaged homes across the Chattanooga region's affected neighborhoods.
Violent storms and at least one EF-3 tornado killed at least 10 people in Southeast Tennessee and North Georgia Sunday night into Monday morning.
In one East Brainerd neighborhood, Brad Jones stood looking at his house, which had been picked up by the tornado and set back down about 75 feet into what used to be his back yard. Family and friends were helping pack up what could be saved.
"We've seen houses damaged horribly and flattened," he said. "This was our first flying house."
Jones, his daughter, Anna, and their dog, Chloe, were hiding in a bathroom under the stairs when the tornado hit. The whole thing lasted about a minute, he guessed, and they couldn't tell when the house became airborne or when it landed.
"We could only tell that it was rocking back and forth, somewhat like I would expect an earthquake to be," he said.
When the house started rocking, the dog bolted, Jones said.
"Anna screamed after her, but she was gone and had no intent on returning," Jones said. "So when we came out of the house - of course, it was midnight and raining - Anna said, 'I think Chloe is probably dead.' And I said, 'Yeah, I'm afraid she probably is.'"
But by Monday night, they got a phone call that Chloe had been found. She was at Trinity Lutheran Church on Shallowford Road about a mile or so away.
Jones didn't know how or where the dog rode out the storm, but "she was fine," he said. "Kind of favoring a foot and has split claws, so I think she went through some hard stuff to get there."
Jones, who has lived in the same house for 20 years, is now staying with his son. He said he plans to rebuild on the same property.
"Thankfully, we've not found a witch out here," he said with a chuckle, referencing "The Wizard of Oz."
Photo Gallery
Chattanooga area house uprooted by tornado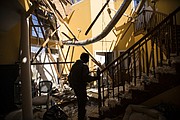 Not far down the road, Keith Shultz and his friends and family were loading some of his family's belongings into a moving truck.
He was already asleep Sunday when the power went out, he said.
"We had about 30 seconds from the power going out to get in the bathroom," he said.
He and his wife couldn't open their daughter's bedroom door due to the low pressure created by the high wind speeds.
"That was pretty scary," Shultz said. "We finally got her out right before the tornado hit, and we all jumped into the bathtub. And then as I was going into the bathtub, you could see the roof going away."
Shultz and his family have been staying with other family for now. He hopes to rebuild soon.
Elsewhere in the neighborhood, Susie and Joe Alexander were cleaning up debris from their yard and packing up what they could save.
"I didn't expect a tornado," she said.
So the two went to sleep that Sunday night, but by 11:30 p.m., "I could hear the big thundering and the shattering of the windows.
"I woke up my husband, and I said, 'Hello, come on! Get up! Get up!' He was in a deep sleep, and I didn't know what to do. Then all of a sudden, the sheet rock came and fell over my head. I told my God, I said, 'This is the shield you're giving me. It's OK. I'll take it, but if it's possible, save my life.'"
By then her husband had awakened.
"The minute he got up, the other part of the wall came over where he was sleeping but did not hit him at all," she said.
The two then hid in the corner of their bedroom until the tornado passed. Neither of them were injured. Their house was destroyed, but they were OK, and that was all that mattered, Susie Alexander said.
"We are happy," she said. "The unity - I see the unity, and the helping mentality. Everybody's helping each other."
In another part of the neighborhood, Bill and Barbara Foster were thankful to be alive.
They had been in bed Sunday night watching TV when they got a call from their son warning them of potential tornado activity nearby. The two then went downstairs to shelter in a closet, and within moments, the storm tore through their house, ripping the roof off. The master bedroom was engulfed in debris.
"It was the grace of God - that's the only explanation," Barbara Foster said.
When they emerged from their house, "It was like walking out into a war zone," Bill Foster said. "You see pictures of tornadoes happening other places, and your heart goes out to those people, but you really have no idea what it's like until it happens to you."
With help from their family and friends, the Fosters have started gathering what remains of their life at the home they bought nearly a decade ago.
As Barbara Foster stood in her garage, she looked up to where the extra storage space used to be. Scattered at her feet were a few red and green ornaments.
"Our Christmas stuff used to be up there, but that's pretty much all gone now."
Their cars, which Bill Foster thoroughly detailed a week before, sat demolished in the yard. And next to that, the mattress from their daughter's bed.
"We lost so much, but there are some things that we should've lost we still have," Bill Foster said. "My wife's wedding ring was sitting on the counter in the master bedroom when the storm hit. I don't know how it was still there."
Photographer Troy Stolt contributed to this story.
Contact Rosana Hughes at rhughes@timesfreepress.com or 423-757-6327 with tips or story ideas. Follow her on Twitter @Hughes Rosana.