Is "Tornado Alley" shifting east?
Experts say Easter Sunday's tornado outbreak was a textbook example of weather trends showing rising tornado numbers and severity in the mid-South and Southeast, which is increasingly becoming a tornado hotbed.
National Weather Service records show more than 100 tornadoes spun up across the southern United States on Easter Sunday and Monday as a storm front raged through. Those storms left dozens dead and widespread destruction in Tennessee, Georgia, Alabama, Mississippi, Louisiana, North Carolina, South Carolina, Texas, Maryland and Florida.
For the Chattanooga region, the ingredients were all there for a disaster.
"This event we just saw, if you were to look up the definition in the dictionary of 'tornado vulnerability,' you would have this event right next to it," said Victor Gensini, an assistant professor of meteorology at Northern Illinois University and a storm chaser. "This was a classic event that would get you fatalities. It's in the right location, very vulnerable, it's overnight, and you had storms that were embedded in what we call line segments, which make tornadoes very difficult to detect and see, especially at night."
Gensini and Harold Brooks, senior research scientist for the National Weather Service's National Severe Storms Laboratory in Norman, Oklahoma, worked together on a study on the trend published in October 2018 that looked at a decline in tornadoes in the Great Plains - often called "Tornado Alley" - while tornadoes in Southern states appeared to be on the rise in what some refer to as "Dixie Alley."
COMING MONDAY
There's nothing more terrifying than the whirling, roaring blackness of a tornado at night and almost half of Tennessee's tornadoes come calling after the sun goes down. Tennessee has the highest proportion of nocturnal tornadoes of any state in the U.S. The Times Free Press interviewed experts on why that is a recipe for disaster.
Their article, published by nature.com, analyzes 1979-2017 tornado data.
Gensini, Brooks and fellow scientist-storm chasers began developing a hunch some time ago that something about tornadoes was changing and should be studied.
"When we started looking at the data from the last 40 years or so we began to notice that there's been some trends in tornado activity, and that is, we're seeing fewer tornadoes in the Great Plains - Texas, Oklahoma, Kansas, etc. - and an increase in places like Tennessee, Mississippi, Alabama and other portions of the mid-South," Gensini said.
"The increases are not what I'd consider dramatic increases, but there are certainly increases that are statistically significant and important when you look at long-term trends of tornado climatology and tornado history," he said.
"But let's be clear; the [Great] Plains still see the most tornadoes."
Brooks said tornado increases in southern states are slightly outpacing the decline in western states.
"The largest increases in the mid-South are on the order of 10% over 40 years, with the decreases in the west a little smaller than that," Brooks said in an email.
It's easy to oversimplify these developments, Brooks warned, and it can be misleading to discuss the changes as related to "alleys," which are colloquial terms with no formal definitions. Gensini notes that, historically speaking, tornadoes have struck in every U.S. state at every time of the year, so there's no "safe" place.
Brooks said his and Gensini's work showed the change in environmental conditions, so their reported changes "are unlikely to be a result of changes in the way reports are collected," he said. "The decrease is, for the most part, confined to the southwest part of the plains, with the increase in the east larger in magnitude."
Exactly how a changing climate plays into these developments isn't known for certain.
"We don't really have a good physical model linking the change to global climate change," Brooks said. "That doesn't mean that's not the cause. It's just that there isn't a complete chain of solid links."
Brooks said "intriguing" work by Richard Seager, of Columbia University's Lamont-Doherty Earth Observatory, has shown observations of an eastward movement of the almost north-south line that divides the arid West from the moister East near the Panhandle border area of Kansas and Texas called the 100th meridian.
"It's moved east in recent decades and Seager's follow-up modeling study indicates that's consistent with global climate change," Brooks said. "That boundary moving east should reduce the number of thunderstorms, and, hence, tornadoes, in the western Plains."
Photo Gallery
Tornadoes rise in the Southeast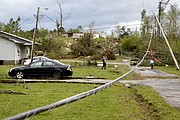 Differences in population density make the eastward shift a concern.
"The reason it's really, really important? As you go east of the Mississippi River the population becomes denser," Gensini said. That means more people are in the path and more of those people are vulnerable with larger percentages of them living in more vulnerable housing, such as mobile homes, he said.
"As we saw over the weekend, many of those fatalities were in mobile homes," Brooks said.
The Southeast's trend upward in deadly tornadoes is unlikely to change as long as vulnerable mobile homes aren't strengthened or tornado notifications aren't modified, Gensini said.
"This has already happened three or four times this year," Gensini said, noting the deadly March 2 tornado in Nashville and Cookeville, Tennessee, that killed at least 24. He also pointed to another outbreak in January this year that claimed seven lives in Alabama, Louisiana and Texas, all in mobile homes.
No one should let their guard down in southern states that are no strangers to tornadoes, Gensini said, noting other outbreaks in recent years like the history-making one that devastated the South on April 27, 2011. That storm system spawned at least 362 confirmed tornadoes that killed at least 324 people across the country, including nearly 80 in the tri-state region.
"I don't see any reason right now to believe that fatalities due to tornadoes in the mid-South are going to decrease any time soon until we have some sort of widespread answer," Gensini said, noting that across the South mobile homes have little regulation, few are anchored securely to the ground and they provide no safe shelter from a tornado.
"The widespread answer is probably to get people out of these structures at the tornado watch stage," he said. "If they stay in their home, then we know that they're pretty likely to be injured or killed."
Contact Ben Benton at bbenton@timesfreepress.com or 423-757-6569. Follow him on Twitter @BenBenton or at www.facebook.com/benbenton1.