Around 150 people lined the Chief John Ross Bridge on Market Street on Sunday to protest what they said are attacks on their constitutional rights in the government's actions to stop the spread of the coronavirus.
The majority of the protesters did not wear masks and walked closely together. They held signs including "Freedom is Essential" and "We are citizens not subjects," or carried "Don't Tread on Me" flags. They voiced anger at the forced closure of businesses, churches and parks in response to COVID-19. They criticized the actions of politicians, including Chattanooga Mayor Andy Berke, Gov. Bill Lee and, for some, even President Donald Trump.
April Hutson, 44, said she was forced to close her business as the operator of Flawesome Salon. Because of backups in the system, many small business owners like herself are not getting unemployment insurance. Hutson said she works one-on-one with clients and would not be afraid of getting the virus if her business could reopen.
"We want to work," she said. "We don't want to depend on anybody."
Brandon Lewis, one of the rally organizers and a former Hamilton County election commissioner, said the government's response in trying to stop the spread of the coronavirus is too drastic. More than 10% of Chattanooga's workforce is unemployed because of the ongoing COVID-19 pandemic. People are losing livelihoods in a county with just over 100 confirmed cases, he said.
"It's like killing a fly with a shotgun," Lewis said. "It's overdoing it."
The Sunday gathering in Chattanooga mirrors similar rallies against government overreach across the state, and around the country, including in Maryland, Michigan, Minnesota and Utah.
However, the majority of Americans in urban, suburban and rural areas are unlikely to return to normal life even if government restrictions are lifted, according to a Gallup poll conducted this month. Once restrictions are removed and things begin to reopen, 71% of Americans said they would wait to see what happens with the spread of the virus before returning to normal activities, and 10% said they would wait indefinitely. However, the poll found Republicans were nearly three times as likely to say they would immediately return to normal activities than Democrats.
On Sunday, some Chattanooga protesters drove loops over the bridge in their vehicles, waving Trump 2020 flags and playing "We're Not Gonna Take It" by rock band Twisted Sister on repeat. The people attending the rally ranged in age from elementary school students to elderly people, and the vast majority of those gathered were white.
On the south side of the bridge, David Ruiz stood wearing a mask and holding a "Go Home" sign. The 31-year-old heard about the rally on Facebook that morning and decided to counter-protest.
"I was going to put 'Grandma lives matter' [on the sign]," he said.
Photo Gallery
Polar Bear Plunge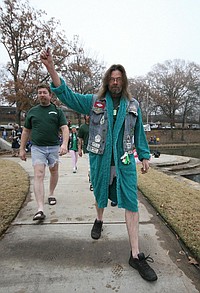 Gathering in defiance of the stay-at-home orders is only helping to spread the virus, Ruiz said. The U.S. Centers for Disease Control and Prevention released a phased-in approach to safely reopen the country and people should follow that, he said.
The outbreak in Hamilton County has grown from the first confirmed case on March 13 to 116 on Sunday, including at least 11 deaths in the county. Nationwide, more than 750,000 people have contracted the virus and more than 40,000 have died. COVID-19 spreads from person to person through droplets released when someone carrying the virus coughs or sneezes, for example. Attempts to contain the virus have been hurt by a lack of testing nationwide and the fact that people can carry and spread the virus without showing symptoms.
Chattanooga banned public gatherings of more than 10 people about a month ago. Yet, anger over local measures to stop the spread heightened in the past week after Berke ended all drive-in church services just days before Easter. This week, a local church filed a lawsuit against the city, alleging Berke violated its First Amendment rights to the free exercise of religion, to assemble and to free speech. The mayor lifted the ban two days after the lawsuit was filed.
Annabelle Huffman said she attended the protest partially because of Berke's initial closure of church services. The decision was made by one person, not an elected body, the 24-year-old said. People should still take measures to stop the spread, but they can make those decisions on their own, Huffman said.
"When you're inching toward a totalitarian state, you have to stand up for your First Amendment rights," she said.
Other protesters said they believed people should be allowed to make safety decisions for themselves. As Tennessee began experiencing cases of COVID-19 in March, the governor held a similar position, telling local leaders that Tennessee residents would do the right thing and not need strict orders. Yet, in a matter of days the governor went from asking residents to stay home to ordering them.
David Cardone said his sister lost her job as a bartender because of the shutdowns. She is immunocompromised, putting her among those most vulnerable to the virus. However, people who are at risk should isolate themselves rather than having the entire country shut down, Cardone said.
Contact Wyatt Massey at wmassey@timesfreepress.com or 423-757-6249. Follow him on Twitter @news4mass.