In the time of COVID-19, when health guidelines are changing almost daily, when the statistics of case counts and deaths keep rising and local government officials are disagreeing about when to reopen and who can reopen, Pastor Mitch McClure is trying to provide some piece of tradition.
The leader of Middle Valley Church of God stood at the back of the church on Sunday watching members file out of the sanctuary. Most wore masks and even gloves, both provided by the church.
"I think people need hope," McClure said. "I think we desperately need to find some normalcy."
Around 40 people sat in the pews of the Hixson church on Sunday. Families were together, but otherwise the several dozen people in attendance sat spread throughout the church. Greetings before and after the service were reserved mostly for hand waves. Even before praying, the service opened with safety reminders about the spread of the coronavirus.
(READ MORE: Typically a joyful month, Ramadan begins with somber tones for Chattanooga's Muslims)
Across the region, churches are returning to in-person services as restrictions related to COVID-19 begin to be lifted by local governments. Restaurants in the state may reopen at half capacity on Monday, and Gov. Bill Lee announced more restrictions will be loosened on May 1.
Yet, Chattanooga's social harmony is beginning to fracture after more than a month under local and state orders to stay at home. Last week, protestors lined the Chief John Ross Bridge to push for the reopening of the economy. The city is facing three lawsuits alleging it violated the First Amendment of the U.S. Constitution in barring drive-in church services.
McClure emphasized to his congregation and the Times Free Press that welcoming people to the sanctuary again is not a form of protest.
Photo Gallery
Back in the pews with loosening COVID-19 restrictions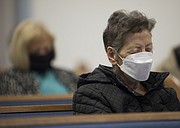 "This is not defiance," he said. "This is a pastor who wanted to get the people of God assembled in the house of God."
Sunday marked the second week members of Middle Valley Church of God were back in the sanctuary after weeks of parking lot services. McClure said he has been in contact with a constitutional lawyer to ensure he can hold services.
Article 1 Section 3 of the state constitution states "all men have a natural and indefeasible right to worship Almighty God according to the dictates of their own conscience" and that "no human authority can, in any case whatever, control or interfere with the rights of conscience."
In fact, under Gov. Bill Lee's stay-home order - which is lifting May 1 - worship services have always been considered essential activities, although subject to health guidelines such as social distancing. Churches under his jurisdiction that have switched to online or drive-in services have done so of their own accord.
(READ MORE: Chattanooga clergy join statewide call to Gov. Lee to expand coronavirus response)
Donna Millsaps said she has been forced to stay home a lot in the past month because of coronavirus, really only leaving it to get groceries and come to church. She attended the drive-in services but said there is something special about being able to gather again in the sanctuary.
"I enjoyed it outside," she said. "The music was loud. Even the cars driving by did not disturb the service. But I like being in here and seeing people, even if it's just a wave."
Millsaps said the added precautions taken by the church - the available masks and gloves, the social distancing - made her feel safe.
McClure said his messages have centered more on hope this season. Themes tied to the resurrection and the joy of Easter Sunday have continued in his sermons. On Sunday, he told the congregation in more than 40 years of ministry he has never experienced anything like the current moment. The pastor cannot visit the sick in hospitals or the lonely in nursing homes.
The limitations of COVID-19 are difficult, McClure said from the front of the church, but feeling anxious or uncertain does not mean someone is not Christian. People need to be willing to ask for help and that means turning to faith, he said.
Contact Wyatt Massey at wmassey@timesfree press.com or 423-757-6249. Follow him on Twitter @news4mass.