In early March, United Way of Greater Chattanooga employees gathered to discuss the burgeoning coronavirus. At the time, only one case had been confirmed in Hamilton County. Tennessee's shelter-in-place order was still weeks away.
But the team, whose job is to help pool support among local charitable organizations, decided to do a quick teleconference with a dozen or so of its closest nonprofit partners. It was envisioned as a quick check-in about their concerns regarding the coronavirus and its implications, says Abby Garrison, vice president of Venture Froward at United Way.
That call evolved into an in-person meeting - "Our last one for a long time," Garrison says. "But we didn't know it at the time."
That evening, more than 40 nonprofits showed up to discuss the ways they may be affected by potential shutdowns. A week later, United Way hosted a follow-up Zoom meeting. More than 100 people attended.
Photo Gallery
Baldwin & Shell Construction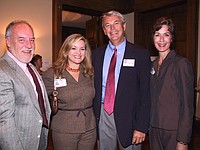 "They all just heard about it through the grapevine," Garrison says. "To me, it was just so interesting to see the convening power of United Way. We had to upgrade our [Zoom] account."
And it wasn't just nonprofit partners that participated. Representatives from businesses and government organizations did, too, helping brainstorm solutions to the growing needs in the community.
Over the coming weeks, as COVID-19 cases spread and businesses began shutting down, United Way continued to host these weekly sessions.
"At the peak, I think we had around 120 [participants]," Garrison says.
Through these conversations, United Way and its newly dubbed "COVID Task Force" identified four big needs amid the pandemic: food security, digital equity, elder care and Latino outreach.
But more than identifying needs, the task force was able to coordinate solutions. Here, nonprofit, business and government leaders share the innovative programs they launched to help fill the issues caused by this year's unprecedented events.
Food security
The need: Two-thirds of Hamilton County's 45,000 students rely on the school system for meals, so when schools shut down due to the pandemic in mid-March, hunger became a real concern for local students and families.
The solution:
"Thanks to the United Way's Community COVID-19 Task Force, we've been able to work with partner organizations to fill in the gaps in food resources for students and families.
"In addition to opening up food pickup sites at all of our elementary schools, Hamilton County Schools began bus meal delivery on March 23. Working with hundreds of volunteers over an eight-week period, over 300,000 meals were delivered by bus. Our community came together to make this possible - from dedicated volunteers packing meals and loading buses, to donated coolers by community members and a generous donation from BlueCare Tennessee, to moving services from Two Men and a Truck, to loaning a refrigeration trailer from Tri-Star Beverage. Our cafeteria staff also worked tirelessly each day preparing for the next meal delivery. Our community stepped up here as well, making sure our cafeteria workers had lunch delivered, thanks to Christ Church, Papa John's and Cicis Pizza.
"Since school closed on March 13, Hamilton County Schools has provided 1,011,802 meals for our students."
- Kate Skonberg, family and community engagement coordinator, Hamilton County Schools
Elder care
The need: Supporting senior citizens during shelter-in-place orders involved a unique set of challenges, Garrison says, explaining that seniors are generally more likely to be physically or digitally removed from valuable resources.
The solution:
"Back in March, the city of Chattanooga started getting the help of volunteers to make calls to senior citizens to ensure that our seniors had up-to-date information about the virus. Volunteers used an online platform to read through a script, record answers to questions and provide information about resources. ... Volunteers also had access to an 'at-risk constituent form,' where they were able to notify us if they felt that a senior citizen needed to be connected with a case manager. A couple hundred volunteers made thousands of calls to our older adult community in Chattanooga."
- Brooke Satterfield, project coordinator, Office of Mayor Andy Berke
Digital equity
The need: Digital connection has become critical in providing resources and education amid the pandemic.
"Effectively, our entire world had to become digitally savvy overnight," says Stephen Van Gorp, United Way's vice president of communications. But for low-income families and senior citizens, access to the internet wasn't always available at home.
The solution:
"As schools were forced to close in early March, [The Enterprise Center] was able to quickly coordinate with EPB in initially deploying 27 drive-up gig-backed 'Quick Connect' sites around the county. The locations for those sites were determined by using mapping tools developed in partnership with UTC's [interdisciplinary geospatial technology] lab and data from the school system, in order to identify the areas with the highest needs.
"Since then, the partnership has grown to build a network of more than 100 Wi-Fi hotspots in neighborhoods around the city and county, providing access at Chattanooga Housing Authority sites, schools, in parks, near churches and at other locations like coin laundries and restaurants frequented by residents and where social distance is possible. When the network is complete, we anticipate more than 8,000 households will be within a five-minute walk of free public Wi-Fi."
- Geoff Millener, senior program and operations officer, The Enterprise Center
Latinx outreach
The need: Hamilton County's Latinx population was hit hard by COVID-19, with data showing that half of all cases were among these communities. The issue for nonprofits and news organizations became how to connect with non-native English-speakers in order to provide information and access to resources and testing.
The solution:
"The Community Foundation, Cempa Community Health, LifeSpring Community Clinic, Alleo Health and Clinica Medicos have partnered with La Paz Chattanooga to provide testing in the Latinx community. Working with La Paz to promote testing events, select testing locations and assist with language and cultural support, the team has tested over 1,100 people at seven events in the last several weeks. The Chattanooga Area Food Bank provided 500 food boxes for the most recent testing events and plans to work with La Paz on future efforts to include a food distribution day at La Paz."
- Stacy Johnson, executive director, La Paz Chattanooga
READ MORE
* How Chattanooga-area nonprofits, businesses and government agencies worked together to address community needs amid the pandemic
* Grassroots Chattanooga mask makers step up for frontline workers, family members
* How do virtual fundraisers compare to the in-person events of years past?
* Philanthropy in times of crisis: How will the coronavirus affect giving?
* A glance at how the pandemic has impacted Chattanooga-area nonprofits dependent on volunteerism
* Chattanooga-area nonprofits share the pandemic's impact to their organizations and brainstorm potential solutions