The March 14 meeting that formed the new philanthropic organization We Over Me Chattanooga happened over lunch - and dinner.
"We sat there through two meals," says Lakweshia Ewing, laughing at the recollection of the brainstorming session that started at noon at Uncle Larry's in Ooltewah and ended after a second helping six hours later.
"We were still there at 6 and were hungry again," she says. "That's how we realized we had sat there all day."
The back-of-a-napkin ideas kicked around that day among the organization's three co-founders - Ewing, Chris Sands and Carmen Davis - focused on the emerging threat of the coronavirus and what the just-announced closure of Hamilton County Schools would do to food-insecure families whose children rely on a free cafeteria breakfast and lunch.
Photo Gallery
We Over Me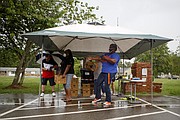 "In our hearts and minds, we were trying to figure out a solution for the kids," Ewing says. "We were thinking about the safety of the kids who might not have access to quality food."
Four and a half months, 30,000 meals and untold volunteer hours later, they have established We Over Me as a go-to source for coordinating services for people in need. To be sure, dozens of other long-established nonprofits, businesses and governmental agencies have stepped up their own efforts in the ongoing crisis, but with standard operating procedures upended by the pandemic, We Over Me has emerged as a nimble resource for getting things done.
As Lesley Scearce, president and CEO of United Way of Greater Chattanooga, explains: "In a sense, we've all had to throw out the instructions and the protocols and start anew because the things we've always relied on just weren't available."
With record unemployment heightening existing problems and social distancing changing the rules of response, "we realized the normal ways of doing things will not work here," Scearce says.
Ewing says doing nothing was never an option, even though she knew there were existing organizations that could fill the voids. She, Sands and Davis all have a heart for service, she says, and all felt compelled in that moment to step forward. She admits she's amazed by the progress they've made in a few short weeks.
"Before March 14, there was no We Over Me," she says. "No logo, no concept, no Facebook page. And now here we are."
FIRST STEPS
By the end of the founders' marathon planning session at Uncle Larry's, they had identified eight friends and business associates they believed could offer like-minded support and additional resources. Among them was Scearce, who arranged for the We Over Me founders to sit in on an early coronavirus strategy session between the United Way and Hamilton County Emergency Management. That group and others ultimately would form Chattanooga's coronavirus task force.
Ewing says they were hoping to use that meeting to hone a We Over Me strategy and outline a plan for the eight associates they were meeting later that day. But as word spread about their plans, so did the guest list as others reached out with offers of help.
"We [originally] had eight people coming," says Sands. "In less than 24 hours, it went to 50. We had to move the venue."
That expanded meeting would involve the YMCA, Hamilton County Schools and various Chattanooga and Hamilton County elected officials, among others.
Initially, the We Over Me founders had intended to focus on the needs of children as the coronavirus upended the school year, but with the overflowing interest from government and institutions, they realized they could widen the focus to child care, food insecurity, health initiatives and other community needs.
With the early days of the coronavirus crisis creating fear and panic, people were looking for ways to help, to make a difference, to do something useful.
"Everybody was trying to figure out what they could do," Ewing says. "That meeting proved how Chattanooga does things. We all found ourselves in the same space, making the same inquiry at the same time - 'Oh my God, what are we going to do?' We had all these different stakeholders, a cross-section of business and community, coming together."
Much of that eagerness to help was fueled by the many unknowns of the pandemic. "We really didn't know what we were in the midst of," says Sands. "It caught everyone off guard, not just in Chattanooga, but everyone in America."
But because of that fear and feeling of helplessness, "we were able to galvanize our efforts and resources with various people in the community," he says. "We put a plan together in 24 hours."
BUILDING BLOCKS
Rather than trying to build from the ground up, We Over Me has sought to piggyback on existing infrastructure. Every community has a church or a school or a library that nearby residents know they can look to for help, says Ewing.
"We wanted to create continuity with those places, not a one-off site in some location that the people don't know. We need to go where people already know that this is a place of hope, a place of service, a place that is known to the everyday person that lives in Soddy or Apison or East Lake. That has helped us - following the momentum, not reinventing the wheel."
Even as We Over Me geared up its coronavirus assistance, another crisis mustered emergency responders to action. The Easter Sunday tornadoes that ripped through parts of eastern Hamilton County temporarily reset triage to tornado relief. Scearce says Ewing was one of the first on the ground, using a contact list of elderly residents in the area who were already getting regular wellness checks by We Over Me volunteers.
Next was providing meals for the thousands who lost houses or were assisting in rebuilding and recovery efforts. Caterer Amanda Varnell, owner of Dish T'Pass, helped feed the masses. Partnering with We Over Me was a godsend at the time. The pandemic had cleared her catering calendar.
Using social media to spread the word, Varnell began taking donations to buy food. "I believe the initial funding came from United Way," she says, "but within 24 hours we had secured enough to know we could cook through the rest of the week, Tuesday through Friday. By Tuesday, I knew [based on increasing donations] that we could cook for 10 days."
Ultimately, through the efforts of 143 private donors, Rock Point Community Church, Ali Kay Studio, Niedlov's, Chicken-w-Bones and We Over Me, Varnell says Dish T'Pass provided 2,600 hot meals and 1,800 high-protein snack packs for tornado relief.
Ewing says that effort led to more partnerships with restaurant owners.
"[Varnell's] business wasn't the only one languishing because of the problems with food distribution amid COVID," she says, adding that finding ways to feed people created "a whole other movement" for We Over Me as restaurant owners provided food. Donations kept their businesses afloat while feeding those who might have otherwise gone hungry.
Likewise, a partnership with Launch Chattanooga, a business incubator, gave financial sustenance to emerging entrepreneurs. Ewing says chefs there are providing 2,000 hot meals to senior citizens in seven communities twice a week.
"There's a lot of people out there that want to give and have the means to give, but they aren't necessarily the hands and feet," says Varnell. "Then there's people willing to be the hands and feet, but they don't have the funding." Co-mingling such resources "maximizes the benefit for everybody," she says.
KEY PLAYERS
Ewing, Sands and Davis have been friends for several years, and each brings a unique skill set to the table. Collectively, they believe what may be the key to their We Over Me success is the strength of their connections.
Davis is employed by BlueCross BlueShield of Tennessee and is involved with the Community Foundation, United Way, Sankofa Fund for Civic Engagement and ArtsBuild, among other organizations.
Sands is assistant pastor at Olivet Baptist Church, motivational author and the CEO of Grind Smart, a youth leadership initiative.
Ewing, now working as a consultant, previously served in leadership roles with Hamilton County Schools, UnifiEd and United Way.
Their list of contacts is long and constructive.
"When we first came together and brought other organizations and community members to the table, I made the call to get [the Bessie Smith Cultural Center] as our first community meeting location and food drop-off spot," Davis explains.
"When we realized this was long-term, Chris made it possible to use Olivet's Jersey Pike location for storage and food box, PPE packet prep and distribution. Lakweshia was able to secure donations and locations for distribution through her connections at [Hamilton County Schools].
"These are a few of the examples. I help us think through logistics, oftentimes for distributions, and handle a lot of the social media. Lakweshia and Chris have the flexibility to be hands-on and respond when opportunities present themselves that We Over Me can use to benefit the community."
Also worth noting is their willingness to roll up their sleeves and do the work.
"There is no ego or red tape involved," says Davis. "We see the issue and tackle it."
Sands agrees. "I think that what the world needs is less talk and more action. I'm still mind-boggled and baffled just to see how many people we've been able to serve in the last four months. I believe we're closing in on 40,000 people."
GIVING BEGETS GIVING
At its core, We Over Me can count on 36 corporate partners, 170-plus volunteers, 34 individual donors, 14 nonprofit partners, nine media partners and 20-plus faith-based partners, "all working on COVID-19" provisions, Ewing says.
Sometimes help comes from unexpected places. In early July, a food distributor called to offer 1,920 boxes of fresh fruit and vegetables. We Over Me would need a refrigerated truck to haul the perishable produce and someone to pick it up in Atlanta.
Enter Kevin Wallace, pastor at Redemption to the Nations Church, who said his congregation would put up funds for the trucks, the diesel and the drivers.
Ewing says such successive windfalls are common. We Over Me will earmark money for their next project, only to have someone step up to underwrite the cost.
"It's like Richard Pryor in 'Brewster's Millions,'" she says, referencing a 1985 film in which attempts by Pryor's character to spend $1 million a day comically backfire, leaving him with more wealth. "We get thousands of dollars in donations to buy food to make up food boxes, but then here we had fresh produce we didn't have to buy, trucks we didn't have to rent and drivers we didn't have to pay. So we're always looking at 'How can we repurpose this?'"
The Community Foundation of Greater Chattanooga oversees donations to the We Over Me fund.
NEXT STEPS
Davis, Ewing and Sands say they have been too busy with urgent needs to determine a long-range strategy for We Over Me, but they're pleased with how things are going.
"The beauty of us is that we have remained fluid through it all," Davis says. "We started as a response to 'how are the babies going to eat?' and in this short period of time have been hands on the ground and a resource through the tornado and other needs that have presented themselves."
They still take part in the daily coronavirus task force calls to assess what needs We Over Me can meet.
"I don't want anybody to ever feel that Chattanooga is not a loving community," says Ewing. "Yes, there are tons of things that are wrong that could be better and more equitable. In a perfect world we wouldn't need all this benevolence. We wouldn't need it because it would be plentiful. But to say that Chattanooga has not shown up would be an undersell. There are churches, corporations and grassroots organizations all helping."
Scearce says she expects the pandemic will remake how many nonprofits accomplish their missions, including Chattanooga's 97-year-old United Way. The bottom line is that everybody is working together to solve the community's most difficult problems and pressing needs.
"Thank goodness for We Over Me and Lakweshia and Chris and Carmen," she says. "I think any time there's a deep need in the community and you have really trusted relationships and connections on the ground and in communities and neighborhoods and hard-to-reach places, I feel like that's the very best our community can be when we see a need and step up to meet it and do it tirelessly."
READ MORE
* How Chattanooga-area nonprofits, businesses and government agencies worked together to address community needs amid the pandemic
* Grassroots Chattanooga mask makers step up for frontline workers, family members
* How do virtual fundraisers compare to the in-person events of years past?
* Philanthropy in times of crisis: How will the coronavirus affect giving?
* A glance at how the pandemic has impacted Chattanooga-area nonprofits dependent on volunteerism
* Chattanooga-area nonprofits share the pandemic's impact to their organizations and brainstorm potential solutions