As the nation undergoes a reckoning on racial and cultural issues, it's not just Confederate monuments and Rebel school mascots that are coming under scrutiny. The use - or misuse - of American Indian symbols is also coming under fire, most notably with the demise of the Washington, D.C., football team name.
In Chattanooga's tri-state region in Tennessee, Georgia and Alabama, at least nine public high schools use nicknames related to Native Americans. Among them, four are the Warriors, three are the Indians, one school is the Chiefs and another is the Cherokees.
They all come with similar trappings - an Indian chief or brave or just simple letters for the school name - adorned with a full headdress or sometimes two or three feathers, or a rustic arrow or arrowhead.
One of the nine is a target of a name-change effort, the Lakeview-Fort Oglethorpe High School Warriors in Catoosa County, Georgia, although a petition only has nine signatures since it was created in June.
Members among the Cherokee's three federally recognized tribes - the Eastern Band of Cherokee Indians, the Cherokee Nation and the United Keetoowah Band of Cherokee Indians in Oklahoma - say the reasons the nicknames can be offensive have never changed and now is the time for discussion.
In Oklahoma, Cherokee Nation Principal Chief Chuck Hoskin Jr. applauded the NFL team's decision and broadened the call for change.
"The use of 'Redskins' as a team name is offensive, derogatory and wrong, as are many other names and depictions of Native Americans across sports," Hoskin said in a statement to the Times Free Press. "That specific term makes historical reference to settlers offering bounties that paid to bring in people 'of red skin.'
"In my view, while some schools with Native mascots may not appear as derogatory or offensive as others, when schools use Native mascots, it's too hard to control the cultural appropriateness of team jerseys, imagery promoted or local fan bases," Hoskin said. "All across the United States, schools and fans embrace stereotypes of American Indians - war bonnets, face paint, crying war chants and making tomahawk-chopping gestures - and mock Native culture as if we are vestiges of the past. This does not honor Cherokee traditions, nor do they honor our fellow tribes."
Hoskin called for communities and school districts "to have serious and thoughtful conversations about the use of American Indian names and imagery associated with their teams. Grassroots-level discussion is how change will occur on this subject, and I will always support such discussion."
Photo Gallery
Chattanooga area Native American-themed mascots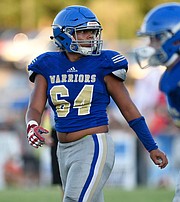 Near the Tennessee-North Carolina border, Eastern Band of Cherokee Indians Principal Chief Richie Sneed is somewhat more accepting when it comes to individual situations but likewise said the issue must become a conversation.
"When you pick a name for your team, you're looking to identify with something that's an icon of strength, of ferocity, of tenacity, something or someone not to be messed with," Sneed said. "There are issues that have to be identified individually. I think what's missing from the public discussion and public debate is reasonable, logical dialogue, a meaningful dialogue, on this."
Sneed pointed to his tribe's dialogue with the Atlanta Braves baseball team, under the leadership of president and CEO Derek Schiller.
"He came to me eight or 10 months ago and just said, 'Chief, I want to understand more about the Cherokee culture and I want to know the history. I want to be educated on this because we want to do everything in a way that is respectful and in keeping the high standards of both the Eastern Band of Cherokee Indians and Major League Baseball,'" Sneed said.
"There is a way to approach this that is not just this blanket statement that it's all bad, because it's not," Sneed said.
The mascots
The 85-year-old Warrior team name and images at Lakeview-Fort Oglethorpe High School in Catoosa County, Georgia, have been targeted by a petition on change.org.
"Rather than honoring Native peoples, these caricatures and stereotypes are harmful, perpetuate negative stereotypes of America's first peoples, and contribute to a disregard for the personhood of Native peoples," the petition states.
In a statement, Principal Chance Nix said the mascot dates to 1935.
"It was this class of [eight] graduates who chose the school colors, red and white, and the Warrior mascot as a symbol of perseverance, strength, wisdom, power, courage and determination," Nix said. "The Warrior mascot is respected and honored at LFO High School, and it is a symbol representing all of the positive character qualities we desire to emulate in both our faculty and students. As such, it is a privilege and honor to be called a Warrior! It's something our students are proud to be called and aspire to become."
Nix cited a Native American faculty member's opinion that the name doesn't need to be changed.
"We agree that the way LFO High School esteems and honors Native Americans and their culture is respectful and appropriate," Nix said. "LFO students and faculty would never approve of someone being disrespectful to Native Americans, their culture, or our school mascot. They are examples of courage, honor, duty, and strength."
School district leaders for Gordon Central High School Warriors in Georgia, Murray County High School Indians in Georgia, and the North Jackson High School Chiefs in Alabama did not respond to requests for comment.
Chattooga County Schools Superintendent Jared Hosmer in Georgia said Friday there had been no complaints or discussions on the Chattooga County High School Indians' team name and mascot.
McMinn County Director of Schools Lee Parkison said there were no complaints but he'd been investigating the matter in light of recent events. An "MC" inside an arrowhead and a chief head can be seen on some team wear and school logos along with the name. Parkison said he has been able to determine the name goes back to the early 1900s and could be even older.
Historically, "there's a lot of Cherokee blood in a lot of folks around here. McMinn High School was built on what was Cherokee-owned property," Parkison said.
Among the Sequatchie Valley's high schools in Tennessee, there are three Native American-themed team names. Two are Warriors and one is the Indians.
Marion County High School is the Warriors. Most logos consist of an "MC" design, and an Indian chief wearing a headdress adorns the school's entrance sign and other locations.
"We've got a rich heritage of Native Americans in the Sequatchie Valley," Marion County Director of Schools Mark Griffith said. "I have no issue with it whatsoever."
Griffith said the name hasn't been challenged in his 13 years as director, and he doesn't remember any challenges before that.
The Bledsoe County High School Warriors logo consists of an Indian wearing an ornate headdress or war bonnet, or sometimes an arrow with a "BC" in it, and the school system's director isn't sure where the name came from.
Bledsoe County Director of Schools James Ellis, a former Pikeville Elementary School principal who has been director since July 1, said he's unaware of any recent challenges or discussion about changing the Warriors name or logos, and he declined to express a personal opinion on the team name.
Pete Swafford, Sequatchie County's director of schools, said he was unaware of any challenge ever to the Sequatchie High School Indians and notes the school's and county's name is directly tied to Native Americans.
"We have Native American artifacts displayed in our school. In the past 20 years, we have emphasized we are Sequatchie, we are the only county in the state of Tennessee whose name is a Native American word," Swafford said, adding, "I am not an expert on Native American history and would not pretend to fully understand all of this.
"I would be open to discuss it, but that decision would not be mine to make," he said.
'Institutionalized racism'
A professor at the University of Tennessee in Knoxville says the reasons not to use Native American imagery and names outweigh arguments to keep them.
"It's important to realize the power of language. From the perspective of many Native Americans, language has been a tool of control and it's been something that's been used against them in many communities," said Derek Alderman, UT professor of geography and cultural geography researcher.
Alderman said Native American-themed names should be put in the context "of larger histories of institutionalized racism."
"You may have individual schools and school systems that don't consciously believe they are being racist or they don't consciously believe they are doing anything wrong, and they may be doing certain efforts to use that name in what they believe is a more progressive way and a less offensive way," Alderman said.
"The bottom line is those names that have existed a long time are part of a larger institutionalized system of racism," he said. "And we have to remember that that name of that school, or that image of Native American culture that that name and mascot conjures, is inseparable from the history of violence and exploitation and discrimination and dispossession that has often faced Native Americans."
Alderman said names and images are part of that larger historical pattern of discrimination.
"You can perceive or deal with the name at an individual or school-wide level but at some point there's got to be a larger discussion of how that name has historically been used, how those images and those caricatures and those stereotypes have been used over time and how they've been used against Native Americans, even if you feel like you're doing it right now in your own school," he said.
Contact Ben Benton at bbenton@timesfreepress.com or 423-757-6569. Follow him on Twitter @BenBenton or at www.facebook.com/benbenton1.