Plans to open a restaurant owned by celebrities from "The Walking Dead" in the historic Choo Choo building have revived after the pandemic put them on hold for much of 2020.
"COVID stopped us for six months," said David Valentine, vice president of operations for Nic & Norman's. "Now we've started up again."
He expects to open the restaurant next week, on a reservation-only basis at first, Valentine said. The restaurant is co-owned by "Walking Dead" actor Norman Reedus and director and special effects guru Greg Nicotero. Their restaurant in Senoia, Georgia, where much of the series is filmed, opened in 2016, and they settled on Chattanooga for their second location.
They inked the deal last fall to open the restaurant and fill in the last major vacant space in the Choo Choo complex, with plans to open in spring of 2020. That wasn't how it went.
Photo Gallery
Nic & Norman's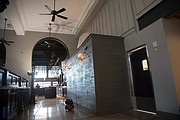 When everything shut down as the pandemic took hold, the restaurant crew spent a couple of months selling groceries out of a trailer in front of the Choo Choo. Now workers are inside putting the finishing touches on the restaurant, which features plenty of repurposed and salvaged features from the original building.
"Our goal is to take these old, historic buildings and tell their story and continue it with our story," Valentine said.
(Read more: 'Not a zombie restaurant' will claim the last vacant space in the Choo Choo complex.)
Adam Kinsey, a principal in Choo Choo Partners, the group that owns the iconic building on Market Street, encouraged them to dig around in a warehouse where old fixtures from the building's past lives were stored, Valentine said.
They found lamp posts that are now lined up outside the building, sconces that now flank the doors, and plenty of wood they repurposed for everything from the surface of the bar to tables. The original terrazzo floor from 1907 is exposed and restored, and the flooring upstairs was recovered from another area of the building and refinished.
"Nic & Norman's did a really great job at highlighting the historic architecture of the space," Kinsey said. "The space really feels like it's been there a long time."
The pandemic has delivered some blows to the entertainment complex, and owners are looking for a tenant to occupy a concert venue that emptied when the Songbirds Guitar Museum closed in August, Kinsey said. But he's had a lot of interest in the space, and is optimistic about the prospects for better news in 2021, Kinsey said.
(Read more: Songbirds Foundation moving into former museum space.)
"It looks like moving into 2021 there's a lot of really good news about the vaccine and I really believe that when people feel comfortable to go back out, that social spaces will be even more important," he said. "What we have at the Choo Choo is a really special social space, and all of that will be even more important as we come out of this and we are really set up to excel post-COVID."
While Nic & Norman's originated around the filming of "The Walking Dead," it's not a zombie-themed restaurant, Valentine said. It's focused on great food, community and bringing people together to have a good time. The restaurant will employ about 90 people, and would normally seat about 200, but for the time being, it will top out at 100 to 120 with social distancing measures in place, Valentine said.
Being part of an entertainment complex was important to the owners, and there were signs last week of the benefits of being in the middle of an outdoor gathering place, said Gail Belliston, administrative director for Nic & Norman's.
"Last week there were a lot of people out there on the ice rink," she said. "It was busy."
Contact Mary Fortune at mfortune@timesfreepress.com. Follow her on Twitter at @maryfortune.