Douglas and Eugenia DeLong decorate the exterior of their Cleveland, Tennessee, home each Christmas, but visitors likely don't gaze long at the single strand of lights on the two-story farmhouse. Not when there's a gleaming castle and glowing clusters of faux firs - some 20 feet tall - pulsating to music in the side yard.
Visitors won't find the castle this year, but there will be plenty more to draw the eye in the DeLongs' yard, known in the neighborhood, and on Facebook, as "Bradley Lights."
"I like to change it up every year," says Douglas DeLong. "I don't like the same old thing."
He has been changing it up for 15 years now, after seeing a commercial for Christmas lights synchronized to music during the holiday season in 2005. "I thought, 'That looks pretty cool. I wonder if I could make that happen,'" he recalls.
(Here's where to find some of the best Christmas lights in Chattanooga and enter the Times Free Press holiday lights photo contest for a chance to win $150)
Photo Gallery
Bradley Lights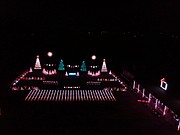 The next year, he did. For Christmas 2006, DeLong was ready with an illuminated, musical scene that slowed traffic on Blue Springs Road.
The next year, he went a little bigger, and more cars came to a standstill to see it.
Within three years, the display had become a traffic hazard.
"I live on a corner lot, so the first few years I did the whole yard," he says. "By the third year, it was fairly popular. There were too many people on the road, and the cops came out [to disperse traffic]. I decided at that point to put it in the side yard and build another driveway where people could pull into the yard and watch."
While there are certain elements that are incorporated every year, such as trees and candy canes, DeLong says he enjoys finding new ways to present the seasonal spectacle. When the display was disassembled last January, he was already thinking of how to recycle the pieces into different structures for this year's show.
DeLong says he usually starts pulling out pieces the first weekend in October and begins setting them up according to a blueprint he's charted on his computer. It takes about two months to get everything ready for the debut on the Friday after Thanksgiving.
"I do a little bit every weekend," he says. "I put stuff out on Saturday and wire it up on Sunday."
Most pieces he can maneuver himself, but he needs help with some of the bigger props, like the 20-foot trees. His daughters Dana and Amanda, now 28 and 30, enjoy helping with the project. Dana lives nearby with her husband, so she's available most every weekend. Amanda and her husband live in Charleston, South Carolina, and visit for Thanksgiving and Christmas.
DeLong says his wife helps on some of the projects he finds tedious - "I don't like putting lights on all the little trees," he says - but she mostly concentrates her energy on the indoor decorations.
"We do a lot of decorating inside the house," he says. "We usually have three or four trees."
And while they offer assistance to each other, he says, "inside is her thing; outside is my thing."
He explains that the machinations people don't see are just as important as whatever design he builds. Without the computer effects, it would be just another light display - beautiful but static. The computer software animates the scene.
"It takes two weeks to test and make sure everything is working correctly," DeLong says. "You have to make sure that when this light is on on the computer that that light is turning on in the yard."
To make the lights "dance," he has a playlist of about 90 songs, transmitted on a short-wave radio signal at 96.9 FM, that may play during the evening - each with its own synchronized light show.
"I try to keep it fairly traditional, but it's music that's a little upbeat," he says.
A couple of years ago, he found a software application that lets visitors vote on a favorite song to play when they pull into the yard.
"You go to the website [www.requestlights.com] and scroll through the list," says DeLong. "If other people are voting, it can turn into a war. It depends on how busy the night is. More votes will move [a song] to the top of the list. Sometimes I think people spend more time voting than watching the display."
"Let It Go" from "Frozen" is always among the favorites.
"Sometimes I can hear them singing along," he says.
He doubts that the lack of a castle will deter requests for Queen Elsa's anthem anytime soon.
DeLong says he's fairly handy with a hammer and has a background in electronics, so the computerized part of the project comes easily to him. Improvements in lighting technology have also eased the work - and the expense. In the early years, he scoped out after-Christmas sales from Athens, Tennessee, to Fort Oglethorpe, Georgia.
"No way could I pay full price and afford to do this hobby," he says. "I always bought things 50-70% off."
About five years ago, DeLong transitioned to pixel lights, each with a tiny microchip that tells the LED bulb when to turn off and on and what color to light up.
"Back when I had strings of lights, if I wanted different lights on a tree I'd have to put a string of red, a string of blue, a string of green, a string of white - four strings on one tree," he says. "Now there's just one string and I can turn it blue or red or whatever color I want it to be."
At 58 years old, he figures he'll offer Bradley Lights for another decade or so. Despite how time-consuming it is, he says it's not just a gift to the community, but to himself.
DeLong's favorite night is opening night, when he gets to fully take in the results of his efforts. He and his family and a small group of friends gather around a fire in the corner of the yard, drink hot chocolate and watch the cars come.