Front-line health care workers at Chattanooga hospitals were among the first people in Tennessee to get the long-awaited COVID-19 vaccine after the first local deliveries arrived Thursday.
Tennessee is using a "tiered process" to allocate COVID-19 vaccine, with top priority going to hospital workers in direct contact with coronavirus patients.
A box filled with 975 doses of the Pfizer-BioNTech vaccine arrived earlier than expected Thursday morning at Parkridge Medical Center, and the health system started vaccinating staff around 12:30 p.m. Dr. Bob Magill, chief of staff and medical director of hospitalists at Parkridge, was the first Chattanoogan to receive a dose.
The vaccines arrive as Tennessee faces one of the worst COVID-19 outbreaks in the United States. The historic moment is a bright spot in a pandemic that has sickened more than 493,000 Tennesseans and killed at least 5,845. As of Thursday, 2,897 patients were hospitalized with the virus in the state, according to the Tennessee Department of Health.
Mindy Zychal, nurse manager in the medical intensive care unit at Parkridge, said this week has been especially hard on her staff, who are working around the clock to treat critically ill COVID-19 patients. The vaccine will provide a much-needed morale boost, she said.
"Yesterday alone we lost four patients in 24 hours, so that was very difficult," Zychal said minutes after receiving her vaccination.
Photo Gallery
Chattanooga health care workers get COVID vaccine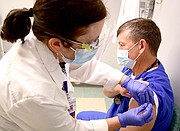 The vaccine is voluntary, and although Zychal said the moments leading up to getting it were a bit "nerve wracking," she is confident in her decision.
"I never think twice about taking the flu shot. It's just something to protect me and my patients and my family," she said. "It did not hurt. It was fine. I'll take Tylenol after this, though ...
"I think it's important. Everybody in the hospital is working extra hard now, and the increased workloads are demanding, so anything we can do to help," Zychal said.
(READ MORE: Hamilton County adds staff, fights misinformation ahead of COVID-19 vaccines)
Magill said Thursday marks the beginning of a process toward eventually curbing the pandemic.
"That's still going to take some time," Magill said. "My hope is that everybody not only in health care but in the community continues to practice protective strategies to help decrease the incidence of disease. The goal of social distancing and masks is not to eradicate it but to slow the spread until we are able to get the vaccine out to enough people."
The first vaccines in Tennessee arrived Monday, but the state decided to keep those as an emergency backup supply. A department of health news release stated that about 56,550 doses of Pfizer vaccine were expected to arrive at 28 designated sites serving 74 hospitals across the state this week.
CHI Memorial Hospital and Erlanger Health System in Chattanooga also received a vaccine shipment on Thursday and began vaccinating front-line staff.
Memorial administered its first doses of COVID-19 vaccine during an afternoon news conference.
Dr. Lee Hamilton, a hospitalist at Memorial, said he felt "an overwhelming sense of gratitude" upon being vaccinated.
"There are millions of dead and dying that aren't going to have this opportunity that I've been afforded today," Hamilton said. "It's very humbling just to think about what we've been through as a nation, what we've lost and to finally have an opportunity to start to begin to see that light at the end of the tunnel."
Tiffany Dover, nurse manager in Memorial's COVID-19 unit, was overcome with emotion as she recalled the difficulty caring for coronavirus patients minutes after receiving her vaccine dose. Moments later, she started feeling dizzy and fainted.
Memorial physicians who were on site said light-headness and fainting sometimes occur when undergoing medical procedures, such as getting a shot or having blood drawn. A Memorial spokesperson said Thursday evening that Dover was doing well.
The Pfizer shot requires two rounds, which means the people getting the vaccines now will need to get a second shot in about three weeks.
The department of health announced Thursday that the first shipment of Moderna's COVID-19 vaccine - about 115,000 doses - is expected to arrive around Dec. 21.
Moderna's vaccine will be delivered to 95 Tennessee county health departments, according to a news release from the department of health. Smaller hospitals that are not receiving the Pfizer vaccine are expected to receive the Moderna vaccine the week of Dec. 28.
Contact Elizabeth Fite at efite@timesfreepress.com or follow her on Twitter @ecfite.