The new collection of ornaments on a Christmas tree in the Tennessee governor's residence is a miniature tour of the state. In these 95 spheres, you can learn about events (the World's Biggest Fish Fry in Henry County), landmarks (Reelfoot Lake in Lake County) and famous folk (Dolly Parton from Sevier County).
Earlier this month, Tennessee first lady Maria Lee unveiled the new ornaments, each crafted by artists from across the state.
"Tennessee is home to some of the most gifted artisans in the world," Lee said in a news release. "From tributes to Davy Crockett and Tina Turner to the mountains of East Tennessee and the blues of Beale Street, this county ornament collection captures Tennessee's rich history, diversity and unwavering spirit. We are grateful to every artist who graciously donated their time and talent to this project."
Chattanoogan Jaime Barks is among those artists. She painted a snowy scene of the Walnut Street Bridge, referencing photos from a February snowfall. Barks sells handpainted Christmas ornaments at Locals Only Gifts & Goods on the North Shore and said ornaments depicting the bridge are her best sellers.
"It just had to be the bridge," she said. "It's such a Chattanooga icon."
The artists were contacted by email in August and had received their ornaments by September. The plastic balls were a little bigger than grapefruit and started out gold.
Photo Gallery
Tennessee county Christmas ornaments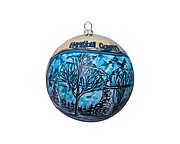 "It had to say your county's name on it," Barks said. "That was literally the only parameter they gave us" for what to include.
Lee partnered with the Tennessee Arts Commission to select an artist to represent each of Tennessee's 95 counties. The new assemblage they've created replaces the original collection commissioned by former first lady Crissy Haslam in 2012. Those ornaments were displayed every holiday season during the Haslam administration.
In an email to the selected artists, Maddie Burnett, event manager at the Tennessee Residence, emphasized that the goal was to capture the "spirit and essence" of their county.
Southeast Tennessee artists
* Bledsoe: Jayne Henderson* Bradley: Beth Hetzel and Becky Hetzel* Grundy: Cody Cookston* Hamilton: Jaime Barks* Marion: Lynne A. Mayer* McMinn: Barbara Ensley* Meigs: Kaci Ricker* Polk: Jennifer Danner* Rhea: Robin Champagne* Sequatchie: Summer Hartman
Lynne A. Mayer of Whitwell said she knew immediately she would depict the Children's Holocaust Memorial at Whitwell Middle School for Marion County's ornament. Rather than painting an image of the German rail car that houses the museum and its Paper Clips Project, Mayer constructed a 3-D representation on one side of the ornament, using material from packages that have been delivered during the pandemic.
"Some of the packing material ... looked like the boards of a train car," she said. "I thought, 'I'm going to get me some monkey glue [Gorilla Glue] ... and glue it together piece by piece.'"
Mayer said her creation took about 30 hours over three weeks to allow each piece time to dry. She finished with an acrylic modeling medium that goes on as a liquid and hardens as it dries.
"I put that on everywhere, and it made the whole thing come together as a whole without seeing glue on everything," Mayer said. "It wasn't flimsy at all."
Robin Champagne, a Soddy-Daisy resident who has studio space at Art Crafters in Dayton, featured multiple images on the Rhea County ornament, including the Scopes Trial, Tennessee Strawberry Festival, bass fishing, Nokian Tyres and La-Z-Boy.
"I tried to pick out all the things Rhea County's known for, and maybe people would want to come visit," she said.
Email Lisa Denton at ldenton@timesfreepress.com.