The COVID-19 pandemic has delivered some dark times, but Art Warehouse and its customers are doing what they can to brighten things up a bit.
As more people spend their days at home, the Brainerd Road business is busier than ever, according to its owners.
"We've had a lot of customers come in to have their art re-matted or reframed," says Leslie Lakey, whose family owns the 20-year-old business. "They got stimulus money, but they didn't spend on summer camp or summer vacation. They're not eating out."
Mark Lakey, Leslie's husband, says the family closed Art Warehouse for the better part of six weeks in the spring. They reopened initially on an appointment-only basis, he says, but gradually resumed regular hours.
"I think if people see we're willing to stay open during the pandemic, they probably sense that we're conscientious about keeping things clean and people safe," he says.
"It's really less about us," Mark Lakey adds. "It's more about just being blessed. God's provided an avenue for us."
When Mark Lakey and his mother, Sue, opened Art Warehouse in 2000, their business was staging model homes for builders around the country.
"Back then, a builder would set up a four-bedroom, four-bathroom house in a convention center for a trade show," Mark Lakey recalls. "We had contracts with three or four of the top builders in the country at one point."
But when the housing market tanked in 2006, the Lakeys were left with a 10,000-square-foot building, multiple pieces of very sophisticated equipment – and no income.
Photo Gallery
Art Warehouse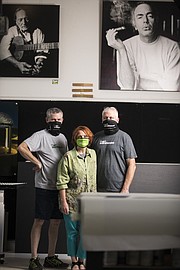 "We went from making a living to nothing in about seven days," Mark Lakey recalls. "There were days we'd just sit here, sweep [floors] and chit chat.
"We prayed," he says. "On our knees. We were open to anything."
Leslie Lakey recalls that "when no other doors opened," the family decided to go with what it had and reinvent the business. She says Mark's brother, Mitchell, put together a website, and the former wholesalers opened their doors to the public for the first time.
Since then, Art Warehouse has prospered to become, according to Mark Lakey, "one of the 10 largest framing operations in the Southeastern U.S." On the Art Warehouse website, the Lakeys claim to have built more than a half-million frames.
Art Warehouse also specializes in professional art reproduction, including cut-above photo processing on what the Lakeys call "premium archival material."
"Nowadays, no one has a photo album," Mitchell Lakey says. "Everyone's photos are in their phones, so when someone wants a photo printed, it has to look good.
"We've made a commitment that when someone brings a photo here to be printed, they're going to get a product that's awesome," he says.
Mark Lakey says one thing he, Leslie and Mitchell decided to do was "drop the black curtain" and give customers a look at how the work gets done.
Art Warehouse
* Year founded: 2000* Location: 3260 Brainerd Road, near McCallie Tunnels* Number of employees: 3
"We're craftsmen," he says. "When people can walk in and see what we're doing, they're able to trust us to do it properly."
And Mitchell Lakey says many of those people who've come in across the last 15 years are more than just customers.
"In these last years at retail, we've developed some great friendships," he says. "We know 99.9% of the people who come in. We treat them, and new customers, like family."
It's possible that the Lakeys could simply continue doing what they've been doing at Art Warehouse since 2006 – but they won't. They're working on their next big thing, and Mitchell Lakey says his brother is at the tip of that spear.
"He does not like to sit stagnant," Mitchell Lakey says. "He's creative, always coming up with ideas."
In this case, that idea is using aluminum as a canvas of sorts for high-definition images. Mark Lakey says it's typically done on 40-by-50-inch panels and is becoming quite popular as a way to decorate large outdoor living spaces.
"There's also signage," he says. "Say you're at a national park, looking at a beautiful view. There's a sign there, but it's hard to read – it's under glass and has probably been there for a while.
"That's old technology," he says. "This exterior aluminum is photographic quality and will last for a decade."