After 35 years running a knitting shop that did brisk business on Chattanooga's North Shore, Kathy Brunson just couldn't get through 2020.
"My business just dropped," said Brunson, who owned Genuine Purl, a go-to resource for local knitters and needlepointers. "You'd be sitting there for seven hours a day and you'd have one or two people come in, and it was getting close to time to order fall yarns."
At the end of August, instead of placing that big fall order, she had a blowout closing sale and locked the doors.
"I miss the people, I miss my girls that worked with me," Brunson said. "After 35 years, I had built up customers that had been with me for all of those years."
The local small business landscape lost restaurants, entertainment venues and boutiques during this pandemic year, from mainstays like Karl's Family Restaurant in Hixson and Flatiron Deli on Georgia Avenue to newer favorites like the Songbirds Guitar Museum.
Scroll down for a list of businesses that have closed this year
In a Facebook post earlier this month announcing that she would close Flatiron Deli on Dec. 23, owner Jeni Brown said the pandemic "has killed us financially."
"It has been a lovely run and I have thoroughly enjoyed it," Brown said.
At the shuttered Two Squares a Day restaurant on Amnicola Highway, owners Jim Garth and Neal Stites posted a note: "Oh Pandemics really suck!"
But while some business owners called it quits in 2020, other area entrepreneurs have scrambled to reinvent their businesses to hang on through the crisis. The pandemic shuttered the Cherry Street location of Mad Priest Coffee, which was dependent on dine-in, downtown patrons, but owner Michael Rice is still feeling pretty lucky these days.
"We're excited about 2021 because we've seen such a significant shift in our sales," said Rice, who operates a Mad Priest carryout location on Broad Street, as well as a thriving new drive-thru on Wilcox Boulevard. "We've lost 50% of wholesale, but e-commerce has grown 600%. We are adapting in that sense and not as reliant as we were on things like wholesale."
Photo Gallery
Chattanooga businesses during the pandemic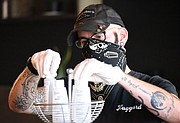 A forgivable federal Paycheck Protection Program loan and a Small Business Administration disaster grant gave him the financial flexibility to fight through this year - though he had to lay off staff when he closed the Cherry Street location, and Mad Priest is still down from about 20 employees pre-pandemic to eight now, Rice said.
"When COVID hit, we dropped to three or four employees," he said.
Across the country, more than 82 percent of the jobs lost since February are service jobs, according to the U.S. Chamber of Commerce. In a Chattanooga Area Chamber of Commerce survey earlier this month, 62% of respondents reported decreased revenue, with 8% saying revenue is down over 50%. In the same survey, almost 12% of respondents reported their business is at risk of closing.
For restaurants in particular, access to money to help business owners weather this crisis makes all the difference, said Mike Robinson, a partner in Proof Bar and Incubator, which offers restaurant resiliency programs across the region.
"It's a cash-in-cash-out business, and a week or two of disruption to cashflow can really put you behind," he said. "Most owners that we've seen not make it through kind of froze and closed and waited and didn't find ways to reach their customers."
The money helped, but knowing how to navigate the maze of options and constantly changing guidelines around the financial lifeline was critical, Rice said. He had existing connections with the Tennessee Small Business Development Center, as well as the Goldman Sachs 10,000 Small Businesses program, and that saved the day, Rice said.
"I was engaged with them, I was on all their email chains, I was getting emails from my counselor saying, 'Hey man, jump on this now,'" Rice said. "They were all over it - I owe it all to that."
While Congress has passed another round of aid for businesses, Rice won't apply for the help this time, he said.
"I don't need to, and it doesn't make sense to me when we still have money left over and our sales are sustainable and growing," he said.
For businesses that do need the second infusion of capital - particularly for restaurants - looser guidelines for how the money can be used will make the money more useful, Robinson said. In the first round, restrictions on how the money was used if the business wanted forgiveness weren't developed with restaurants in mind, he said.
"The stipulations were so strict, a lot of people burned through that cash while everything was shut down," he said. "The funds can be leveraged for more things within the business on the second round."
Brunson said she knew about the relief funds for small businesses, but she wasn't sure she would qualify, and she didn't want to take on debt she might have to pay back. Her husband had retired in April, and she felt ready to shift gears, despite the pain of shutting down.
"I loved every minute of it and I miss it, but you gotta do what you gotta do," she said. "I had a great run, I really did."
Here's a list of local businesses that shut their doors in 2020:
- Abby Lane boutique on Cherokee Boulevard closed in December.
- Beast + Barrel restaurant on Frazier Avenue closed in November, though owner Matt Lewis still operates eateries including Hair of the Dog, Honest Pint and Mean Mug.
- The Center for Mindful Living closed its space and moved its services online in July.
- Chattanooga Boiler & Tank Company shut down manufacturing in September.
- Dwell Hotel on 10th Street closed in June.
- Flatiron Deli on Walnut Street closed in December.
- Genuine Purl knitting shop on North Market Street closed in August.
- High Grounds Coffee on Signal Mountain Road closed in July.
- Jefferson's restaurant on Georgia Avenue closed in November.
- Karl's Family Restaurant on Hixson Pike closed in May.
- The Cherry Street location of Mad Priest Coffee closed, though owner Michael Rice operates locations on Broad Street and Wilcox Boulevard.
- The Palace Theater on Georgia Avenue, announced May 31 on its Facebook page it would close.
- The Palms bar and grill on Shallowford Road closed at the end of July.
- The Riverbend festival, which struggled to reinvent itself after a nearly 40-year-run, liquidated assets and laid off most of its staff this year, with plans to come back eventually in a streamlined form.
- Songbirds guitar museum and music venue closed in August.
- The Hamilton Place location of Sticky Fingers closed in July.
- Two Squares a Day restaurant on Amnicola Highway closed in December.
Contact Mary Fortune at mfortune@timesfreepress.com. Follow her on Twitter at @maryfortune.