The Tennessee River has risen nearly 7 feet in Chattanooga this week and is continuing to rise today after heavy rains over the past three days dumped up to 8 inches of rainfall in parts of the Tennessee Valley.
But the river is expected to crest a foot below flood stage in Chattanooga and below the peak level reached a year ago.
"We've had really impressive rainfall totals, but we're getting a break today with only light rain and some snow flurries expected in the next few days," said James Everett, senior manager of TVA's River Forecast Center in Knoxville.
Rainfall totals since Tuesday averaged anywhere from 2 to 8 inches across most of TVA's 7-state region, Everett said.
While rain-swollen creeks and streams flow into the Tennessee River from parts of East Tennessee, Northeast Georgia and parts of western North Carolina and Virginia, the Tennessee River is likely to stay at elevated levels with strong river currents for at least another week or two.
The U.S. Coast Guard and TVA have closed the river for commercial barge traffic through the Nickajack gorge west of Chattanooga and shut down the Chickamauga and Watts Bar locks due to heavy river flow.
TVA is spilling 161,262 cubic feet per second - or more than 1.2 million gallons a second - at the Chickamauga Dam in Chattanooga today. TVA is projecting it will boost the amount of water spilling through the dam on Saturday to up to 171,680 cubic feet per second - or nearly 1.3 million gallons per second - before beginning to limit the flow through the dam.
Photo Gallery
Flooding in Chattanooga area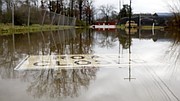 "We will update our activity early next week when we get a better look at the rainfall outlook for the end of next week, but we anticipate elevated river levels in Chattanooga and higher release levels (through TVA dams) for at least the next seven days, and potentially even longer depending upon rainfall," Everett said.
With the ground already saturated after heavier than normal rain last month and the second highest rainfall on record in 2019, the additional rainfall next week could keep TVA storage reservoirs upstream of Chattanooga well above their normal winter levels for weeks to come.
TVA uses its network of 49 dams to help limit flooding, especially in Chattanooga, which is the drainage route for thousands of acres of the Tennessee River watershed. TVA estimates its flood control measures helped avert $1.6 billion of flood damages in Chattanooga last year alone.
In 2019, 66.47 inches of rain fell in the Tennessee Valley, second only to the record high 67.02 inches that fell in the region in 2018. Normal rainfall across the Tennessee Valley averages 52.5 inches a year, according to TVA.
In February 2019, the Tennessee River rose to its 30-foot flood level in Chattanooga, flooding some low lying areas along the river in Chattanooga. TVA estimates its flood control management and storage of water in upstream reservoirs helped avert what would have otherwise been $1.4 billion of flood damage in Chattanooga during February 2019.
"Without TVA's, last year's floods would have left the carousel at Coolidge Park to be 9 feet under water, the Staybridge Suites hotel downtown would have had 6 feet of water at its door, and all of the runways at Chattanooga's airport would have been flooded," TVA President Jeff Lyash told the Chattanooga Rotary Club last month.
Since the Norris Dam was built as TVA's first dam in 1936 to help harness the power of the Tennessee River, TVA estimates its network of what has grown to 49 dams has helped avoid nearly $10 billion of flood damage to Chattanooga.