Photo Gallery
Arkansas vs. Mississippi State Baseball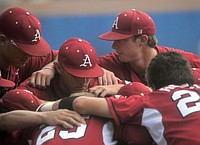 Arkansas battles during Thursday mornings game against Mississippi State in the SEC baseball tournament in Hoover, Alabama.
UPDATE: Temperatures are expected to drop below freezing Saturday night, according to the National Weather Service.
Any remaining slush and water across the area roadways could refreeze, potentially causing areas of black ice overnight and early Sunday morning.
Drivers may also run into patchy freezing fog Saturday night, so they are encouraged to travel slowly and carefully on roadways while looking out for slick spots.
_____
ORIGINAL STORY: Many Chattanooga area residents woke up to snow Saturday morning, with some areas accumulating up to five inches.
Most area counties are in a winter weather advisory, according to the National Weather Service. Hamilton, Bradley, McMinn, Marion, Meigs, Rhea, Bledsoe, Sequatchie, Walker, Catoosa, Whitfield, Chattooga and Gordon counties are in a weather advisory until 4 p.m. Saturday.
Snow with a possible mix of sleet and rain is expected at times. Total snow accumulations of two to four but up to five inches across the higher elevations is expected, NWS reports, with snowfall mainly over grassy and elevated surfaces.
Slippery road conditions are expected, especially in higher elevations and bridges and overpasses.
Temperatures should climb above freezing late Saturday morning, and especially by afternoon. Snow accumulation should end around 10-11 a.m., according to our news partners at WRCB.
The wintry weather caused both Chickamauga Dam and Veterans Bridge to close in both directions on Saturday. Police say there have been some minor crashes. Veterans Bridge has since reopened to traffic, according to a tweet from the Chattanooga Police Department.
Snowfall was also seen on Highway 111 headed towards Dunlap, with the Hamilton County Sheriff's Office warning people to stay off the roads if they can, according to a tweet.
TRAFFIC ALERT: Veterans Bridge closed both directions. Please use Oligati or Market St Bridges until Veterans is reopened. #CHAtraffic

— Chattanooga Police (@ChattanoogaPD) February 8, 2020
Next week, heavy rainfall is expected Monday through Thursday. The potential exists for greater than 4 inches of rain, mainly across southeast Tennessee and southwest North Carolina. This may cause additional flooding problems toward the middle of next week.
Send us your snow photos
We want to see how you are enjoying the snow today. Send your snow pictures to news@timesfreepress.com.
Due to the weather, the re-opening event at East Lake Park has been postponed to a later date which will be shared in a few weeks, according to a news release from Chattanooga government.
The Hunter Museum of American Art will be closed Saturday due to the inclement weather, according to a release from Cara McGowan.
Road Conditions on Highway 111 headed towards Dunlap. Photos courtesy of Deputy Joseph Dangler. Folks the roads are getting worse so please stay home if you can... If you must get out, use extreme caution and allow extra time for travel. pic.twitter.com/z3X3IsddXj

— Hamilton County Sheriff's Office (@hcsotn) February 8, 2020
A meet-and-greet with Jim Hill at Amigo's Mexican Restaurant in Rossville, Georgia has been canceled Saturday.
This is a developing story. Stay with the Times Free Press for updates.