Photo Gallery
Arkansas vs. Mississippi State Baseball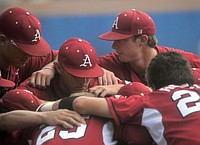 Arkansas battles during Thursday mornings game against Mississippi State in the SEC baseball tournament in Hoover, Alabama.
UPDATE: Temperatures are expected to drop below freezing Saturday night, according to the National Weather Service.
Any remaining slush and water across the area roadways could refreeze, potentially causing areas of black ice overnight and early Sunday morning.
Drivers may also run into patchy freezing fog Saturday night, so they are encouraged to travel slowly and carefully on roadways while looking out for slick spots.
_____
ORIGINAL STORY: Many Chattanooga area residents woke up to snow Saturday morning, with some areas accumulating up to five inches.
Most area counties are in a winter weather advisory, according to the National Weather Service.