The year was 1960.
Furlow-Cate, Inc., at 315 Broad Street in downtown Chattanooga, billed itself as the "The South's Finest Ford Dealership."
Located in the Broad Street block now occupied by the AMC Classic Majestic Theaters, the car store in 1960 was brimming with Fairlanes and Galaxies, two of Ford's best-selling sedans of the era. There were also Ranch Wagons and Country Squire Wagons for families with greater cargo needs.
In the early 1960s, a new Ford automobile in Chattanooga could be financed for as little as $39 a month, according to newspaper advertisements of the day.
According to records at th the University of Tennessee at Chattanooga Library, Furlow-Cate Inc. was "established in 1948, by P.E. Furlow and Forrest Cate, Sr. and was a successor to D.S. Ethridege and Broadway Motors in the 300 block of Broad Street."
This photo is taken from the Free Press collection of archive photographs held at UTC library, and also appears online for deeper inspection at ChattanoogaHistory.com, a repository of high-resolution vintage photographs of the city.
Photo Gallery
Friday, Eldredge & Clark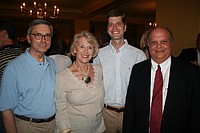 More Info
Launched by history enthusiast Sam Hall in 2014, ChattanoogaHistory.com is designed to preserve historical images in the highest resolution available. If you have photo old negatives, glass plate negatives, or original nondigital prints taken in the Chattanooga area, contact Sam Hall at samhall@chattanoogatn.biz for information on how they may qualify to be digitized and preserved at no charge.
Sedans with roof lights were lined up for this photo. It's unclear whether these were police vehicles or simply lit up for promotion.
Newspaper clippings also record at least two "spot news" events at the Broad Street dealership, a three-alarm fire circa 1950 and a storm-related roof collapse in 1964 that injured six people.
In January 1967, the former Furlow-Cate dealership split into two companies, Forest Cate Ford on 20th Street and Furlow-Miles Ford on Brainerd Road.
Legendary Chattanooga businessman, C. Austin Watson, who died in 2005, was general manager of Furlow-Miles Ford. He finished his career as head of the family-owned Mountain View car dealerships in the Chattanooga area.
Please see the Remember when, Chattanooga? Facebook page for more photographic memories of the Chattanooga area. Photos featured in this series are also available for closer inspection at https://chattanoogahistory.com/rememberwhen.
Contact Mark Kennedy at mkennedy@timesfreepress.com or 423-757-6645.