Photo Gallery
Superintendent contract, teacher raise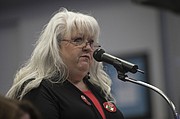 Hamilton County Schools teachers are finally getting a raise.
The Board of Education voted unanimously in favor of the 2.5% raise proposed earlier this month by Superintendent Bryan Johnson at its meeting Thursday night - the same night the board approved a new contract and a raise for Johnson.
Teacher pay has been a hot topic for nearly a year in Hamilton County, with teachers calling for pay increases for months.
The mid-year raise, which is effective retroactively as of Feb. 8, is possible thanks to $3 million in savings during the first half of the fiscal year, according to district officials.
Nearly all of the district's 6,000 employees, or all full- or part-time certified and classified staff members, will receive the raise, according to Chief Business Officer Brent Goldberg.
(MORE: Hamilton County, other area school districts closing Friday due to weather concerns)
"The classroom teacher is the basis for education in this county and every other county," said board member Steve Highlander, of District 9. "It hurts me to see that our classroom teachers are paid less than almost all of the surrounding counties pay their teachers, in North Georgia and surrounding counties in Tennessee."
Highlander was originally on the fence about the pay raise and asked for assurance Thursday night that the district would receive enough growth money from increased tax revenues from Hamilton County next year to ensure the raise would be recurring.
Last year in his original proposed fiscal year 2020 budget Johnson included a 5% pay raise for certified staff, which was whittled down to 2.5% and then cut after the Hamilton County Commission shot down the 34-cent property tax rate increase sought for Johnson's request for additional funding.
District officials and representatives from the teachers' union instead agreed to forego the raise and use the more than $6 million to fund additional student support positions such as school counselors, special education assistants and other new positions.
County commissioners questioned the district's decision ahead of approving Johnson's revised balanced budget, prompting school board members to fire back.
But most teachers have received at least $2,055 in one-time bonuses this school year in addition to their annual step increase, which, depending on their years of service, amounts to at least a 1% bump, Goldberg previously told the Times Free Press.
Board member Tiffanie Robinson, of District 4, emphasized Thursday that the budget process is not "black and white."
"We know we're not going to get less from the county than we did this year, but we never know how much it's going to shake out to be. It's never as black and white as we want it to be," Robinson said.
Throughout the night's debates, Robinson, board members Jenny Hill and Kathy Lennon emphasized the feedback that the school district has heard from the community to "run the school system more like a business."
"We have a surplus, so what are we going to do with it? Are we going to stick it away and not do anything with it or are we going to ask what do we want to invest it in?" Lennon, who represents District 2, said. "You want to invest it in the people who are doing the work, and who is out there working the hardest is our teachers. We've been called out for not running it like a business, so if we we're running it like a business we'd turn around and invest it in our people."
Representatives from the Hamilton County Education Association, the local teachers union, thanked the board for the raise, as well as for its commitment to Johnson Thursday night.
"As president of HCEA, my priority and focus is on teachers receiving a fair compensation package, including adequate support in the classroom and at the building level. Having a strong leader is vital to that priority. Thank you for recognizing we need stability for this to remain consistent and for us to continue our district's forward momentum," said union President Jeannette Omarkhail, "creating a sustainable revenue stream to move teacher salaries to a competitive level that acknowledges and clearly underwrites the appreciation and value of the daily work and contributions to students and to the effective operations of our public schools."
Omarkhail did not deny that she and the union remain committed to working for a 10% raise in the fiscal year 2021 budget, though.
More than a dozen teachers, dressed in "red for ed," were present at Thursday's meeting. Many were members of Hamilton County United, a teacher advocacy group that formed after last year's budget cycle and has been behind open letters to elected officials and a teacher town hall last November.
Hamilton County United member and Hixson Middle School teacher John DeVore addressed the board early in the meeting before the vote.
Hamilton County United formed to encourage teachers - "teachers who have been told time and time again to wait, to stop, to sit down, that they do not have a voice," he said.
"We are voters. We are property owners. We are taxpayers. We love our jobs and our students and we know what is best for them. We know this because we do the work," DeVore added. "I wanted to remind you of who we are before you vote tonight. The county commission started this fight. We're here to continue it. If you stand in our way, we'll fight you, too."
Contact Meghan Mangrum at mmangrum@timesfreepress.com or 423-757-6592. Follow her on Twitter @memangrum.