Photo Gallery
Former Nazi TM Garret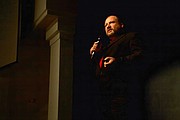 After years of leading a white supremacist group and the Ku Klux Klan in Germany, TM Garret is in the business of compassion. His work now focuses on creating connections - such as getting people who think and look differently to interact face-to-face - at a time when everyone is too quick to dehumanize the other, he said.
In events in Chattanooga spanning two days, Garret is sharing his journey of entering the neo-Nazi movement and Ku Klux Klan in Europe and his path away from hate and into human rights work. On Wednesday evening, Garret spoke to dozens of people at Brainerd Baptist Church. On Thursday, he will continue the conversation at St. Paul's Episcopal Church.
Garret warns people how their responses to seemingly hateful action can make the problem even worse. As a child making jokes about the Holocaust and Hiter, he was labelled an outcast and as a Nazi, he said, which only pushed him toward the movement since they were the people who accepted him.
The same thing happens today when people pile on to someone they think is racist or anti-Semitic, rather than engaging them about why they think that way, Garret said in an interview with the Times Free Press.
"If you put them in a corner or you put them in a box where they can't get out, well guess what? The guys in the white robes and white hoods are picking them up," he said.
More Info
TM Garret will speak Thursday night at 5:30 p.m. at St. Paul's Episcopal Church at 305 W 7th St.
Garret was bullied as a child in Germany, he said. When a friend gave him a cassette with white supremacist music, he heard his own feelings reflected for the first time. He then became a Nazi, going as far as to get a "skinhead" tattoo. He later moved to leading the KKK in the country after becoming worried about threats of jail time. Even after he gave up the KKK and moved away from hate groups in 2002, Garret was still harboring the ideas and fears of non-white people he had been taught, he said.
It was not until he began interacting with his Turkish Muslim landlord who lived downstairs that he began understanding how deeply hate influenced his life, he said. In 2012, Garret moved to Horn Lake, Mississippi, and began doing advocacy work against hate groups.
Today, Garret runs C.H.A.N.G.E, which creates community outreach opportunities in Memphis to counter racism and violence. Through the program, Garret runs an exit program for people leaving hate groups, including a free program to cover racist or gang tattoos. He travels to speak about countering hate through the Simon Wiesenthal Center in California.
Garret recognizes his advocacy often ends up preaching to the choir. The people gathered Wednesday night to hear him are already opposed to hate and want to do something. But he asks people to seek compassion for those they disagree with and try to understand them as people, even when it is difficult.
"It's not only a problem of the racist person or the hateful person, it's the society that is part of the problem as well," Garret said. "Without knowing it, we as a society keep those people in those corners. Who wants to talk to a Nazi? I get it."
Garret also believes in continuing to punish hate in the legal system, but lessening the social consequences for the people. Social media allows people to pile on someone and seek instant gratification, rather than recognizing that demeaning someone will likely make things worse, he said.
Rather than countering hate speech online with hate, push for more positive speech, Garret said. Look for places or events to cross paths with other people, such as city events, interfaith groups or multicultural gatherings, he said.
Garret will continue the conversation with Chattanooga Thursday night at 5:30 p.m. at St. Paul's Episcopal Church.
Contact Wyatt Massey at wmassey@timesfreepress.com or 423-757-6249. Follow him on Twitter @news4mass.