Photo Gallery
Women's Rally controversy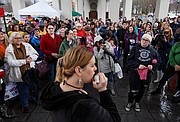 Instead of organizing collective action, Chattanooga's annual event to support women is causing fractures across the city.
The Women's Rally, scheduled for 11 a.m. on Saturday at Miller Park, is an increasing point of contention. At the center of the controversy is what the day should accomplish and whether an event to honor women can include local politicians, such as Republican state Rep. Robin Smith, who are against abortion rights and have voted against LGBTQ rights, immigration and health care expansion.
Unlike in previous years, when the January event meant walking in the streets in protest, the rally this year will stay in Miller Park and focus on commemorating the 100th anniversary of women's right to vote.
The