Photo Gallery
Chattanooga Women's Rally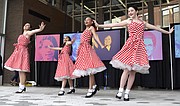 Tensions were high and turnout was low during Saturday's Chattanooga Women's Rally.
The rally, a spinoff of sorts of the 2017-2019 International Women's Marches, left something to be desired for the roughly 100 total attendees who saw the event struggle through rain, cold temperatures and pushback from local activists protesting what one called its "kumbaya" atmosphere.
"The first march was a protest in the streets to show women rallying together while we are constantly under attack," Allison Smith, who attended the rally, said. "I think that's why turnout is low. Who wants to come to a kumbaya event with women who aren't looking out for women?"
A rift began forming before the event as organizers of the rally enlisted state Rep.