Photo Gallery
Chattanooga Women's Rally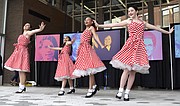 Tensions were high and turnout was low during Saturday's Chattanooga Women's Rally.
The rally, a spinoff of sorts of the 2017-2019 International Women's Marches, left something to be desired for the roughly 100 total attendees who saw the event struggle through rain, cold temperatures and pushback from local activists protesting what one called its "kumbaya" atmosphere.
"The first march was a protest in the streets to show women rallying together while we are constantly under attack," Allison Smith, who attended the rally, said. "I think that's why turnout is low. Who wants to come to a kumbaya event with women who aren't looking out for women?"
A rift began forming before the event as organizers of the rally enlisted state Rep. Robin Smith, R-Hixson, to speak, but critics pushed back, calling her voting track record on health care, LGBTQ+ rights and other social issues antifeminist.
When Rep. Smith took the stage Saturday, about a dozen of the roughly 80 people at the event broke out in protest, booing, swearing at and otherwise heckling her.
"We spoke out against her because she is antichoice and doesn't trust women to make their own decisions," Allison Smith continued. "We think she is the last person who should be speaking at a women's rally because of her disrespect toward women's rights in her role, and we wanted to make that very clear."
Protesters holding signs ranging from "misogyny kills" to "Jesus is a Liberal" shouted "she's a woman against women," and similar attacks at Rep. Smith until an MC stepped in and asked them to respect the speaker.
One woman responded, "We don't listen to women fighting a war against other women."
Others yelled "we will not be silenced" until Rep. Smith's speech was ultimately cut short.
"There's a role for partisanship if it supports your cause, but today there was no place for that," Rep. Smith said after the rally. "Today was about Tennessee women and appreciating the important role our state played in giving 43 million women the right to vote. Any attempt today to disrupt that was political bullying and was met in horror by organizers of this event."
She added that while she does not identify as a part of the feminist movement, the outburst was against her voting pattern and she will not take it personally.
"I have never actively sought to be included in feminist groups as a woman because I have never actively pursued dividing my opinions and stances from those of men because women ought to be in the same conversations about the same issues as men," she said. "While I got a negative reaction in the crowd, the policies I support are what got the reaction, not me. The things that I stand for are self-governing individuals with the rights to make their own decisions, the right to freedom of religion and the right to bear arms. But that's not what today should have been about."
After the squabble in the first hour of the four-hour event, most of the protesters left before hearing out other speakers on the program.
'Poor job of communicating'
Ahead of the rally, Emily Kate Boyd, an organizer for the rally, told the Times Free Press that the divide among activists was due largely to a misunderstanding of the event's purpose.
"Through the lens of the march, the Women's Rally is a broken promise," Boyd said. "When the march became the rally, we did a really poor job of communicating to former marchers that we made this transition."
According to organizers, though the rally was scheduled on the same day as other national women's marches designed to protest President Donald Trump, this event was designed to commemorate the centennial of the passage of the 19th Amendment, which speakers continued to do despite protests and low turnout.
Author and historian Paula Casey, District 6 Councilwoman and representative of the Mayor's Council on Woman Carol Berz, as well as representatives of other women's rights groups such as the League of Women Voters, A Step Ahead Chattanooga, Girls Inc. and others spoke to the importance of women's rights and involvement, despite the day's challenges.
"It's fine to march, it's fine to protest, it's fine to speak up," Berz said to the crowd. "We need your action. We need you to help us design policy that affects women. Decisions very often are made in the board rooms, in the committees. I want every one of you at the table. Let us give you a voice."
In the days leading up to the rally, scores of locals expressed their disappointment in the program and leadership of the event, and groups including La Paz Chattanooga, a Latino support nonprofit, and band Ashley and the Xs pulled out of the event.
"After much discussion as a band and with others in our community, we are disappointed to announce that we will no longer be taking part in the Women's Rally this Saturday. We were excited to take part in this event by showing our support and love for Chattanooga's community of women through music," the band wrote Tuesday. "Unfortunately, it has become evident over the last week that this attempt to support could unintentionally harm many within the community we care for. We appreciate everyone who has taken the time to discuss this situation with us and the emotional labor it takes to do so. We look forward to the future and hope for other opportunities to share our love through music with you all."
Despite the displeasure with the direction of the rally, no women's march or alternative event was scheduled in Chattanooga.
In 2017, Chattanooga's inaugural women's march, like many across the country, peaked with around 3,000 participants.
While the march hung on through 2019, arrests of participants in the unpermitted event and event costs are said to have stifled efforts to march this year.
Though city officials could not verify what the cost of a march permit, appropriate road signs, security and other city expenses would be, attempted march organizers have reported estimated figures as high as $5,000.
"The organizers of the rally obtained a permit to host the event at Miller Park and their park rental fee was waived through the PACE program," Richel Albright, director of communications for Mayor Andy Berke, said Saturday. "They paid [the Chattanooga Department of Transportation's] $100 application fee and used city barricades and signs. There was no one who obtained a permit from the city to perform a march."
Albright was unable to confirm what, if any, city office or offices provided a cost estimate for a potential march or what the combined estimate would have been.
"This event started as a march, as a protest movement, but the permit became prohibitively expensive so the organizers grew tired of dealing with the government," Allison Smith said. "I think the people who took over meant well, but this is not a point where we can hold hands across the aisle and pretend that everything is OK while there is a war being waged on women."
Contact Sarah Grace Taylor at staylor@timesfreepress.com or 423-757-6416.