Photo Gallery
Highway 27 interstate beautification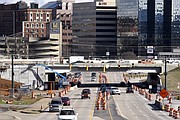 Imagine taking a downtown off-ramp out of hectic U.S. Highway 27 traffic and gliding through a peaceful garden of blooming ornamental and native plants and trees.
You might even feel your blood pressure ease.
A nonprofit group - the Tennessee Interstate Conservancy, spearheaded by former Circuit Court Judge Neil Thomas III - has joined forces with the Tennessee Department of Transportation, local governments, businesses and others to install landscaping using native and ornamental plants and make Chattanooga a model for interstate beautification.
When the U.S. Highway 27 reconstruction project is finished, two landscaping projects - one at the Martin Luther King Jr. Boulevard interchange and the other at the Fourth Street interchange - will transform the open spaces into lush plantings with species that provide visual interest most of the season.
Planners call it the "Gateway to Chattanooga" project.
The $143.2 million project through downtown Chattanooga aims to widen and straighten the roadway's original winding path and to improve on- and off-ramps between the river and Interstate 24. The upgrade - one of the most expensive of its kind in Tennessee history - has been more costly and taken longer than expected, in part due to unexpected underground problems.
In December, contractor Dement Construction Co. asked for an extension on the project that now is set for completion in the fall. Dement cited traffic phasing, weather and unforeseen issues related to one retaining wall, TDOT said. The initial completion date was July 31, 2019.
IT'S A TECHNICALITY
The formal name of the four lane highway that runs through downtown Chattanooga from Interstate 24 to the south end of the Olgiati Bridge is actually "Interstate-124," although it's rarely called that. Tennessee Department of Transportation spokeswoman Jennifer Flynn said the piece of highway is a spur route but the formal name turned out to be so confusing to people and most officials, it was just easier to use U.S. Highway 27 since that is the through route.
The original construction of the piece of Highway 27 that runs through downtown harks back to the 1950s and 1960s. Over the past half century, traffic volume has increased exponentially. The section's winding design has contributed to crashes and daily backups that helped make the Highway 27/Interstate 24 interchange the worst in Tennessee and one of the nation's worst commercial truck bottlenecks, according to the American Transportation Research Institute.
City forester Gene Hyde said the joint beautification effort resulted in a landscape plan that "incorporates three of Chattanooga's most important and cherished core values into the overall design of the landscaping component of the Highway 27 renovation project."
"The team proved that the economic, ecological, and aesthetic factors did not clash, but rather were blended into a well-designed scheme that brought out the best of all three core values," Hyde said in a statement on the project.
Thomas said last week that he got the idea while driving from Chattanooga to Chapel Hill, North Carolina, a couple years ago.
"I was going to the University of North Carolina for a reunion and to get there it's easier to drive than fly," Thomas said. "I marveled at their interstate highways and how beautiful they were. So I thought, well, let's talk to North Carolina DOT and see how they did it."
After a couple of months of discussions with transportation officials in North Carolina, Thomas said he was ready to talk to TDOT, but the initial reaction was a bit of eye-rolling, he said.
"I think they must have people who come up and see them all the time about planting flowers along the interstates so I walked into that room with no credibility whatsoever," Thomas laughed. "Shawn Bible was there at that first meeting - she's the chief guru-person on beautification of the highway system in Tennessee, among other things - and so she said, 'Well, OK. We'll see.'"
Recognizing he was playing to a pretty tough crowd, Thomas followed up with TDOT a couple of times to better establish credibility for the idea. He then pitched it to Chattanooga Mayor Andy Berke and public works officials because the downtown project site was ripe for beautification, as the land involved had already been disturbed by construction activities. Teammates needed to get on board.
TDOT put the conservancy in touch with the Ragan + Smith Associates, the state agency's on-call landscape contractor, Thomas said.
"With their great help we have progress forward to the point now that the beautification effort is going to involve planting over 1,000 trees on the M.L. King and Fourth Street exits," he said. "That's over 21 acres for 1,000 trees plus four to five acres of wildflowers, 1,300 daylilies, 1,200 blue iris and assorted other trees and other species."
BY THE NUMBERS
The Gateway to Chattanooga Project to landscape the open areas once construction is complete on two interchanges at Martin Luther King Jr. Boulevard and Fourth Street will include:1,000: Trees, various species1,300: Daylilies1,100: Blue iris4: Acres of more than 100 species of wildflowers22: Acres of total landscapingSource: Tennessee Interstate Conservancy
As the project's players came together, Thomas said an idea from 1980 leapt to mind called "Partners for Economic Progress" that might lend a partnership angle to ongoing upkeep, Thomas said.
"It was an economic development tool developed by the chamber, the county and the city," Thomas said, "and each contributed an equal amount toward economic development for Chattanooga."
Because the land is located in the city of Chattanooga, the state will contract for maintenance only with the city, he said.
"We're going to have a vertical agreement between the state and the city, and then a horizontal agreement among the city, the county and the Tennessee Interstate Conservancy, which is a 501(c)3 organization that was formed about a year and a half ago," Thomas said. "[The] Benwood [Foundation] provided the seed money."
TDOT will bear the cost of initial planting while maintenance will be done through the city and the conservancy.
"What we have agreed with the state to do is to maintain it on an annual basis. By that I mean mulching, mowing, pruning, picking up trash," Thomas said. The work would be done under contract by a third party, he said.
Now the idea needs support from the private sector, and fundraising efforts will begin in the next four to five weeks, he said.
Ongoing maintenance - TDOT does little more than mowing when it comes to landscaping - will be a private sector component lacking in the North Carolina program, Thomas said.
"This is an expansion of what North Carolina did. They just had an agreement between the state and city but they did not have the private sector involved," he said.
While there's no final price tag on annual maintenance costs, the costs would be shared 50% by the Tennessee Interstate Conservancy, 25% by the city and 25% by the county with "the idea to create a fund that will sustain itself for 10 to 20 years," he said.
Ragan + Smith Vice President Brett Smith and landscape architect Troy Gardner said the firm is working on a plan that will focus on the two downtown interchanges to "make our statement" with a design that "is both ornamental and restorative."
"We're trying to get elements of an ornamental landscape design with a dynamic geometry so it looks as good from the sky and buildings as it does from the ground," Smith said last week.
There will some non-native plants such as crepe myrtles and daylilies, but native plants will provide a deeper element.
"Cultivar" tree varieties - brand-named, native-based varieties that have been cloned and patented to be marketed commercially - will be used but they aren't invasive, such as Bradford pears that are now appearing in wild settings. And native wildflowers will be combined with non-native daylilies to make a seamless blend of the best features, Smith said.
"The trick is to not have it so busy it doesn't have a cohesiveness but to also not do a monoculture that is boring most of the time," Smith said.
"You want to strike that balance between biodiversity and just loading [a] horticultural shotgun."
LEARN MORE
To find out more about the Tennessee Interstate Conservancy's Gateway to Chattanooga beautification project and how to help, go to tennesseeinterstateconservancy.org.
TDOT's role will be as a teammate with businesses, nonprofits and local governments, according to Bible, manager of TDOT's Highway Beautification Office.
"One of the exciting things about it, and the reason TDOT's Beautification office wanted to get involved, is that Judge Neil Thomas is hoping that the process and the nonprofit he has created will be used as a model program in other cities across Tennessee," Bible said.
And there is interest, and Chattanooga is already becoming a model of the notion.
TDOT and the conservancy are now working with Memphis leaders to develop a landscape template "that will bring continuity and a cohesive look to the major transportation gateways in that area," Bible said.
The start of landscaping work here will depend on when construction on U.S. 27 is complete.
"TDOT project supervisors and the landscape team will work together to determine the installation schedule based on project completion, appropriate planting times and coordination with stakeholders," Bible said.
Contact Ben Benton at bbenton@timesfreepress.com or 423-757-6569. Follow him on Twitter @BenBenton or at www.facebook.com/benbenton1.