Perhaps you remember the Duracell commercial from Super Bowl XLVIII, the one pitting the Seattle Seahawks against Peyton Manning and the Denver Broncos on Feb. 2, 2014. In the ad you see the name Coleman on the back of a Seattle jersey and hear an announcer say "Derrick Coleman," followed by a closeup of a small, white hearing aid attached to the back of the football player's right ear. Then you hear the following words:
"They told me it couldn't be done. That I was a lost cause. I was picked on. And picked last. Coaches didn't know how to talk to me. They gave up on me. Told me I should just quit. They didn't call my name. Told me it was over. But I've been deaf since I was 3. So I didn't listen. And now I'm here with a lot of fans in the NFL cheering me on. And I can hear them all."
By the close of that night's game in East Rutherford, New Jersey, the whole world was cheering for Coleman as Seattle crushed the Broncos 43-8.
"One of my best memories on the football field is celebrating the Super Bowl 48 victory in New York," Coleman wrote in an email this past week. "Not only my teammates, but my high school and college friends/teammates that supported me and rally with me whenever needed!"
Come Wednesday, Feb. 5, at the Westin hotel in Chattanooga, Coleman will attempt to rally our community to support the Partnership for Families, Children and Adults when he speaks at its RISE 2020 luncheon. RISE focuses on how communities rise together to support neighbors in need.
"RISE 2020 will showcase one of our most utilized programs, Deaf and Hard of Hearing Services," Sharon Love, director of philanthropy for the Partnership, said in a news release. "Deaf Services has served individuals with hearing disabilities in our community for over 45 years, providing services and life skills training for the deaf, deaf-blind, and hard of hearing community members."
Photo Gallery
Derrick Coleman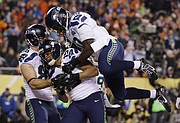 Coleman lost his hearing when he was 3 due to what doctors believe was a genetic disorder. A California native, he wound up playing fullback at UCLA. Though he was not picked during the 2012 NFL draft - hence his reference in the battery commercial to not having his name called - he wound up with the Seahawks after originally being signed by the Minnesota Vikings. He spent four seasons in Seattle, one with the Atlanta Falcons and one with the Arizona Cardinals.
Though he worked out for five NFL teams prior to this season, no one signed him.
He wrote of his future plans: "Always in shape mentally (and) ready as I transition out (of football) and be the best I can be in the next chapter of my life!"
Everyone's life has chapters. Not all are compelling enough to wind up in a book, but Coleman wrote one with Marcus Brotherton titled "No Excuses: Growing Up Deaf and Achieving My Super Bowl Dream" after he won the Super Bowl with the Seahawks to cap the 2013 season.
Amazingly, he believes being deaf may have given him an occasional advantage on the football field.
"Growing up with hearing loss had its challenges," he wrote in the email. "But me having a competitive nature helped turn them into advantages! I can read lips really well since I was mainstreamed in school with no sign language education or community. In situations when it's super loud in a stadium or event, etc., as long as I am looking (at) whoever is talking face to face, 95% of the time I will pick up what is being said. Sometimes in loud away games, a teammate or two will ask me what was said in the huddle, ME, a hard of hearing/deaf player! Make the best with what you got!"
It would be difficult for most of us to make the best of a legal situation such as the one Coleman got himself into in October 2015. He pleaded guilty to vehicular assault and hit-and-run charges after he slammed into the back of another vehicle, injuring the driver. Police also reported Coleman said he had been smoking a synthetic form of marijuana an hour before the accident. He was forced to serve an NFL-mandated four-game suspension.
But it's what the 29-year-old Coleman wrote in his email that everyone should embrace, whether they have a disability or not: "Accident was a blessing in disguise! Poor decisions were made prior and regardless of what happened, I took care of my responsibilities and made sure others know the consequences of the actions good or bad! We all make mistakes. Question is, are you a repeat offender or is one time enough?"
There will certainly be more to Coleman's message at the RISE 2020 luncheon than the above comments. This has become his life's calling.
As he wrote about his determination to help deaf and hard of hearing high school students who are not doing well or feeling out of place or bullied: "I went back to a group I'd spoken to the previous year and they thanked me not because of the things that were said to them but the fact that they know someone who personally experienced what they are going through in life! Nobody wants to go through life alone, good and bad times!"
He also wrote this when asked why he chose to come to Chattanooga: "Traveling and talking to the hard of hearing/deaf communities and their family and friends is what I have fallen in love with. Letting them know they are not alone and showing them you don't have to be someone special to do great things."
You just need to do the best with what you've got.
Note: For RISE 2020 sponsorship information, write to acarlton@partnershipfca.com or call 423-490-5626.
Contact Mark Wiedmer at mwiedmer@timesfreepress.com. Follow him on Twitter @TFPWeeds.