Photo Gallery
Lemons Rally stops in Chattanooga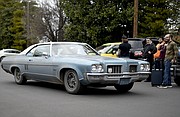 The fourth annual Lemons Rally stopped in Chattanooga at the Choo-Choo on Thursday with a group of $500 cars as part of the road-going counterpart to the 24 Hours of Lemons, an irreverent endurance racing series.
The group began their adventure from the Allegany Museum in Cumberland, Maryland, on Tuesday and passed through Roanoke, Virginia and Asheville, North Carolina, on the way to Chattanooga. From the Scenic City, they will set out for Barber Motorsports Park near Birmingham, Alabama, which will be hosting the 24 Hours of Lemons racing series. The rally will then wrap up with an award ceremony there, according to a news release from Eric Rood, the media representative for the rally.
"When we start the rally we assign each of the cars kind of a point value based on where it's made, how old it is and then kind of subjectively on how terrible the specific car is and the people in it," Rood said.
"We don't really care too much about who wins; mostly we just want people to have fun."
The 40 participants have spent 300-400 miles a day traveling this week. Two cars even broke down before starting the journey, according to Rood.
The road trip has included stops at the Asheville Pinball Museum, Deal's Gap Motorcycle Club and an iconic stretch of curvy Route 129 known as The Dragon. Other highlights included stretches of the Blue Ridge Parkway and oddball roadside attractions like an oversized frying pan.
Since 2016, the Lemons Rally has taken ugly and unappreciated cars on long, tough road trips to atypical tourist destinations. The Rallies include offbeat landmarks, spectacular views, and off-season tourism.
Automotive journalist Jay Lamm founded the 24 Hours of Lemons in 2006 to generate affordable, low-pressure racing with an emphasis on fun, the release states.