PIKEVILLE, Tenn. - A trip through Bledsoe or Prentice Cooper state forest might first give the impression of a lush, dense forest of native species, but a local conservation group says a closer look at logging sites reveals a lack of biodiversity that could be helped by better state management of timbering in Tennessee's public forests.
Local environmentalist Davis Mounger, co-director of Tennessee Heartwood and a Sierra Club member, said logging activities under agreements with the Division of Forestry in some 15 state forests are leaving the land to scrub growth that limits recovery, biodiversity and results in growth of lower-value timber and fewer native hardwoods.
"Of the fifteen state forests in Tennessee, logging is also currently happening at Prentice Cooper, Bledsoe, Standing Stone, Chickasaw, Natchez Trace, and Chuck Swan, with the latter two having multiple sales," Mounger said in a statement on activities described in the state's "Plan 2020: Harvest Plan for Sustainable State Forests."
"There are 17 hardwood timber sales and six pine timber sales happening overall across these forests this year. Prentice Cooper plans 131 acres of logging in a timber sale this summer across five stands. Chuck Swan has 259 acres of logging this year across multiple sales, while Natchez Trace has 379 acres of hardwood and pine timber sales planned," Mounger said.
Tennessee's Division of Forestry, part of the state Department of Agriculture, is mandated under state law to manage forest lands for a variety of uses and "to provide a sustained yield of high quality timber and other forest products," according to the division's 2020 harvest plan.
The plan notes management requirements consider there's a total of 1.75 billion board feet of commercial timber in the state forest system alone, with an estimated value of $266 million.
"This valuable asset is managed on receipts from timber sales," the plan states about operational funding. "No state appropriated funding is used in the management of the state forest system."
That means forest management must pay for itself, according to the plan.
Photo Gallery
Environmentalists voice concerns about logging impact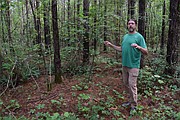 Tim Phelps, forestry communications and outreach unit leader at the Division of Forestry, argues the forests have plenty of biodiversity. He said clear cuts are becoming filled with yellow poplar that are acceptable regeneration species, although there are some problem species, too.
"We do see some of the stands that are cut have a lot of yellow poplar come up, for the most part in that particular case, we're OK with that," Phelps said.
He said a team of state foresters take a census of trees in forests across the state on a daily basis to keep up with the makeup of species.
"That sort of gives us the pulse of what the forest conditions are across the landscape," Phelps said.
He said an analysis of 2017 tree census data shows the same amount of oak and hickory in Tennessee as existed 10 years ago.
"Seventy percent of our 14 million acres of forest land is oak and hickory, and that is great. A lot of wildlife thrives on that, it's great for water quality and water protection, and it's also great for economic contributions because oak and hickory are valuable timber species," he said.
As recognition of the division's hard work, Phelps also points to the certification the division received in June from the Sustainable Forest Initiative, a third-party organization that works with the forest sector, brand owners, conservation groups, resource professionals, landowners, educators, local communities, Indigenous peoples, governments and universities, according to its website.
Phelps said that under the certification, the state will perform audits to make sure sustainable practices stay on track.
(READ MORE: Tennessee creating strike team for prescribed forest burns)
Timbering tour
Last week, as scattered thunderstorms beat back the 90-degree heat, Mounger and Tennessee Heartwood co-director Sheila Campbell scanned the low-growing brush at logging sites for desirable hardwood tree seedlings as they climbed over gray, weathered logs left behind by recent years' timbering at Bledsoe State Forest in Bledsoe County and Prentice Cooper State Forest in Marion County.
Mounger and Campbell spent more than six hours in the forests that day but found only a scattered number of oak or hickory seedlings. They found no hardwood seedlings at all in some areas.
"Clearcuts and near-clearcut logging have converted hundreds of acres of recovering second-growth forest on the plateau at Prentice Cooper into scrub, invasive autumn olive, and poplar thickets," Mounger said. "The mixed oak and hickory forests often struggle to regenerate in this environment."
In both Bledsoe, a little more than 8,300 acres, and Prentice Cooper, more than 24,000 acres, there are areas where hardwoods grow in mixed-species, open stands that are mature enough for harvesting. But some other areas that were cut a decade or more ago are packed with what Mounger identified as Virginia pine, poplar or autumn olive 10- to 20-feet tall and too dense to even walk through.
Blackberry, sumac and other low-growing species clog the spaces between trees to create an impenetrable mass of vegetation Mounger said won't allow slower-growing hardwoods to get started.
Mounger and Campbell don't object so much to the removal of trees, it's what the say is the lack of a plan to leave behind enough desirable trees to replenish the forest by seasonally dropping seeds to create a store of seeds called a "seed bank."
The theory behind "shelterwood logging," which Mounger said is the second most-common technique used, "leaves a few trees to provide a seed source. However, many of these stands fail to produce enough oaks, hickories, and other trees to compete with heavily seeding poplars and loblolly pines."
Logged land left to recover on its own often leads to the spread of the fastest-growing, least-desirable growth that can create a new seed bank of the wrong species, according to Mounger. Seed banks can linger for years, he said.
On the other hand, Mounger praises state forestry officials for "being sensible in avoiding logging in places like the steep slopes at Prentice Cooper or some of the rare habitats at Cedars of Lebanon."
He also praised state foresters for limiting use of herbicides.
"The agency has to follow a policy where its management pays for itself, i.e. the state does not provide adequate funding," Mounger said. "This places tremendous pressure for quick, short-term yield. Managers need better support from the Legislature."
"When we talked to the state this spring, we acknowledged that in some ways they have a tough row to hoe, financially. They have to turn over revenue product frequently just to stay afloat," he said. "This likely has an effect on skewing towards the quick and easy clearcuts."
(READ MORE: Bledsoe County CCC buildings eyed for preservation)
But Phelps said regeneration of oak and hickory from clear-cutting over-mature hardwood stands requires lots of sunlight and that comes only by opening up areas of forest. Clear-cutting also aids wildlife, he said.
Phelps gave an example of a 100-acre, oak-hickory forest broken up into five 20-acre tracts. If 20-acre tracts are harvested every 10-20 years over 100 years "you continue to have a sustainable rotation of oak-hickory forest that is on that same 100 acres."
The time scale for an oak and hickory forest to regenerate is 80 years or more, Phelps said, but the rotation of harvesting keeps tree ages healthily varied.
Phelps agreed with Mounger that tree species such as autumn olive, Virginia pine, royal paulownia, honeysuckle and Chinese privet are problems in timbered areas, and the seed banks they leave behind require complete removal to allow natural regeneration. Acorns and hickory nuts don't last as long as some of their fast-growing competitors, which adds to the problem, Phelps said.
"Autumn olive is another one that's difficult to control," he said. "There's no way of eradicating it."
Autumn olive has to be cut completely or destroyed by a prescribed fire if it's not too tall, he said.
After a clear cut where the seed bank is made up of unwanted species, Phelps said foresters often must plant seedlings from a state nursery of the tree species they want in order to reclaim the stand as hardwoods.
Phelps admitted forestry is a work in progress and there's always more learn.
Seeking solutions
Tennessee Heartwood has launched a petition seeking to change management practices, stating, "Tennessee's state forests are important part of our conservation heritage. We encourage the Forestry Commission to have an overall management plan that manages our state forests in a way that balances recreation, wildlife, education, and biodiversity values with its forest products mission."
"The state should seek alternatives to clearcutting and other heavy logging practices, the statement continues. "These alternatives would help maintain an intact forest structure, discourage the spread of invasive species, help prevent dominance by only a few opportunistic tree species, and greatly improve wildlife habitat."
Tennessee Heartwood contends well-known research forests like Pioneer Forest in Missouri and work by the University of Kentucky are succeeding with "alternative harvesting methods that keeps an intact forest structure with a balanced distribution of native trees. This would be a good time for the state to undergo some monitoring and evaluation of the timber program to see what is and isn't working."
Contact Ben Benton at bbenton@timesfreepress.com or 423-757-6569. Follow him on Twitter @BenBenton or at www.facebook.com/benbenton1.
FAST FOREST FACTS
Bledsoe State Forest Size: 8,365 acres Bledsoe State Forest is located on the Cumberland Plateau in east-central Tennessee, in Bledsoe, Cumberland, Van Buren and White counties. The land was originally purchased by the State Department of Institutions in 1907. In 1933, 6,656 acres were designated as state forest. The remaining lands, known as the Taft Youth Center, were left under the jurisdiction of the Department of Institutions, now the Department of Corrections. Areas of the forest are used for tree improvement studies, where strains of various species are grown to determine their suitability as high-quality timber. Much of the pine timber type on the southern section was wiped out and salvaged due to a southern pine beetle outbreak in the early 2000s. The timber types present include mixed upland hardwoods, mixed hardwood pine, planted white and loblolly pine, and hemlock pine. The forest has been used traditionally for hunting deer, turkey, and other small game species. The various streams throughout are used for fishing common river species. Hiking, horseback riding, and ATV riding occur in the forest as well. GPS coordinates of main entrance: 35.681907, -85.269735 Prentice Cooper State Forest Size: 24,686 acres Prentice Cooper State Forest is in southeastern Tennessee, in Marion County. The forest is about 10 miles west of Chattanooga and is heavily utilized by the public. It is situated on the scenic Tennessee River Gorge. The property for Prentice Cooper was acquired by simple purchase between 1938 and 1944. The site was proclaimed a State Forest in 1945. Sixty-nine percent of the forest is in multiple-use regulated forests and the remainder is in conservation areas. About 6,939 acres are designated as unregulated scenic zones that protect this viewshed and other scenic areas of the forest. Hicks Gap Natural Area (350 acres) also occurs in the forest and was developed to protect the federally endangered Large-flowered Skullcap. The forest also includes several in-holdings owned by Tennessee Wildlife Resources Agency and 3 cemeteries. Management activities of the forest focus primarily on sustainable timber management, forest management demonstration and wildlife habitat improvement while maintaining recreational opportunities for the public. There are 35 miles of hiking trails, including the south end of the Cumberland Trail State Park. There also are two designated camping areas. Tennessee Department of Agriculture, Forestry Division has provided labor and portions of the forest for various types of research in collaboration with the University of Tennessee. Hunting has been a traditional use of the forest. Other recreational activities include OHV use in designated areas, rock climbing, hiking, mountain biking, horseback riding, bird watching, and camping. Source: Tennessee Division of Forestry