When he joined the Chattanooga Football Club in 2013 as a young, up-and-coming talent, Jose "Zeca" Ferraz knew he was joining an elite amateur soccer team.
Zeca's fearless play and charismatic personality has been everything the club could ask for and more as he has helped Chattanooga FC compile an 89-32-24 record since his arrival.
From scoring a goal in a 2018 exhibition match against Major League Soccer's FC Dallas to helping provide numerous National Premier Soccer League conference championships, Zeca has ingrained himself into the DNA of the club.
Now, the 28-year-old Brazilian forward is excited to begin his eighth season with CFC, which is now a first-year professional club and will host the Georgia Revolution at 8 p.m. Saturday at Finley Stadium to start the NISA Independent Cup.
Fans will not be allowed to attend, but the match will be televised locally on the CW (WFLI). It will be the first professional game in the state played since sports shut down due in mid-March due to the coronavirus pandemic.
"Turning professional is really a dream come true," said Zeca, who scored six goals in 13 matches to help CFC win its eighth and final NPSL conference championship last July before its transition to the National Independent Soccer Association.
"This is the first professional contract I have signed. I have been with CFC for a while. I love the people around the club and the community and am excited to help the team in any way I can again."
In four of Zeca's seven seasons, the club has won at least 15 matches, which included a 16-9-6 overall record in a two-part 2019 campaign.
Photo Gallery
CFC set to open season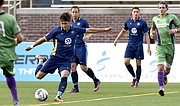 However, his familiar face is one of just a few returning for a brand new chapter as CFC enters the professional realm. The only other returners from last year's team are striker Jowayne Laidley, defender Soren Yuhaschek and midfielders Cameron Woodfin and Juan Hernandez. Woodfin and Hernandez combined for eight goals and 19 assists in 2019.
"This is a completely different squad from what we have had in the past couple of years," Zeca said. "A very important aspect of this beginning phase and playing again is having strong communication. What I try to do is be someone who can introduce the new guys to Chattanooga. I take the guys on hikes and show them all the good things this city has to offer. It's a great place to play."
Staying organized defensively is the biggest key to Saturday's match, CFC coach Peter Fuller said.
With standout goalie Phil D'Amico gone, newcomers face more pressure to step up defensively.
Richard Dixon, who was the first professional player signed by CFC and played well in his time with the Chattanooga Red Wolves last year, is expected to lift a heavy load on the back line, along with Raymond Lee and Erik Panzer.
"Richard is a huge piece to the puzzle back there," Fuller said. "I look forward to watching Erik play. He has played in Scandanavia, England, the New Zealand Premier League and in the Australian National League. He and Ray Lee, who has played in the MLS and USL Championship, are going to be guys we are going to count on."
Joao Costa and Felipe Oliveira will both be missed after scoring 11 goals each last season. CFC will look to Sean Hoffstatter and Ian McGrath to help pace an attack that outscored its opposition 73-34 in 2019.
Hoffstatter was the Gulf South Conference player of the year in 2018 as he scored 17 goals for West Florida in 14 regular-season matches under head coach Bill Elliott, the former CFC head coach who is now the technical director of the pro club.
McGrath, a 6-foot-4 midfielder, has USL Championship and Scottish Championship League experience. He scored CFC's first professional goal in a 1-1 draw with Oakland Roots SC on Feb. 29 in California before NISA play was halted.
Fuller also mentioned midfielder Topher Marshall and forward Kaleb Jackson as new faces to keep an eye on in the attack.
Chattanooga and the Georgia Revolution split their two NPSL matches last season, with each earning a hard-fought win on the road. Both teams will be allowed seven substitutions Saturday.
"We are all excited to showcase ourselves on TV," Zeca said. "We don't have a lot of chances to do that. It's nice to have that exposure and reach more people in their houses and the ones who wish they could be here. Hopefully we give fans a good show and start the reboot to the season in a strong way."
Contact Patrick MacCoon at pmaccoon@timesfreepress.com. Follow him on Twitter @PMacCoon.