The crowd started to grow as the sun set over Miller Park.
It was a quarter past eight and the day was giving way to night. Most of the protesters came close to the pavilion and the concrete steps where the microphone and speakers were. People passed out water bottles and Gatorade. A long line for pizza kept moving until dinner ran out.
Just about as far away from the stage as someone could be while still being part of the crowd, Laquata Johnson sat cross-legged on the lawn by herself.
It was the first time Johnson had joined the Chattanooga protests. At first she was reluctant to talk, wanting to keep the peaceful moment to herself. But these days, she understands, are no time to stay silent.
"We want to be heard," she said. "We don't want no trouble. We just want people to understand we need help. I would like people to accept the situation and [acknowledge] it. We've dealt with this for so long. We're just tired."
Johnson is a black woman and a mother of two. Her youngest son, Greg, was at Friday's protest. He's 17 years old.
The family has lived in the same house in Chattanooga for the last 12 years. Greg's an athlete and routinely jogs around the neighborhood for exercise. In January, a white woman who was new to the neighborhood yelled and screamed at Greg, accusing him of trying to steal something from her car while holding her dog on a leash to intimidate him.
"He was scared to death," Johnson said.
Johnson was there Friday night for her son. She was there because she knows there will be a day when she and Greg's father won't be there for him. She was there for the conversations she's had to have with her son.
"You know how hard it is for us to sit down and have a conversation with our kids and tell them about being pulled over? It is scary," she said. "I'm afraid for him. I really am."
Photo Gallery
George Floyd protests grow in Chattanooga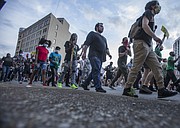 The protests extended to their seventh day on Friday in Chattanooga and have swept the nation since the death of George Floyd, the black man who died after a white Minneapolis police officer knelt on his neck for nearly nine minutes.
The protests have several meanings behind them. Participants are fighting against police brutality, systemic racism, mass incarceration. They are fighting for criminal justice reform and racial equality. The protests have also acted as memorials for those who have died at the hands of police officers and others.
Rebecca Norvelle sat on the concrete steps in Miller Park with her mom, Robin Renegar. Norvelle said she was protesting in response to outrage and hope. The protests have started conversations that would not have happened otherwise.
"A lot of white people, like myself, would have never known that that was the way black children have to be raised," Norvelle said. "That's what they face every day. Even the smallest thing, the fact that we're out here, makes people talk about it."
It was their first time taking part in the protests. Angel Jones was sitting next to them on the steps. Jones hasn't missed a night of protesting.
"This is important," she said. "It's important for me to show my children to stand up for yourselves and for others."
Jones has been and still is a foster parent. When she and her family were living in Cohutta, Georgia, she said her foster kids experienced racism first hand.
"My kids were spit on, cursed, attacked. It was horrible."
Jones said the current movement isn't just a race issue. It's an issue about police brutality, excessive force, abuse of power and so many other systemic hurdles.
At 8:23 p.m., one of the protest leaders got on the microphone and asked the crowd to sing "Happy Birthday" to Breonna Taylor. Taylor was a black woman and an EMT in Louisville who was shot and killed in her apartment by police. She would have turned 27 on Friday.
Protesters started to move through the streets around 8:30 p.m. Candles were passed around and lit. The names of the dead were chanted. Slow marchers were told to move to the front to set the pace.
Outside the Hamilton County Jail, a protest leader called for the private prison system to be abolished and made a joke about Sheriff Jim Hammond. Another picked off a pink rose bulb from the bushes out front. The crowd started to move up Cherry Street, some staying behind to pick up water bottles that were left on the sidewalk. The street lights flickered on at 8:50.
Joan Ferrell, a white woman from Hixson, was carrying a sign to remind people to vote. When she was asked how old she was, she smiled and said "Let's just say over 60."
"This is the most serious threat to our democracy in my lifetime," Ferrell said. "These people need to be supported."
Chattanooga Police Department Capt. Nathan Vaughn walked slowly behind the crowd as it made its way down Market Street. Vaughn and another officer were the only two on foot for the whole protest.
Vaughn said he's been impressed with how the protests have evolved and grown, as well as how engaged the group has been with the leaders every night.
"Every night there seems to be more and more people," he said. "It's evolved and has been more organized as it's gone on. Early on, there would be people handing out water bottles and that turned into pizza and food for people."
Ryo Shawn, 27, is a Chattanooga native. He said the protests have lit a fire in him.
"I was a little numb when this all happened to be honest," he said. "I wasn't here for the first night, but I've been out here every night since. There's a good energy out here. There's passion."
Shawn knows change won't happen overnight. But to be out there every night is important to him. He and hundreds of others have become familiar faces for people so to not show up would lessen momentum, he said.
"Silence is violence," he said. "We have to stay true to the cause."
Akita Johnson and Monae Carter had plans to take their kids to Miller Park to play. That's when they found out the protests were still going strong.
"Well that's obvious," Johnson said with a chuckle when asked why she came to protest. "We black."
"And we're tired of racism," Carter said.
Carter's 9-year-old daughter, Brittney, had a plea of her own.
"They need to let us be free," she said.
The crowd headed to the Westside to visit with residents in the Ridgeway Apartments and College Hill Courts.
Alisha Leavitt was holding a small, glass vase with flowers.
"They're from my garden," she said. "They're for Breonna."
The crowd squeezed through Poplar Street where people pulled the curtains back in the windows to watch the masses move by. Some sat on their porch with babies and hollered in support.
Patricia Lindsey stood on her porch in her pajamas and watched the crowd go by.
"We were right here when MLK marched," Lindsey said. "We weren't allowed in restaurants. We had to sit in the back of the bus. That changed. If they're doing it the right way, if they're fighting for justice, then things could change again."
The crowd made it back downtown. Music by Beyonce, Kendrick Lamar and Meek Mill, as well as the anthems of other black artists filled the streets. The rooftop patio was packed at the Pickle Barrel. When the protest passed on the street below, people got up from their tables, leaned over the rail and blew kisses from above.
Five miles of pavement and more than four hours later, the crowd assembled again at Miller Park.
At the beginning of the protest, Laquata Johnson said she recognized the difference between today's generation and hers.
"The younger generation is different from us. They have a lot of fight in them," she said. "Back then you used to hear about it so we said, 'We'll just pray about it.' Now we're seeing it every day, all day long. Nobody wants violence, but if you hit somebody upside the head long enough, they are going to strike back."
When she was growing up, Johnson said the way African Americans dealt with stress, anxiety, anger and fear was to bottle it up.
"Hurt turns into anger if you don't do anything with it," she said. "In our culture, we don't believe in therapy. We believe in, 'Eat your food, go upstairs and go to bed. You gonna be all right tomorrow.'"
Not this time around.
"The younger generation, they are just going to do it," she said. "They're going to make it happen."
Contact Patrick Filbin at pfilbin@timesfreepress.com or 423-757-6476. Follow him on Twitter @PatrickFilbin.