Photo Gallery
New cars at Chattanooga's Incline Railway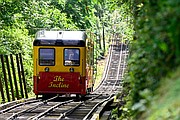 The Lookout Mountain Incline Railway reopened on Monday, June 29 after six months of closure for scheduled maintenance and preparations for new incline cars.
The Chattanooga Area Regional Transportation Authority announced in December they would be installing a new pair of cars on "America's most amazing mile," an investment totaling $4 million.
"The Incline Railway is excited to unveil our brand-new railcars that were manufactured by Brookville Equipment Corporation in Brookville, PA," said Lisa Maragnano, Executive Director of CARTA.
The incline opened in November 1895, and was constructed by John Crass and the Lookout Mountain Incline Railway Company. The original railway cars operated on coal-burning steam engines, which were upgraded to the electric motors in 1911.
Features of the new cars include:
- More window space for an improved view of the Chattanooga valley - Wheelchair accessibility - No more carpeting or cloth-covered seats, making them easier to clean and maintain - Heating and air conditioning - New lighting and onboard security cameras