Photo Gallery
Arts Center of the Ozarks Ball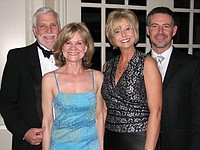 Thousands of students in Hamilton County public schools will have the opportunity to participate in modern band programs - some with free instruments - thanks to a partnership of nonprofit organizations including one started by singer and former Chattanoogan Usher Raymond.
The effort by Raymond's Nancy Lackey Community Education Fund and Little Kids Rock was announced Wednesday at Brainerd High School.
Little Kids Rock provides free teacher training and instruments to public school districts across the nation to give them the resources they need to offer pop- and rock-based music education classes. The organization is on the verge of reaching its one-millionth student.
The Little Kids Rock Modern Band Instrument Program selected 20 Hamilton County public schools out of 37 that applied to receive a full array of modern band instruments, two days of professional development, access to curriculum materials and access to a national cohort of teachers who are teaching modern band classes in their schools, according to Jill Levine, chief of innovation and school choice for Hamilton County Schools.
"When we teach in ways that make kids want to learn, they want to learn more, and if we want kids to show up for school and we want attendance to improve and achievement to improve, we have to engage kids and we have to meet kids where they are and where their interests are," she said.
Schools selected for the program are Wallace A. Smith, Wolftever Creek, Spring Creek, Allen, Middle Valley, Hardy, Calvin Donaldson, Clifton Hills, Orchard Knob, Alpine Crest, and Woodmore elementaries; Hunter, Ooltewah, Soddy-Daisy and Hixson middle schools; Brainerd and Red Bank high schools; and Tyner Academy, Normal Park Museum Magnet and East Hamilton Middle High School.
Named for Raymond's grandmother, the Nancy Lackey Community Education Fund was established to support music and arts education in Chattanooga.
In addition to partnering with Little Kids Rock to promote music education in Hamilton County Schools, the Lackey fund resurfaced all the dance floors and replaced the lighting at Chattanooga Center for Creative Arts.
"When she was little, she wanted to be a dancer," fund chief operating officer Julie Sanders said of Lackey. "But a teacher told her, 'You can't do that.' So she always made sure that kids around her had the opportunities that she never had."
When the organization was founded, only 24% of elementary schools in Hamilton County had art teachers, Sanders said. So the fund launched a program that brought in guest teachers to second grade classrooms and started a parent engagement program. The fund also partnered with ArtsBuild to offer the ArtsBuild Opportunity Fellowship, an internship for college students and recent graduates with ArtsBuild Community Arts Partners.
Contact Emily Crisman at ecrisman@timesfreepress.com or 423-757-6508.