As schools and many businesses close across the country amid concerns about the spread of the coronavirus, child care providers are left in a predicament.
Do they stay open despite the public health and safety concerns and the fear of putting children - who some believe could help spread the virus without showing symptoms - and their families at risk?
Or do they close, which could mean long-term financial repercussions for these small businesses, as well as for the parents who suddenly must choose between a paycheck and leaving a child alone at home?
Cynthia Evans, executive director of Champion Christian Learning Academy, said she is going to keep the center open as long as possible. Many of her children's parents rely on child care so they can go to work.
Photo Gallery
Child care providers during COVID-19 crisis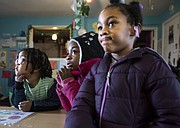 "We will probably be open unless we are forced to shut down, because a lot of our parents work for places where they are not able to work from home," Evans said. "We have learners that can be at home with their grandparents or older siblings, and that's OK. But I have a family that has a 3-month-old, a 1-year-old, a 2-year-old and a 3-year-old. What are their options?"
Kathryn Gladden runs Tweety's Child Care Home. She is concerned with the lack of guidance home care providers are receiving from local governments or the Tennessee Department of Human Services as to whether or not they should close, but she is also worried about the financial strain that will come with closing.
"We see the city is shutting down everything, but home providers and group homes - there is no protective plan in place for us. They've put us in a predicament," Gladden said. "If schools closed, why are we OK for us to be open? It seems as though, for a lot of providers, it feels like we are on our own."
The role children play in transmission of COVID-19 and the coronavirus outbreak is still unclear, including whether children who have the virus but aren't showing symptoms are helping to fuel the spread.
Some pediatric experts are urging parents to keep even seemingly healthy kids away from older relatives until the pandemic subsides and COVID-19 is better understood.
Some child care facilities are able to put children in small groups and keep them separated, but others that are unable have already started closing.
At Champion Christian, only about 60 of the usual 90 students showed up on Tuesday, Evans said, which left classes at about nine students or less. Evans and her staff also require parents to drop off children at the door and take their temperatures before letting them into the facility.
Gladden also has been monitoring her children's temperatures and encouraging them to wash their hands multiple times a day.
Even before the outbreak, the Department of Human Services guidelines required a student to be fever- and symptom-free for at least 24 hours before being allowed back into a child care facility, but now most centers are requiring a doctor's note before students are allowed to return.
At Chambliss Center for Children, only about half the usual number of children have been dropped off for child care this week, said Lesley Berryhill, director of special projects and events. This allows extra staff to clean and monitor health risks.
'We don't want to be exacerbating a problem, so we are being very diligent in cleaning throughout the day," Berryhill said. "Child care is considered an essential service. However, we have to monitor things here ... and we are taking things day by day to see how things go."
National agencies, including the National Association for the Education of Young Children, are advocating for support for child care programs. In an open letter to government officials, the association recommends that child care centers shut down while protecting workers' wages and jobs. Instead of keeping all centers open, selected centers could be used to care for the children of emergency responders and health care workers in order to keep those industries afloat.
The YMCA of Metropolitan Chattanooga is already transitioning its four local branches into such centers. The YMCA will transition locations to take on the role of community response centers for those in the health care industry who need child care, President and CEO Janet Dunn announced Tuesday.
Ariel Ford, director of early learning for the city of Chattanooga, said that the COVID-19 crisis highlights "the fragility of early child care systems and the necessity of a strong child care system for industries to work."
"When you're dealing with the potential for 50 to 80% of child care programs being required to shut down or pause services, that requires more than just local investment, so we have to see all levels of government working together," Ford said.
Ford expects child care center closures to be significant strains on small businesses, the early childhood workforce - which already struggles to maintain highly qualified workers for low pay - and other industries, as well.
Many, like Fran Pierce, who runs Blessed Hands Day Care, isn't sure how she will pay her employee - or feed her own two daughters - if she were forced to close down.
"Trying to protect the kids is my main concern; where else are they going to go when they leave us?" Pierce said. "But part of the reason I'm staying open is because I don't know how I would be getting paid and where money is going to come from otherwise."
The Department of Human Services did notify providers that it will continue to pay for children who are enrolled through the state's Child Care Certificate, or voucher, program through the end of March. Centers still will receive funding for those children regardless of whether they attend or if an agency has to close because of the impact of COVID-19.
"At the end of March, we will reassess all of these temporary measures to determine how we can support you moving forward based on the effects of COVID-19," said Gwen Laaser, director of child care services for the Department of Human Services, in an email sent to child care providers.
Centers might still lose money from private payers if families choose to stop bringing their children or the agencies are forced to close, though.
Overall, Ford said most child care providers are adapting as things change day by day, and the city is working on ways it can support the child care community during this time.
"I've been so heart-warmed that programs are making the best decisions they can for their students and families and really make the best decisions for their staff," Ford said. "These are people, mostly women, who feel so utterly committed to the safety of their families and children."
Contact Meghan Mangrum at mmangrum@timesfreepress.com or 423-757-6592. Follow her on Twitter @memangrum.