* Location: 1920 Northpoint Blvd. in Hixson
* History: Owen Cyclery was founded in November 1973 by Tom Owen, who had an interest in bicycles and motorcycles. He was inspired by his father, Thomas Owen, the founding member of the Chattanooga Bicycle Club in 1967. As trends in fitness began to take off, and retail favored specialty item stores, Owen Cyclery grew, along with the store's offerings of styles and categories of bikes. The store has changed location four times, and each move increased the size of the store and the inventory, and provided space for more services related to cycling. In 2002, Owen sold the business to two employees, one of whom was Erik Hunt. In 2016, Hunt became the sole owner of the business.
Photo Gallery
The Brand: Owen Cyclery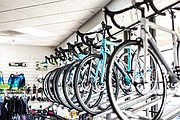 * Products: Owen Cyclery sells every category of bicycle, offering Cannondale, Scott Sports, Salsa and GT, among many other brands. The store also sells clothing, accessories and parts to maintain or repair any type of bicycle. The store's service center offers complete maintenance and service of all bikes, whether they were purchased at Owen Cyclery or somewhere else. Owen's mechanics work on suspension, brakes, frames, build wheels, work with electronic components and do custom bike fittings.
* From the owner: "Owen Cyclery is a family-friendly business. We have sold bicycles to as many as four generations of people from the same family in our almost 50 years of business. Most importantly, we present our store as a place that is friendly to new riders and to people who may be intimidated by the idea of walking into a bicycle store."
* Website: owencyclery.com