Hailey Puckett called six people every day for two weeks.
She would read off a script, making sure to ask each of the women she called daily a series of questions and if they were experiencing specific symptoms.
"How are you feeling today? Are you experiencing coughing? Have you experienced fever, chills or body aches?" she'd ask.
But Puckett, a graduate student in the University of Tennessee at Chattanooga's masters in public health program, also answered other questions and provided a friendly voice to these people, who were officially quarantined by the Hamilton County Health Department for 14 days after they had been exposed to a known case of COVID-19.
Through contact tracing and monitoring, the health department and volunteers tracked down these individuals, each of whom had come into contact with a person who was diagnosed with COVID-19, and monitored whether they became ill.
Puckett said the contacts assigned to her and a classmate were mostly healthy and varied in age from mid-40s to their 80s.
For 14 days, she called them each - Cough? Fever? Body aches? Shortness of breath?
And then one day, one of the women had started to feel sick, she told Puckett.
At 7:15 a.m. the next morning, the woman called her again.
"She was barely able to talk to me," Puckett said. She was shocked by her rapid decline.
Puckett advised the woman to go to the closest emergency room if she had trouble breathing, and then contacted her supervisor.
Though Puckett doesn't know if that woman was eventually diagnosed with COVID-19, the data she and the other volunteers have collected in Hamilton County is exactly how contact tracing is supposed to work - and it's only going to become more important, experts say.
What is contact tracing?
Dawn Ford, a clinical associate professor for UTC's master in public health program, has a background in emergency preparedness and disease prevention. As the coronavirus outbreak spread across the state and cases began to appear in Hamilton County in March, Ford trained more than 60 students, including public health, athletic training undergraduate pre-med students, and faculty members on campus on how to conduct contact tracing.
Some national experts - and local officials - say tracing the disease's spread is essential to re-opening businesses and communities.
In Hamilton County, where only about 156 cases have been reported, the tracing itself might seem simple.
The health department conducts an initial interview with a person who has tested positive for COVID-19 and conducts a pretty extensive case review, said Margaret Zylstra, an epidemiology nurse for the Hamilton County Health Department.
"We collect information about that person, about their illness, when they first became ill, what their symptoms are then we go back two days before their illness first started and we get a pretty detailed diary of what they've been doing, where they've been and who they've been around," Zylstra explained.
A list of people who had contact with that person is created, and that's where many of Ford's students come in.
"Students would call or text the contact every day and all of that is documented," Ford said. "When they are identified as a contact, they are put under quarantine, an official quarantine letter is sent to the contact from the health department [and] the contact is reached out to for 14 days by the interviewer," Ford said.
Sometimes, if another individual became positive, those people they had come into contact with would also have to be tracked down - like the old-fashioned game of telephone.
In March and early April, before shelter-in-place orders took effect, some cases had many contacts. As people have spent more time at home, most of the possible contacts are "household contacts" - partners, spouses, children, roommates and others who might live or spend a great deal of time with the person who has tested positive.
"I think one thing the general public doesn't understand about contact tracing is that it isn't to track down the person and get them in trouble, it's literally to see the spread of the virus in the community. It's really about data, and data is the most important thing," said Rosa Cantu, another one of Ford's students and a soon-to-be graduate of UTC's public health program. "We don't have enough information to make informed decisions, so as we collect more data through contact tracing and as we open up the testing, that's where we really will get the information we need for how to move forward as a community and as a nation."
The Tennessee Department of Health has more than 250 state and local health department staff members involved in case investigation, contact tracing and contact monitoring across the state, Dean Flener, spokesman for the Tennessee Emergency Management Agency (TEMA), wrote in an email.
This work is critical as Tennessee businesses and communities begin to reopen, Flener said.
"The State of Tennessee absolutely believes our ability to test and trace are critical to successfully reopening Tennessee's economy," he continued.
The state department of health is working to add another 150 employees to assist in that work across the state, but locally, the Hamilton County Health Department has already been building that capacity, Zylstra said.
Many of the volunteers that Ford trained have not been used yet, because the county hasn't hit surge capacity, but they are trained and anticipate being called to muster in the coming weeks, Ford said.
Contact tracing on this scale is more than what the health department has conducted in the past, Zylstra said, but contract tracing itself is not new. Health departments across the country routinely investigate and trace cases of all types of infectious diseases such as measles or tuberculosis and, most often, sexually transmitted diseases. In the past two years, Hamilton County has dealt with a hepatitis A outbreak, and contact tracing came into play there, as well.
Ford said her students want to help - and their partnership doesn't only benefit the health department, it benefits the students themselves.
Photo Gallery
Tracking COVID-19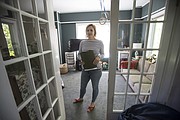 FOR MORE INFORMATION
For up-to-date information about COVID-19 symptoms, local testing sites or for information about local businesses' and organizations' response to the coronavirus, call the Hamilton County Health Department's Coronavirus (COVID-19) Hotline at 423-209-8383.
The educational value of a pandemic
Among the public health classes Ford teaches, one class is focused on gender and leadership. When Ford was tapped by the health department to train students on contact tracing, she gave her students the option to take part in the training and write a reflection paper about their experience in place of another class assignment.
But many of the students wanted to take part regardless.
Mary Ferris, a first-year master's in public health student, said she was glad she got class credit, but more importantly, the opportunity allowed her and her classmates to get real-life experience in their field.
"When this COVID thing blew up, we as public health students were like, 'We have to be a part of this, what can we do?' So we went to our professors and asked, 'What can we do?'" Ferris said. "It's the biggest public health thing that has happened in over 100 years, what a perfect time for us to learn and not just to learn, but to contribute something. We were able to get class credit for it, but more importantly we were able to get real-life experience."
UTC's public health program is in its infancy. Its first group of students to start the program graduate this spring, but thanks not only to the coronavirus but the school's partnership with other local health care providers and partners, students have already been exposed to a wide range of public health issues and efforts.
The program itself focuses on chronic health issues and prevention, but developing research shows that individuals with chronic health conditions are most susceptible to COVID-19 and are most at risk of becoming seriously ill or dying if they contract the virus.
Puckett said students have been able to see the cross section of infectious disease control and how important chronic disease prevention is.
Ferris hopes that society as a whole will develop a greater understanding of public health and chronic diseases such as diabetes, hypertension, auto-immune diseases and others, thanks to the pandemic.
"Chronic health conditions have been mostly viewed as an individual's problem," Ferris said. "My hope is this will bring a new awareness to how these conditions affect people and that importance to reduce the prevalence of chronic conditions."
The pandemic is also putting a spotlight on public health in a way Ford hasn't seen since the Sept. 11, 2001, terrorist attacks spotlighted the work of first responders.
"Our professors have even encouraged us and said there is going to be a lot more public health jobs after this. This is a good time to be in public health, not good circumstances certainly, but there is going to be a need for more public professionals," Ferris said.
And thanks to their work with the health department, Cantu believes she and her classmates are prepared.
"Since it [is] a new program, we were just finding our feet and all of a sudden we were hit with the most extraordinary occurrences of public health issues - not just the pandemic but the tornado as well, even my own work with lead poisoning," she said. "As a whole, our class was really prepared. I really feel like we were prepared to get out there and do the work that is necessary. When we're talking about the difference between a student and professional, I think we were developed quickly out of necessity."
Contact Meghan Mangrum at mmangrum@timesfreepress.com or 423-757-6592. Follow her on Twitter @memangrum.