Residents of a largely immigrant Ooltewah mobile home park say they have been manipulated by property managers who threaten deportation and eviction to compel them to pay certain fees and sign questionable leases.
The property managers of Auburn Hills Mobile Home Park, Steven and Kim West, were arrested in late April and charged with hoarding more than $60,000 in donated supplies intended for park residents affected by a deadly EF3 tornado that tore through it late on Easter Sunday.
The Hamilton County Sheriff's Office began investigating the Wests after receiving a complaint from a community member a week after the storms hit the park, killing 46-year-old Jose Arzate.
Deputies seized hundreds of relief items meant for the residents of the park ranging from 54 American Red Cross totes to diapers, masks, cases of bottled water and an unopened generator.
Many of the donations were stored in a trailer that had been screwed shut, according to the sheriff's office.
After being released on bond, Kim West was arrested again and charged with coercion after reportedly trying to force residents to sign a document stating that the Wests had provided them with aid after the storm and withholding access to hotel rooms provided by the Red Cross for residents who refused to comply.
The Tennessee Attorney General's Office has since joined the investigation to determine whether there has been a violation of the Tennessee Consumer Protection Act, a law that protects consumers and businesses from unfair or deceptive business practices.
With the Wests under investigation, many residents said they have endured behavior from them ranging from unreasonable fines and deportation threats to intimidation and physical threats.
"They threaten you no matter what," Joel Trujillo, who has lived in the park with his wife and three children for 10 years, told the Times Free Press. "I mean, they just do it for no reason. And every time they threaten you, it's $25. Every time you get a letter, 25 bucks ... and we don't, I mean most of us don't, have anywhere we can go or anyone we can go to about this."
Photo Gallery
Mobile home park tenants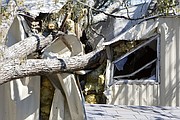 On multiple occasions the Times Free Press reached out to Kim West in person and via phone. No voice messages were returned and she declined to answer any questions in person, both before and after the arrests.
During the most recent attempt, reporters asked the Wests, who were outside of their Auburn Hills home and office, where many of the reportedly hoarded supplies had been stored, to respond to allegations made both to authorities and to the newspaper. Steven West did not respond, while Kim West directed reporters to a woman who represents the company that owns the park.
That woman said the Wests have done nothing wrong.
Since the storms hit three weeks ago, the Times Free Press has obtained rental documents and spoken to 15 current and former residents of the park who shared similar accounts of facing some sort of fine from the Wests and being threatened with eviction and or deportation if they did not pay.
The residents, most of whom did not want their names published due to their citizenship status and fears of retaliation, accuse the property managers of barring them from seeking help from law enforcement and even family to remove trees and clean up their lots after the storm.
Each source described a pattern of the landlords imposing fines ranging from $25-50 for seemingly menial property rule infractions to late payment charges on rent that was paid on time. Each charge was backed up by the threat of deportation or eviction made by the Wests.
Records provided to the Times Free Press by a former resident, who left the park in 2019, show several examples of late fees on rent that had already been paid, according to money order receipts. The documents detail one specific exchange in which the tenant was made aware of two late fees for August rent - one incurred on Aug. 6 and the other incurred on Sept. 6- for the first time in October, and then an additional late fee was imposed before the Oct. 6 deadline.
The resident, who then allegedly owed $75 in late fees, wrote to the office explaining that rent had been paid on time for each August, September and October, including evidence of the money orders with which the payments were made, but ultimately was forced to pay the $75 by the Wests under threat of eviction, according to documents provided.
"Believe it or not, I'm glad this thing is going the way it's going because these people, the way they treat us - and I say everybody - it's not right for them to be charging for no reason," Trujillo said of the tornado and subsequent investigations. "There's a few guys that call and text and say, 'Man, I really don't want to say much because I don't know if we can move or I don't know if we can afford to move away.'"
As the Wests came under scrutiny by law enforcement and outside community members witnessing the alleged hoarding, many of the other accusations came to light.
Attorney C. Mark Warren got involved after being told by some residents and tornado relief volunteers that the Wests were allegedly "attempting to use deportation as blackmail for them paying rent on trailers that had been destroyed or inhabitable."
"That's really what got me involved in the first place, was they were attempting to use the threat of deportation to get them to pay rent, even though their trailers were totally destroyed," he said.
Over the course of his involvement, Warren was told that the Wests were allegedly attempting to charge double rent if a family's mobile home was destroyed and they moved in with another family. They also reportedly did not allow anyone, including firefighters, to go onto the property to assist with the cleanup.
Another question that arose was whether the residents were paying for insurance, which residents were charged for even though it was supposed to be obtained by the lessees, according a lease provided by a former tenant. Of the residents interviewed, no one has seen any documentation from or representatives of an insurance company either before or after the storm. Additionally, no resident knew which company was allegedly carrying insurance for their homes.
A representative of the property? refused to tell the Times Free Press what company the park uses for insurance but said that insurance agents have been "all over" the property since the day after the storm.
Meanwhile, Warren, who is now representing a tenant who has left the property since the storm hit, said he is seeking more information on insurance and other dealings of the property management.
"[The residents] are very reluctant to meet and talk, just because of the fear of retaliation," Warren said. "Our first meeting, which was several days after the tornado, when they got back to Auburn Hills, they were confronted by the Wests as far as, you know, who was there, what was talked about, making accusations that they shouldn't have been meeting with anybody about what was going on at Auburn Hills."
The representative of park owner Auburn Most LLC, a Michigan company that bought Auburn Hills in 2015, declined to share her name or title, but told the Times Free Press that she had been on the property since the week after the storm hit, and that any accusations by the residents were "complete and total lies."
"It's disgusting. [The Wests] would give any of these people the shirts off of their backs," she said. "It's twisted. I don't know how these people sleep. Satan's got a hold of these people."
The representative told reporters she would not give any details about the parent company or the Wests' employment but that they "haven't done a damn thing wrong."
She said that, despite residents claiming Kim West had demanded they sign a document absolving her in the hoarding accusation under the threat of eviction, West only had asked them and never coerced anyone to sign any document.
As for law enforcement, Trujillo said the sheriff's office has been sympathetic toward residents and has reassured them that they were not investigating their citizenship status, telling residents "we're not after you." Rather, the investigation was focused on the Wests' alleged actions.
Contact Rosana Hughes at rhughes@timesfreepress.com or 423-757-6327 with tips or story ideas. Follow her on Twitter @Hughes Rosana.
Contact Sarah Grace Taylor at staylor@timesfreepress.com or 423-757-6416. Follow her on Twitter @_sarahgtaylor.