The Tennessee Aquarium hasn't had a visitor in two months. But with more than 10,000 animals within its walls, there's a lot happening inside the attraction at the center of Chattanooga's riverfront scene.
"The penguins have to stay at 43 degrees, and the lemurs have to stay at 80," said Keith Sanford, president and CEO of the aquarium. "We're not like the Hunter [Museum] in that they can shut the building down and turn utilities off."
As the Tennessee Aquarium enters its third month of closure, revenue is down about 90%, and the toll on the nonprofit's financial reserves is adding up.
With $17 million in debt from construction of the Ocean Journey building and IMAX 3D theater, and about $400,000 a week in costs to maintain the facility and care for the animals, leadership has had to get creative to keep the lights on, the lemurs warm, and the penguins cold.
Photo Gallery
Coronavirus closure costs Tennessee Aquarium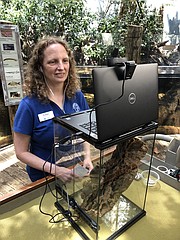 "Fortunately for me, my predecessors had put away about three months of operating costs in cash reserves," Sanford said. "We have about $5 million sitting out there we'd been maintaining in liquidity that we are trying to stretch as far as we can."
About half of that reserve is gone now, Sanford said, along with plans developed during better times to pay off the aquarium's debts earlier than the original 15-year horizon.
"We had developed a plan to pay those off in seven years, which was going to be my legacy before I retired," he said. "We're not going to be doing that."
Weekly bills at the Tennessee Aquarium:
Utilities: $138,000 Life Support Systems: $29,000 Animal Feeding and Care: $214,000 Security: $ 41,000 Total: $422,000
Instead, senior leaders took a pay cut, 112 part-time employees were laid off in March, and all non-essential spending, marketing and travel have stopped. An auction to try to raise cash offers everything from experiences feeding the penguins or playing with the otters to dinner for eight at Sanford's house. There's also an emergency operations fund accepting donations.
The mid-March closure could not have hit at a worse time, Sanford said.
"The bad thing is, we closed at the lowest point of our cash flow," he said. "We lose money in the winter, and spring break is when we start to make money to make it back up."
Gov. Bill Lee announced Friday the lifting of capacity restrictions on stores and restaurants, and new guidance for large attractions that will allow them to reopen after May 22. The aquarium has a plan to reopen in mid-June at limited capacity, Sanford said.
Initially, about 150 people an hour - or 1,200 a day - will be allowed inside, with heightened cleaning and social distancing processes in place. A busy weekend would normally deliver about 3,750 guests through the aquarium's doors.
Once the aquarium reopens, Sanford said, he expects revenues to be a third of what they had been, at least for a while.
"We still can't have events, educational groups, those types of things," he said. "The hardest group to control is a group of kids."
The aquarium normally draws about 750,000 visitors a year, and has an overall economic impact of $115 million.
Though the aquarium laid off part-time employees and froze hiring, it has retained all 150 full-time employees, Sanford said. Animal care and education experts have been staying busy, with Chief Communications and Marketing Officer Thom Benson doing daily Facebook Live events. The staff is meeting virtually with groups and individuals to keep the animals and the aquarium's mission front-and-center.
Online efforts have grown the aquarium's market globally, drawing viewers from as far away as the United Arab Emirates and Turkey. But that engagement doesn't bring revenue - at least, not in the short term.
2020 Aquarium revenue:
Admissions: $15.7 million or 65% of revenue Gift shops, parking, pictures, food and beverage: $3.3 million or 15% of revenue Education programming and facility rental: $1 million or 5% of revenue

"We do hope when we open back up, it will drive the willingness to come back," Sanford said.

Benson, who joined the aquarium in 2006 and was named chief communications and marketing officer last week, said some guests may actually prefer the limited capacity when the aquarium reopens.

"Our guests will still be able to relax and enjoy the views, but we have to be mindful of spacing for everyone's safety," he said. "And to some degree, some of these changes may enhance the experience for guests who have preferred to enjoy our galleries on days when we have had lower attendance in the past."

By the end of May, the aquarium will have lost about $5 million of its annual $27 million in revenue, Benson said.

"No one expects our attendance to return to normal quickly, but we are confident that we will remain as one of the world's top-rated aquariums for guest satisfaction," he said.

Contact Mary Fortune at mfortune@timesfreepress.com or 423-757-6653. Follow her on Twitter @maryfortune.