Hundreds of Chattanoogans protested police brutality and the death of George Floyd in Minneapolis by gathering at Miller Park and marching across the Walnut Street Bridge on Saturday evening.
The protests came as demonstrators in cities across the country continued to demand action and accountability after the killing of Floyd, an African American, by a white police officer who pressed a knee into his neck while taking him into custody.
At midday Saturday, a small group of protesters started gathering on the Walnut Street Bridge. Later 50 to 60 people stood in silent protest with signs at Miller Park, culminating with the largest gathering on the bridge Saturday evening.
Floyd, 46, died after being pinned for several minutes beneath Minneapolis police Officer Derek Chauvin's knee. A widely circulated video showed Chauvin holding Floyd down as Floyd complained he couldn't breathe. Chauvin has since been chrged with murder.
Chattanooga's protests were peaceful and included conversations with police Chief David Roddy, who discussed law enforcement issues and answered questions from protesters.
At the largest gathering of the day, at the Walnut Street Bridge near Fraizer Avenue around 6 p.m., more than a hundred protesters marched across the span chanting, "No justice, no peace. No racist police."
A small group of Chattanooga officers, including Roddy, were near the end of the bridge but didn't need to take any action during the peaceful protest.
"Our only objective is to ensure the safety of all of our citizens, whether engaged in organized protests or not," said spokesman Sgt. Jeremy Eames.
Photo Gallery
Hundreds protest for George Floyd in Chattanooga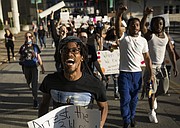 Marie Mott, a black community activist and District 8 City Council candidate, spoke to the crowd at the end of the bridge during the later protest. Mott told the crowd that a community will be strongest when it works together. She spoke for a minute or so, just feet away from where a new statue honoring the life of Ed Johnson, a black man who was lynched from the bridge in 1906, will be built.
Mott earlier told the Times Free Press that she wasn't intending to start any violence, but would defend protesters, regardless of what shape the movement took.
"The paramount thing is the safety of the protesters," she said after noting in a separate Facebook Live video that she would be organizing her own protest for Sunday afternoon. "Also, I'm not going to criticize if they get out of hand. We are frustrated, we are tired, and we can't be expected not to show that in our actions. And property is not more important than our bodies in our lives."
Mott's protest outside of the Hamilton County Jail will be to demand a decrease in funding for the Chattanooga Police Department and for an improved oversight board.
While she's not setting out with malintent, Mott was critical of Roddy, who recently gained national attention for condemning the actions of the Minneapolis officer.
"I ain't going to watch nobody get killed in front of me, and I'm not getting ready to watch somebody get beaten in front of me and I told Police Chief Roddy that myself," she said, referencing an in-person conversation with Roddy. "I sat right across from Police Chief Roddy, who's taller than me, bigger than me, wider than me with a gun and three extended clips, pepper spray and a Taser, and I told him I told him two years ago, if I see one of your officers if I see them doing this in front of me, they ain't going to make it, and I might not make it either."
At least two other organized protests are planned for Sunday.
- I CAN'T BREATHE! Justice for George Floyd- A peaceful protest scheduled for noon Sunday at the Walnut Street Bridge.
- Mott's protest scheduled for 1:30 p.m. Sunday near the Hamilton County Jail.
Also in Tennessee, protesters in Nashville on Saturday evening toppled a statue of a former state lawmaker and newspaper publisher who had racist views.
Gov. Bill Lee issued a statement saying he was authorizing the National Guard to mobilize.
"At the request of Mayor Cooper, I am authorizing the National Guard to mobilize in response to protests that have now taken a violent, unlawful turn in Nashville," Lee said. "The threat to both peace and property is unacceptable and we will work with local law enforcement and community leaders to restore safety and order. This is not a reflection of our state or the fundamental American right to peaceful protest."
Contact Sarah Grace Taylor at staylor@timesfreepress.com or 423-757-6416. Follow her on Twitter @_sarahgtaylor.
Contact Rosana Hughes at rhughes@timesfreepress.com or 423-757-6327 with tips or story ideas. Follow her on Twitter @Hughes Rosana.
Contact Patrick Filbin at pfilbin@timesfreepress.com or 423-757-6476. Follow him on Twitter @PatrickFilbin.