The early hours of Sunday brought Chattanooga into the fold of cities across the country where protests are erupting over the most recent killing of a black man by a white police officer.
Hundreds of people gathered peacefully in the city Saturday afternoon and evening to speak out against the killing of George Floyd in Minneapolis, who died as a police officer knelt on his neck while Floyd said he could not breathe.
By Saturday evening, though, protesters gathered along Frazier Avenue before being pushed by police down Tremont Street and into Coolidge Park.
The move resulted in several altercations between law enforcement and demonstrators, including people being thrown to the ground and arrested by police. Protesters threw trash cans and upended a dumpster. One firecracker was thrown across the police line.
Later in the evening, protesters walked across the Market Street Bridge to the jail on Walnut Street, where they spray painted the statue of Confederate Lt. General Alexander P. Stewart. In 2017, the Chattanooga chapter of the NAACP had tried unsuccessfully to have the statue removed from the courthouse.
A water fountain at the nearby Hamilton County Courthouse and the windows of some downtown businesses were also broken. Two cars were burned. The protests continued until around 4 a.m. and resulted in nine arrests.
Organizers with Chattanoogans in Action for Love, Equality and Benevolence are working to identify people who were arrested for protesting on Saturday evening to see if the organization's community bail fund can help. The Tennessee state constitution protects a person's right to assemble, to speak out against the government and to not be intimidated or harassed by the criminal justice system, said Alan Guice, an organizer with the group.
Photo Gallery
Local civil rights leaders on protests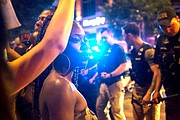 On Saturday, Gov. Bill Lee authorized the National Guard to help stop protests in Nashville, where thousands of demonstrators took to the streets in a peaceful rally that later turned violent, resulting in at least 28 people arrested and 30 buildings damaged, according to reporting by the Tennessean.
"The threat to both peace and property is unacceptable and we will work with local law enforcement and community leaders to restore safety and order," Lee announced on Twitter. "This is not a reflection of our state or the fundamental American right to peaceful protest."
U.S. Rep. Chuck Fleischmann, R-Tenn., applauded the leadership of Chattanooga's law enforcement, including Chattanooga police Chief David Roddy, who got national attention for tweeting his dismay over the actions taken by the Minneapolis police officer.
"It has been a rough year, and our nation will not heal overnight, but we should not forget how blessed we all are to live in the worlds [sic] strongest republic," Fleischmann said in the statement. "I know there are brighter days ahead if we remember that we are all united as one nation under God."
Chattanooga Mayor Andy Berke issued a statement saying, "We encourage everyone in Chattanooga to exercise their First Amendment rights and express themselves in a safe way."
For some Chattanooga residents who led protests against racism and police brutality decades earlier, the scenes in the city and across the country looked eerily similar.
"This moment brought back a lot of memories for me," said the Rev. Paul McDaniel, the retired pastor of Second Missionary Baptist Church and a decades-long activist in the city.
People who work for racial justice, particularly black leaders, are too often ignored by people in power until it is a point of crisis, McDaniel said. Then when there is less visible unrest, the desire by some leaders to work for justice lessens.
"It's unfortunate that we have to wait until a tragic time like we have experienced the past days to come together and recognize our situation," McDaniel said. "I just hope that we could work together and deal with our problems without the crisis moment. It tells us something, though, that there's a lot of hatred here and all over the country, racial hatred."
McDaniel said the images out of Minnesota of Floyd being killed were haunting.
"That look in that policeman's face, in one of the pictures, it seems he doesn't have a sensitivity to that person. It was as though he had his knee on a dog," he said.
JoAnne Favors, a former state representative who was part of Chattanooga's action to desegregate, said there need to be stricter laws and more police oversight to stop situations of police violence against black bodies.
"Until we have that, you're not going to see anything that's long lasting," Favors said. "The people are just tired. The younger people have more exposure than people did when I was 20 because we didn't have access to the media like we do now."
Because of the internet, young people today can organize and mobilize quicker, but they are also exposed to more examples of unnecessary violence against people who look like them, Favors said. In the past few months, the killings of Breonna Taylor, Ahmaud Arbery and Eric Reason have received national attention.
McDaniel and Favors both emphasized the need for stronger leadership and the opportunity citizens will have in five months with the coming elections.
"We need to look at this and remember so in November we can have some changes that are effective," Favors said. "Because we can't keep living like this."
More protests are scheduled for Sunday afternoon, including:
- A protest organized by Marie Mott, a District 8 City Council candidate, at 1:30 p.m. outside the Hamilton County Jail at 601 Walnut St.
- "I CAN'T BREATHE! Justice for George Floyd" at 2 p.m. at the Walnut Street Bridge.
- "The Demonstration" organized by Concerned Citizens for Social Justice, Initiative Untitled and Mercy Junction at 6 p.m. near Coolidge Park.
On Monday, the Jewish Federation of Greater Chattanooga and Olivet Baptist Church are hosting an online gathering of around eight local faith leaders as a vigil for those killed recently.
Contact Wyatt Massey at wmassey@timesfreepress.com or 423-757-6249. Follow him on Twitter @news4mass.