In late January, just weeks after China first acknowledged the growing presence of the coronavirus, J.D. Hickey urged the senior staff at Tennessee's biggest health insurer to begin thinking about how to prepare for a possible pandemic should the virus expand to the United States.
By early March, when the COVID-19 virus began claiming lives in the United States, BlueCross BlueShield of Tennessee had begun to prepare to staff and respond to the threat of the virus in the Volunteer State. The Chattanooga-based health insurer, which had about 1,100 of its nearly 6,800 workers doing their jobs from home in early March, quickly revamped its work approach to boost its share of workers teleworking up to 96% of the workforce.
In 13 days, BlueCross distributed 3,700 computer terminals and other support equipment for employees to work from home, and only about 235 were left doing their jobs in the company's headquarters atop Cameron Hill this spring.
Hickey and other BlueCross officials say the company was able to maintain normal hours of operation and service levels for its members and network providers as a result of shifting virtually all of its staff in six offices across the state to work from home.
"Our distributed workforce has proven to make us more resilient, and we do expect to have a larger number of telecommuters going forward," BlueCross spokesman John Hawbaker says.
The teleworking shift, or at least parts of it, seem likely to outlast the COVID-19 crisis.
"Remote work has gone from an HR-level discussion to a C-suite-level discussion," says Prithwiraj Choudhury, a professor at Harvard Business School.
Before the pandemic, less than 4% of American employees worked from home full time. A study by the Brookings Institution estimates that share jumped to more than half of all workers soon after governments adopted stay-at-home orders. Among the top 20% of earners - who are more likely to have desk jobs that can be done from anywhere - that share rose to an estimated 70% of workers.
"Remote work is going to increase dramatically" after the crisis abates, says Isabel Sawhill of the Brookings Institution. "There's a demonstration effect that this current crisis is producing: It's showing that work can be done from home."
Global Workplace Analytics, a research consulting firm that tracks the trends in teleworking, estimates 56% of all jobs could be done, at least some of the time, at home in the United States.
At Unum, 98% of the company's 10,000-person staff shifted to at-home work when the coronavirus began to spread, and the insurer has kept most of those workers at home doing their jobs heading into the summer. Unum, the world's biggest disability insurer, had about about 1,800 workers doing their jobs remotely from their own homes before COVID-19 emptied out most of the company's offices.
Unum says the shift to at-home work is continuing for many and is likely to accelerate the ongoing shift to remote work.
Photo Gallery
Coronavirus propels telework trend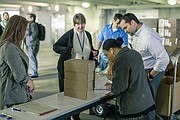 "We've had campus closures in the past (due to weather events) but this is unprecedented," Unum spokeswoman Kelly Spencer says. "We're fairly well0equipped to have people work from home, but we still had to do additional work to further expand those remote working capabilities, and the transition has worked very well."
Even companies that had not previously done much telework quickly adapted to the shift to at-home work and kept their businesses going.
HomeServe USA, true to its name, shifted its 500-employee Chattanooga staff to serve its customers from employees' homes, rather than the company's congregated call center on Lee Highway, in just 10 days in March. While doing so, one of America's biggest home repair services kept answering phones and dispatching repair crews across the country.
"It was a remarkable shift in such a short period," says Myles Meehan, the company's senior vice president of marketing.
The Tennessee Valley Authority, which changed work locations for 60% of its 10,000 workers in March from TVA facilities to employee homes, began bringing back a few of those remote workers to its offices in May. But the utility is making only a gradual transition to its old ways of doing business at its Chattanooga office complex.
"With the technologies available today, we feel we can be very effective in our overall productivity and service with more remote work options," says Sue Collins, senior vice president and chief human resources officer at TVA. "If anything, we've found our workers doing their jobs from home during this crisis are working even harder and doing more than usual, so we are certainly rethinking some of our approaches to how and where we work."
Even when more workers return to home offices here, companies are planning more sanitation of work sites, limits on visitors and social distancing among workers, at least until a vaccine or cure is found for COVID-19. Collins says at TVA power plants, incoming workers are being given temperature and health care screenings before they may enter work sites.
"These type of events demonstrate that some of what you don't think was possible to do can be done differently or in the virtual world, so I think we're likely to see some long-term changes coming out of this," Collins says.