At the Chattanooga Market, dressed in her Sunday best, Meredith Garrett sat at her typewriter. Next to her, a small vintage trunk lay open, displaying crumpled bills and a wooden sign, which read "poet for hire."
Known as the "River City Street Poet," since 2018 Garrett has written nearly 500 poems for strangers across Chattanooga. Before COVID-19, she could regularly be found at coffee shops, the market or the Walnut Street Bridge. Typewriter in tow, she would invite curious onlookers to give her a topic, which she'd then turn into an on-the-spot poem.
Love and heartbreak are the two most common subjects, says Garrett, though they've ranged from the weather to mental illness.
Her exchanges with those who stop are brief - typically 15 minutes or less - but, she says, "those few minutes are oddly intimate. People tell me their secrets, their deepest fears. It almost feels like on-call therapy."
Her art has been therapeutic for her, too, she says, helping her to heal from past trauma and ultimately re-discover her faith - a journey that, in part, inspired her latest writing project.
Currently, Garrett is collecting stories from Southerners to be part of an anthology which will explore the evolution of compassion in the Deep South - beginning with her own.
Photo Gallery
Chattanooga artist explores evolution of compassion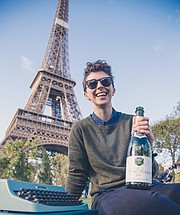 Garrett was raised in Gadsden, Alabama, in a Southern Baptist church.
"I always felt different, but I thought I was just a tomboy," says Garrett, now 32. "I didn't come out as gay - even to myself - until the day I met my wife."
The revelation jolted her family, her mother especially, who, Garrett says, has a history of mental illness. Her mother accused Garrett of being depraved; she threatened suicide.
"I almost had to get a restraining order," Garrett says.
Instead, in 2016, she and her now-wife, Allison Kendrick, left Gadsden and moved to Chattanooga.
"The only way I could cope was through writing. I was desperately journaling," Garrett says.
Eventually, her diary became the foundation for her memoir.
In 2017, Garrett self-published "Unseen: Intersecting Faith and Sexuality in the Bible Belt," which chronicled her spiritual journey as a gay Christian in the South. The book was well received, especially within progressive Christian communities, and Garrett spent six months traveling throughout Tennessee, Alabama, Ohio and Michigan, marketing her book and speaking at universities and churches.
Re-living her past trauma was painful, she says, but the experience gave her clarity.
"I had been struggling to justify my humanity, my self-worth, with a religion. I was looking at Bible verses, trying to make my life fit into this oppressive system that told me I was a sinner."
Ultimately, she says, "It was harder for me to come out as a questioner of my faith than it was to come out as gay."
***
In 2018, Garrett and Kendrick celebrated their first wedding anniversary in New Orleans. Walking along Frenchman Street, Garrett saw a woman with a typewriter and a sign that read "poet for hire."
She asked the woman for a poem about September, her wedding month.
"I was enamored," says Garrett. "I loved the allure of the whole setup - the clanging type bars, the nostalgia of a machine built solely for the art of writing. My first thought was, 'I can do this. I feel called to do this.'"
Shortly after returning home, Kendrick bought her a typewriter, and a few weeks later, Garrett made her debut at Wine Over Water, Chattanooga's long-lived food and wine festival. That night, she wrote around a dozen poems and made almost $300 in tips.
But it wasn't about the money. On the street with her typewriter, Garrett was forced to set her own troubles aside and instead listen to the needs of others.
"My first book was such a reflection of what I was taught in the faith tradition. I don't want to call it self-indulgent, but it was very much my own processing," she says: "How do I get into heaven? How do I get my crowns?"
Religion, she says, can be self-centered. But street poetry taught her compassion. Through her interactions, she began to see a new side of humanity, one characterized by similarities rather than differences.
People are so often carrying emotions they don't express, Garrett says.
She remembers meeting one woman at the Chattanooga Market who was battling breast cancer and had recently separated from her husband. The woman cried as she told Garrett her story.
"Sometimes people don't give me a topic, per se. They just start talking, crying, stream of consciousness-style. While I'm listening to people I just get this feeling, a feeling that points me toward a metaphor or comparison," she says.
For the woman battling breast cancer, Garrett wrote about the hope of daybreak.
"I don't know if we have the same faith, who she voted for or if she believes in the validity of my marriage," Garrett says, remembering the connection she shared with the woman. "For 15 minutes, all of our differences were wiped away."
***
Since COVID-19, Garrett has stopped making appearances, though she continues to write for others through online commissions, many of which come from repeat customers. Recently, the woman from the market contacted her again.
"She's doing better and told me the poem is hanging in her house," Garrett says.
This time, the woman wanted a poem about motherhood.
"Sometimes I feel like a translator, how I can put people's feelings into symbolic verse," says Garrett. "I feel likes it's a gift, and I want to share it."
This August, Garrett began work on her new anthology, which she's calling "The Reformed Project." Her goal is to collect stories from Southerners about their personal evolution to open-mindedness, particularly in regards to social or political ideals.
"I'm looking for black and brown voices, white folks who acknowledge their privilege, queer folks and any compassionate renegade souls in between," Garrett wrote in an email blast calling for submissions.
She invited those interested to complete a questionnaire. Within a few weeks, she received almost 30: one from a Black trans man born in Montgomery, Alabama; another from a 60-something-year-old white woman who remembered growing up under Alabama's segregationist governor, George Wallace.
"The South is so often looked at as being on the wrong side of history," says Garrett. "But I want Southerners to see they can change that course."
And though Garrett says she no longer feels her worth must be proven through the lens of Christianity, she still believes in some principles of the religion: atonement and eternal life, for example.
"Poetry has helped bring me back to faith," she says. "The thought of my words being scattered all over the country fulfills my concept of legacy. I see God in other people. My writing is my sanctuary. Their words are my prayer."