Jackie and Jim Gilliam started a construction cleanup business two and a half years ago when they saw a need to help contractors clean up construction sites of building debris.
A year into their Gilliam Construction Cleanup business, the Chattanooga couple learned about another opportunity to help their neighbors clean up and cut their power bills by making energy efficiency upgrades identified by energy auditors and financed through TVA' EnergyRight programs. So last year, Jackie Gilliam decided to expand her business and try to be included in TVA's Qualified Contractor Network of companies that install and make the energy improvements recommended in the utility's E-score audits.
"We saw the need and recognized this could be another part of our business to help people make the energy improvements in their homes that will save them money," Jackie Gilliam said.
To learn both the technical and the business skills to be a part of the energy efficiency programs at TVA, Gilliam and other minority-owned businesses have turned to a Building Futures Contractor training program created nearly two years ago by the Urban League of Greater Chattanooga. With funding from TVA, Urban Leagues across Tennessee have provided specialized training in three-month programs.
Photo Gallery
TVA energy efficiency training programs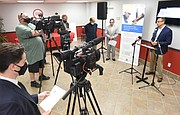 Already, 40 women or minority-owned contractors have graduated from the program - including Gilliam and nine other business owners in Chattanooga - to become part of the Qualified Contractor Network to make such energy upgrades as adding attic insulation, replacing windows and installing more energy-efficient appliances and HVAC systems. A new training program is also helping such companies become licensed building contractors.
In a couple of grants, TVA provided more than $1.5 million to Urban Leagues across Tennessee. To fund the Building Futures Contractor programs, TVA announced Tuesday it will provide another $871,000 to the Urban League to extend the program into 2021.
Allen Clare, vice president of hydro and gas operations for the Tennessee Valley Authority, said the Urban League training "has been a tremendous success" in helping to diversify the network of about 500 contractors eligible to perform the energy upgrades through TVA and its local power companies, including EPB in Chattanooga. Less than 5% of those contractors were minority-owned when the program started, Clare said.
"It has opened the doors and created new opportunities for minority contractors during a time that has been especially challenging for all of us," he said.
Vickye Bone, who manages the training program for the Urban League, said the Urban League chapters in Chattanooga, Knoxville, Middle Tennessee and Memphis work with CLEAResult to provide the certification training in the weatherization and home energy conservation program.
The coronavirus pandemic moved most of the training this year to online, rather than at in-person classes. TVA's E-score audits have only resumed visits to houses and businesses again in the past month, but with more remodeling activity homeowners are still eager to make the energy upgrades, Clare said.
Warren Logan, president of the Urban League of Greater Chattanooga and chairman of EPB, said the energy efficiency training program helps provide more business opportunities for minority- and women-owned entrepreneurs and small businesses to participate in the growing field of energy efficiency and, in the process, grow the presence of minority-owned businesses in the construction industry.
"This investment that TVA is making is going to be a tremendous asset because it gives us the tools to equip minority- and women-owned contractors with the assets they need to provide a needed service for energy conservation programs in the state of Tennessee," Logan said.
Contact Dave Flessner at dflessner@timesfreepress.com or at 423-757-6340.