The children will be back Monday morning, for the first time since a devastating tornado tore through the Grace Baptist Academy Children's Center on Shallowford Road late on Easter night.
"Everyone who's coming back says it's like coming home again," said Sheri Hicks, the director of the center for little ones from infancy to preschool. "I feel like it kind of gives us hope."
The reconstruction of the children's center began in June, and was in its very last stages the week of Thanksgiving, with workers spreading gravel and handling finishing touches around the property.
Behind the center, however, where the rest of Grace Baptist Academy once stood, the scene is very different.
"It is eerie," Hicks acknowledged, surveying the largely barren, 17-acre campus. "It's like a little oasis in the middle of all this ugly."
(Read more: Grace transforms: After Grace Baptist Academy was destroyed by tornado, school officials vow to rebuild.)
April 2020 tornado claims in Tennessee
* Residential Property: 10,839 claims / $326.2 million in losses* Commercial Property: 693 claims / $83.4 million in losses* Personal Auto: 3,395 claims / $21.7 million in losses* Commercial Auto: 62 claims / $602,404 in losses* Business Interruption: 95 claims / $3.8 million in losses* Flood: 3 claims / $95,392 in losses* Other / $3.6 million in losses
The violent storm that hit Grace, one of seven to rake the region in the last hours of Easter night, blasted the campus and surrounding neighborhoods with 145 mph winds. More than 550 students attended the K-12 Grace Baptist Academy, and 450-500 people attended Grace Baptist Church every Sunday.
The children's center was hit hard but remained structurally sound, somehow spared the worst of the storm's direct impact. The building was gutted and rebuilt from the studs. The rest of Grace Baptist Academy, though, was gone.
"They had to completely take it down," Hicks said.
About half the children's center's 35 teachers have been caring for the babies and toddlers from their homes, and the other half have been at nearby Morris Hill Baptist Church, which has become the temporary location of Grace Baptist Academy, Hicks said.
Many of the roughly 110 families the children's center serves in its 14 classrooms will return, but others won't, Hicks said. Some are still working from home, and others were forced to leave the community.
"Some families have had to move," she said. "A lot of our families were from this area, and they were devastated."
Photo Gallery
Grace Baptist Academy Children's Center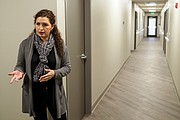 Hicks lives in Cleveland, and heard late Easter night from a teacher who lives near the child care center that her home had been hit by a massive tornado. Hicks drove down Interstate 75 to Shallowford Road in the dark, parked at the YMCA just over half a mile away and walked as far as she could through the dark chaos. She couldn't reach the school.
"There were power lines all over the road, and there was no getting across," she said.
(Read more: Loss of life, property comes into focus as Chattanooga area reels after violent storms.)
School leaders have said they will rebuild, and the signs of those plans all around the children's center - which may be a mixed blessing as the small students return, Hicks said.
"The kids will love all the construction," she said. "Nap time might be a challenge, but that's OK. I think they'll just be glad to be back."
In an announcement of the center's reopening, Head of School Matt Pollock said the center, which began as a day care inside Grace Baptist Church in 1989, has built a long tradition that the staff looks forward to continuing.
"I am very pleased to see so many of our families anticipating the return of their children to the loving and skillful care of our staff," he said. "It is certainly a tribute to our excellent staff that these parents have waited so patiently for us to open once again."
Contact Mary Fortune at mfortune@timesfreepress.com. Follow her on Twitter at @maryfortune.