When Lonna Hamblen and Joe Scott moved into their Stringer's Ridge condo last year, Hamblen did something for their first Christmas there that she'd never done before: She hired someone to do the decorating.
"I used to decorate for myself every year, but the year prior [while living in another condo near the Chattanooga Choo Choo], we did very minimal Christmas decorating, just because we had no time to do it," she says.
Perhaps she was nudged toward the decision by the twinkling lights of the city in their new nighttime views overlooking downtown. By the time Chattanooga was bedecked in additional holiday illuminations, the Hamblen/Scott condo was also awash in lights.
Rather than the bright reds and greens she had favored previously, Hamblen opted for a softer palette in the new space, which is "very monotone and calm," she says.
Customers at the store she owns, Southside Antiques, might be surprised to hear that, Hamblen says. At the business, "there's kooky colors on the walls" and the merchandise is bright and eye-catching. She wanted home to be a visual respite, even in its Christmas decor.
"I wanted it to be sophisticated and calm," she says. "The most important thing was that it be calm and welcoming."
(Here's where to find some of the best Christmas lights in Chattanooga and enter the Times Free Press holiday lights photo contest for a chance to win $150)
Photo Gallery
Stringer's Ridge condo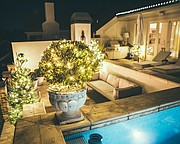 She hired Brandon Carruth of Carruth Concepts for the job, and settled on three words to describe her wishes: greenery, diamonds and champagne.
Hamblen says she was intrigued by Carruth after reading a newspaper story about his experiences on the volunteer design team that decorated the White House in 2017 and 2018. She was sure of her choice after looking at his online portfolio.
"There was a picture of where he had decorated at The Edwin [Hotel]. It was a mirror with a swag garland on it. I have a huge mirror in my bedroom, and I just thought, 'Something like that would look so good in my bedroom. This is the guy I need to get.'"
In their initial consultation, which included a walk-through of the condo, she and Carruth "bounced ideas back and forth," Hamblen says. "There were areas I felt were important, and then he presented me proposals."
Later, Carruth sent inspiration pictures as well as photos of ornaments he was proposing to use. "For me, it was 'yes, this all looks great' or 'I want to switch this one out for something different,'" says Hamblen. "It was a collaborative thing, but he was definitely the mastermind behind it."
Ultimately, Carruth and partner Christian Harris would add festive finishing touches to the condo's
front door, entry hall, living room, kitchen/dining area, master bedroom and outdoor terrace.
The Christmas tree in the living room and the thick boughs of greenery elsewhere were decorated primarily in white, silver and clear ornamentation. After dark, the clear lights added a look of spun gold to the cream-colored surroundings in the living areas.
Hamblen says the effect was no less enchanting in the master bedroom, where the walls and ceiling are painted a dark chocolate brown. "Just to have that sparkle in there, it was really just magical.
"I tried to sleep with the lights on because I loved it so much," she admits with a laugh, "but it was just too bright."
Hamblen says she and Scott couldn't have been happier with the results. Each space offered a pleasing display that provided the two a cozy "welcome home" at the end of long workdays and Scott's nearly one-hour commute from Fort Payne, Alabama, where he owns a machinery company.
"We both work really hard, long hours each week," Hamblen says. "It was important for the little bit of downtime we get to be calm and relaxing."
All of the lights were on timers so Hamblen and Scott could bask in the warmth of the display as soon as they walked in the door.
As part of its design services, Carruth Concepts will take down decorations at the end of the season and store them for the next year. Hamblen says she opted to do that herself and was surprised by all the design tricks Carruth and Harris employed.
One example? Mixing live and faux greenery. Faux greenery extends the life of the decor, while real greenery adds fragrance. Combining the swags adds depth and dimension, and gives the decor a greater presence in the room.
With no kids at home and little energy for entertaining, Hamblen and Scott expected they'd be the only ones to enjoy the decor. But the results convinced them otherwise.
"It was so lovely it prompted me to host a gathering last year," says Hamblen.
She expects coronavirus concerns will prevent such plans this year, but the cozy environment Carruth again helped to create will be no less appreciated. Because they've reused pieces Hamblen invested in last year, this year's decor is similar - the same soothing vibe, the same understated elegance.
Carruth says that decision is always up to the client. Even starting with the same basic pieces, he can add flourishes and colors that completely change the presentation.
"Plus, my personal decorating style changes each year, so that will always shine through," he says. "With this [house], we have the same theme of 'timeless and traditional.' It's the same decor, but changed up a bit."
One change is on the outdoor terrace, which is visible when Hamblen and Scott cross the Olgiati Bridge on their way home. Last year the terrace held two lighted, potted trees and was outlined in big white lights.
"You can see our condo from everywhere in town," Hamblen says. "It was new enough [last year] that it was exciting to drive home after work at night and see the lights of our condo and look forward to getting home."
This year, rather than potted trees, she opted for oversized wreaths as her beacons.
"That will be one more thing to look at and enjoy as I'm driving home from work," she says.