When Jackie Howard gets a call for one of her award-winning kitchen designs, her first thought is, "Please, not another white kitchen."
The founder and owner of Scarlett's Cabinetry, Howard has spent more than 30 years making clients' dreams for their home come true. Her designs garnered her the title of "Best of the Best" in this year's people's choice awards by the Chattanooga Times Free Press.
Howard has seen countless trends come and go - like white kitchens, which have endured since the 1920s, when white was about the only color on offer. The country had just come out of the Spanish flu pandemic and a gleaming white kitchen was associated with sterilization, a huge selling point at the time.
Today's crisp white kitchens can speak of cleanliness or homeyness, elegance or minimalism. In a word, they remain timeless.
"White kitchens still sell homes," Howard says.
But today's kitchens are no longer sequestered at the back of the house, tucked behind swinging doors and walls. They are the heart of the home both literally and figuratively. As such, Howard works to blend them into their surroundings, creating a seamless flow in the open, shared living spaces preferred today.
"Kitchens being open to the living space, you want to look in there and be happy. You want it to look like the rest of the space," she says. "If you've got a lot of contrasting colors - even grays and whites - it screams 'kitchen.'"
Here, Howard shares three of her kitchen designs and what they can teach us.
*****
Photo Gallery
Daily Photos 02/13/2008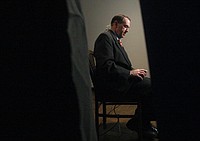 "I think the biggest compliment of this kitchen is when you walk in you really have to look for the kitchen. Each piece is like a fine piece of furniture."
This kitchen, designed for a family of five on Signal Mountain, channels an Old World French vibe.
"You can obviously tell she wants that warm, cozy, lived-in kitchen feel," says Howard.
But some of the most important details from her rigorous client interview process aren't necessarily about aesthetics, but whether a family cooks together, who cooks most often, even the height of the most prominent cook. This knowledge helps her determine spacing, placement and flow.
There's no need for a pantry.
"A lot of people are scared of giving up a walk-in pantry," Howard says, though she recommends maximizing every square inch by opting for drawers and slide-out cupboards.
Drawers offer seamless storage, both aesthetically and practically.
"You want everything at your hands ... [so] anytime you can put a set of drawers instead of cabinets or pulls [I recommend it]," she says, adding, "We know now that, except for a big stockpot, everything can go in a drawer." Instead, keep those big stockpots in a cabinet above the fridge.
Ceiling-height cabinets are handy, even if they're not the most accessible.
"A lot of clients had cabinets that did not go to the ceiling," says Howard. "What's up there? Dust. It's creepy. Put the things you don't use a lot up there."
Open shelving is multifaceted.
Howard loves open shelving because it looks like a fine piece of furniture, and it's an easy way to keep things in arm's reach while also creating a focal point.
"Open shelving is in almost every one of my kitchen designs, whether it's a modern kitchen or farmhouse - especially if you use those items. People are on the go," she explains. "This is so functional but also so beautiful."
There's a better way to store spices.
Instead of having to pull everything out in search of sage, drawers offer a chance to lay everything face up.
"This is my favorite way for people to keep spices. If you have a habit of buying the same brand of spices ... it's nice to be able to look at them all and grab them," Howard says.
Hide your microwave.
"You don't want to work a kitchen around a microwave. It's the least used appliance now," Howard says, explaining that it's falling out of favor with younger buyers. When possible, she recommends hiding it away, helping to create the seamless feel she typically goes for.
"Most kitchens have more base cabinets than wall cabinets, which is why microwave drawers have become popular," she notes.
Natural stone makes a great backsplash.
Using the same material for your counter and your backsplash is not only trendy, says Howard, "It's pretty easy to maintain the splash. You don't have to worry about grout.
"You're not having to worry about your tones," she adds of the cohesion it helps create. "Less is better. It's timeless."
*****
Photo Gallery
Bishop Anthony Taylor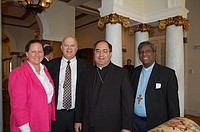 "Textures are necessary or it would just be boring. Your textures have to have different scale."
This Riverview home plays host to a retired couple with a penchant for local art. The neutral palette not only connects with the rest of the home, it works in conjunction with the focal points the couple collects, offering a subtle yet complementary backdrop.
Don't get bogged down with choices.
In the case of this kitchen, the homeowner knew she wanted something homey and cozy - but not yellow. So she started there.
"I get asked all the time, 'What do I pick out first?'" Howard says. "The answer is always, 'Just one thing.' Otherwise, you'll get overwhelmed."
Make your sink part of the party.
When designing a kitchen with an island - which Howard suggests if there's room in order to accommodate the crowds that tend to gather in the space - she recommends putting the sink in the island.
"We spend more time at the sink than we do at the cooktop surface. I'm always going to choose the sink to be facing open space," she says.
Don't be afraid to splurge a little.
"If I have a client on the fence about two ovens and the budget allows, I'm like, 'Get it.' The resale value is going to be there," Howard says, adding, "If the budget allows, it's important to have the 'no regret' factor, as I call it."
Hidden appliances lend a high-end look.
"Kitchens are beautiful today; more appliances are being hidden away," says Howard. "Though people really want to showcase a big range."
Sneak in storage where you can.
Islands offer a perfect opportunity for some hidden storage. The other side of this island holds phone chargers in drawers and a paper towel holder that slides back flush with the face of the cabinet.
Subway tile is still in, and probably always will be.
This variation, however, lends a new take and some texture to the space - which is key. But that's not a backsplash's only benefit.
"It's a better wall covering in my mind," Howard says. "Who wants to wipe grease off a painted wall?"
*****
Photo Gallery
Old State House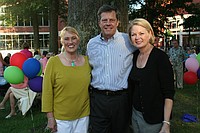 " ... Even if the client tells me it's going to be their forever home, I try not to listen to them. Kitchens sell homes. ... You really do have to be a little cautious in Chattanooga still. Most people have a traditional or transitional base."
Serving as a weekend retreat for its owners, this North Shore condo offered a chance to shake up their style a little bit.
"If you want to stay current and want to do something fun, put it in your hardware, put it in your backsplash, your lighting," Howard advises. "They're the least expensive items in the space."
Don't try to match your finishes.
"Everybody wants brass right now, but we're mixing," says Howard, noting that each material has a multitude of variations when it comes to finish and color. "The best thing someone can do is mix their finishes instead of trying to match them 100%, because it's impossible to do. You're trying to blend, not perfectly match."
Use the chandelier to tie everything together.
"The chandelier is typically the last thing chosen. It gives an opportunity to pull together all the finishes," she notes.
Look beyond pendant lights.
Howard recommends two mini-chandeliers or one big one, not only as a focal point but as a point of practicality.
"I'm not a fan of pendant lights," she says. "They do not give any light and they're super-busy. Pendant lights, to me, belong in a bar. They shine on one place and cast shadows."
Geometric patterns can add a fresh angle.
The tile in this kitchen is a design known as picket, it capitalizes on two trends. "Picket is a take on a subway tile," Howard explains, adding, "Geometric patterns are kind of popular right now."
Use natural stone for a durable "wow factor."
Although beautiful and classic, Howard recommends staying away from marble unless you can embrace the stains and scratches it will incur.
"Quartzite is elite in the stone industry," she says. "It's the most durable and, bluntly, it's the most expensive. It performs just like a granite and it looks like a marble with all the veining." These homeowners chose it for their adjoining bar area.
If you don't like the "busy" feel, quartz, seen in their kitchen, is a man-made version that offers more uniformity in appearance.
Opt for a waterfall edge if your budget allows.
"Waterfall edges are really trendy right now," Howard says. "They give an edgy, modern feel."
They also offer the opportunity to turn an otherwise forgotten surface into a focal point.
When selecting the exact piece of stone, determine where you want the focal point to be and make sure the size of the overall piece will allow for it while also covering the rest of the surface with minimal seams. Size is the most important factor in picking a piece of stone, she says.