CLEVELAND, Tenn. - Javon Burke has gone through some changes for his senior football season at Bradley Central.
He made a full-time move from receiver to running back. He also has changed his jersey number, trading his usual No. 1 in favor of No. 3 as a tribute to his twin brother Javin, the Bears' starting quarterback who was lost for the season after getting injured in the opener.
And if there were other adjustments necessary early in the season, it's safe to say he's comfortable in his new role. At least that's how he looked Friday night.
Burke finished with 236 yards on the ground, and the Bears earned their seventh consecutive victory in the series against crosstown rival Cleveland, winning 42-25 at the Blue Raiders' Benny Monroe Stadium.
READ MORE: Final scores and photos from Friday night's Chattanooga-area high school football games
Photo Gallery
Bradley Central at Cleveland football on Oct. 2, 2020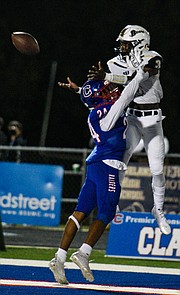 "My O-line was just opening up everything, and we were talking all game about what we saw," Burke said. "I was just reacting off them.
"Everybody hypes this game up and everybody gets caught up in the moment with the rivalry, but at the end of the day it's just another game. We just came out here and were shooting on all cylinders."
The Bears (5-1) rushed for 374 yards and forced three turnovers by the Blue Raiders (3-3), including a Burke interception when he tussled the ball away from Cleveland receiver Destun Thomas in the end zone, which if caught for a touchdown would have made the score 28-19 early in the third quarter.
"Anybody that saw Javon tonight saw a man," Bradley coach Damon Floyd said. "We just kept giving it to him, and the offensive line opened up some good holes.
"But he was a man. He really played well."
Bradley ran on 59 of 69 offensive plays, with Riley Harmon chipping in 70 yards on the ground. Bradley quarterback Aiden McClary ran for a score and also had a 13-yard touchdown pass to Josh Helsdon.
Cleveland starting quarterback Gage Kinsey was knocked out of the game with a hip injury on the second play from scrimmage. He was replaced by sophomore Drew Lambert, who threw for 297 yards and also had a 42-yard touchdown run. He also threw two interceptions - one was returned by Gage Anderson for a score - and lost a fumble.
Thomas was also stopped at the 1-yard line on the last play of the first half after making a leaping catch. He led the team with 133 yards on five catches and two scores, while Kley McGowan had 132 yards on five first-half catches and a score.
Contact Gene Henley at ghenley@timesfreepress.com. Follow him on Twitter @genehenley3.