KNOXVILLE - Although the roars Saturday inside Neyland Stadium were quite modest compared to the normal capacity in excess of 100,000 spectators, there was a notable cheer before kickoff when Cade Mays was announced in the starting lineup.
The former Knoxville Catholic five-star talent, who played his first two college seasons at Georgia before transferring home this past January, got the nod at right tackle to accompany right guard Jerome Carvin, center Brandon Kennedy, left guard Trey Smith and left tackle Wanya Morris. There were more than just those five who contributed up front as Tennessee amassed 232 rushing yards, 422 total yards and 26 first downs in improving to 2-0 with a 35-12 thumping of Missouri, but the attention afterward was squarely on Mays.
Mays had his eligibility waiver cleared by the NCAA before the season, but it wasn't by the Southeastern Conference until this past Wednesday.
"The offensive line played great," Vols sophomore running back Eric Gray said after rushing 16 times for 105 yards and a touchdown. "For us to rush for more than 230 yards against a great defense that is well coached and does a lot of stunts - we just came out really well and executed, and Cade was a big addition to the family. It was great to see him in orange, which is where he's supposed to be."
Said fifth-year senior quarterback Jarrett Guarantano: "It was huge having him. I think Cade is a great asset to this football team, and I thought we had eight or nine deep who are very good football players and can be plugged in anywhere. Cade is a great player, and I'm very excited that he's a part of this group."
Tennessee coach Jeremy Pruitt wasn't ready to award Mays with this year's Outland Trophy and said he would need to watch video before passing judgment on the 6-foot-6, 320-pounder's Vol debut.
"Cade probably got tired in the game," Pruitt said, "and a lot of our guys did. We had guys who were quarantined multiple weeks and are not in shape to play an entire game, and we need to create a cleaner pocket."
Mays was not made available for interviews after the game and may not be next week given that Tennessee is traveling to face his former team. What is certain are the "I remember where I was" stories once Mays became eligible.
"I was in the cold tub, and Jeremy Banks told me that Cade Mays had just been cleared," Gray said. "I was so happy and so happy for him, because he has worked so hard. He was ready to go, and he didn't miss a beat.
"It was like he had been starting from day one."
Photo Gallery
Missouri at Tennessee football on Oct. 3, 2020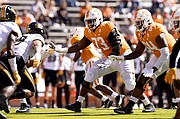 Face coverings
Mississippi State coach Mike Leach spent some of last week expressing his frustration with face coverings actually staying on his face, and Pruitt had a look Saturday that warmed the ears more than it covered the nostrils.
"It's absolutely the easiest thing," Pruitt said. "In practice, you're trying to be able to blow a whistle. You can see why our officials are using the electronic one. It's just hard when you have it up and you have to pull it down.
"It's much easier the way I wore it today, just to kind of tip the front of it down and it comes back up."
Stopping Rountree
Missouri senior running back Larry Rountree now has a staggering 78 career rushes against Tennessee that have yielded 417 yards and 5.3 yards per carry. Rountree surpassed 100 yards against the Vols when the Tigers applied 50-17 poundings during the 2017-18 seasons, but he was held under that mark for a second consecutive series meeting Saturday.
The 5-10, 210-pounder had 84 yards on 18 runs.
"Rountree is phenomenal back, and we went throughout the week knowing that he was going to be that back for them and that they would try to run it downhill with them," Vols sophomore linebacker Henry To'o To'o said. "He's elusive and knows how to make moves, and we knew that we had to stop him.
"It's hard stopping a back like that, so as a defense, I felt like we did a good job."
Odds and ends
Gray's 20-yard scoring run in the early seconds of the second quarter resulted him becoming the first Tennessee player with rushing touchdowns in four straight games since former quarterback Josh Dobbs in 2016. Junior cornerback Bryce Thompson got "banged up" in practice last week, Pruitt said, and was used Saturday primarily on third downs. Redshirt freshman nose tackle Elijah Simmons had to be helped off the field with 2:13 remaining in the third quarter. Saturday's attendance of 21,159 took place in a Neyland that was designed to hold as many as 23,385. Pruitt on being 4-for-4 on fourth-down conversions: "It's got to be a mindset. We're not living in fear."
Contact David Paschall at dpaschall@timesfreepress.com or 423-757-6524. Follow him on Twitter @DavidSPaschall.