In what would be Hamilton County's biggest land buy for job growth in two decades, area economic developers like the idea of government acquiring the 2,100-acre McDonald Farm.
Not since the county and Chattanooga agreed to buy the 7,000-acre former Volunteer Army Ammunition Plant (VAAP) in Tyner have local officials eyed steps to secure what some say is a signature site that could meet the needs of big industrial or light manufacturing users.
"There's lots of potential," said Charles Wood, the Chattanooga Area Chamber of Commerce's vice president for economic development about the Sale Creek tract. "That's a lot of land."
Hamilton County Mayor Jim Coppinger said that officials are in the preliminary stages of assessing the parcel that sits off U.S. Highway 27 for use as an industrial park. Coppinger is working on a resolution to go before the county commission in the next couple of weeks to fund an appraisal and geotechnical assessment of the parcel.
Photo Gallery
Builders House of Hope 6/1/07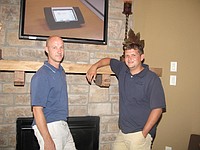 Randy Fairbanks, the county commission chairman whose district includes McDonald Farm, said he and some other panel members have walked the site.
"It seems very, very favorable," he said. "There's a lot of beautiful land."
But Fairbanks said due diligence needs to be undertaken to see if the property is usable for economic development.
"We don't know all the facts about what might be usable," he said, adding that he doesn't know the price tag of the property, which also would include around 300 acres in adjoining Rhea County.
Fairbanks said that it could take four or five months to conduct due diligence, and he'd like to have public meetings in his district to give residents a chance to weigh in.
Roy Exum, one of the heirs to the property and the grandson of the late Chattanooga News-Free Press founder Roy McDonald, has indicated that while the family is in agreement to sell, he's open to looking at other potential buyers than Hamilton County.
Still, David DeVaney, president of NAI Charter Real Estate Corp. in Chattanooga, said there's a scarcity of industrial land for prospective companies to view.
"I'm somewhat disappointed what we have available to present to them," he said. "When a company is looking at expanding or relocating, they're generally looking at five or six different communities in a target area. We are losing out on our opportunity to truly attract manufacturers because of a lack of readily available land."
VAAP Site
DeVaney compared McDonald Farm to Enterprise South industrial park, which was carved out of the VAAP site, where for decades munitions were produced for the U.S. military.
After securing the expansive tract, the city and county in 2008 landed a Volkswagen assembly plant, which now employs 3,800 people with plans to ultimately hire 1,000 more as it expands to make a new electric SUV.
Enterprise South also holds the huge Amazon fulfillment center, which employs more than 3,000 workers. Other employers at the industrial park include Gestamp and Plastic Omnium, ADM, Tag Manufacturing and eSpin.
DeVaney said that like the former VAAP site, McDonald Farm isn't all flat and there are hills which may not permit industrial development. Those parts of the tract could be used for public recreation such as hiking and mountain bike trails, he said.
Wood said that Enterprise South is almost out of available sites for businesses. Outside of about 300 acres which VW freed up for use by possible auto suppliers, there's only one tract left and that's about 10 acres, the official said.
The Centre South Riverport off Amnicola Highway has only one 20-acre parcel still available after Southern Champion Tray, the Chattanooga-based manufacturer of paperboard items for the bakery and food service industry, announced plans this summer to buy a 56-acre location there.
City or county industrial parks in Lookout Valley, Ooltewah and Bonny Oaks are full, Wood said.
The McDonald Farm property sits next to a limited access highway in U.S. 27 and there's a rail line that splits the land, he said.
Wood said that the farm lacks a sewer line, which would have to be run to the site.
"You can build a sewer line, but it's hard to build a four-lane divided highway and build a new railroad," he said.
ABOUT THE SITE
The McDonald Farm has been home to the McDonald family for eight generations, according to its website. As a working farm, nearly 700 acres was used to cultivate hay and cattle.James and Kitty McDonald first settled in the area at the foot of Walden's Ridge in 1821. From that point forward, the 2,100-acre farm has been continuously owned and operated by members of the McDonald family.In the autumn months, the farm welcomed visitors to the farm for activities including picking out pumpkins, finding one's way through a corn maze, petting baby farm animals, and taking hay rides.
Regional Approach
While Hamilton County is part of a regional approach toward economic development, Wood said there's little in the way of 100-acre or so ready sites in the 16-county area. McMinn County, Tennessee, may have one or two, but other possible locations aren't close to the interstates, he said.
Bradley County is pitching its new Spring Branch Industrial Park, a 331-acre site just off Interstate-75. But Wood said the largest individual tract is 50 acres.
Doug Berry, vice president of economic development at the Cleveland/Bradley Chamber of Commerce, said more sites are needed in the region for industrial development and local governments need to buy and develop those for more manufacturing growth.
"If we are going to continue to improve our economy, we have to have property that we have control of to negotiate packages for industrial prospects and that is just not viable right now by the private sector," Berry said. "We need to have government invest in the infrastructure needed to ensure we have value-added jobs for the future. The fact that Chattanooga, Cleveland and Dalton are manufacturing-oriented communities, I think, has given us a stronger economy than the nation or the state as a whole."
Cleveland and Bradley County have spent $12.7 million for Spring Branch, which has about 200 acres for manufacturing development divided into nine lots.
"This is one of the larger industrial sites that is available in the region and interest has been strong," said Berry, who added that he expects to land at least one new industrial prospect at the park during 2021. "But we certainly could use other sites in our region."
Wood said that Dalton, Georgia's newest industrial park has only a couple of 20- to 30-acre parcels available.
"We're very limited in the number of sites ... more than 100 acres," he said.
Along with a large site, big employers require a population base to support its workforce, Wood said.
"Being closer to Chattanooga helps," he said.
In terms of potential users of the McDonald Farm site, more automotive is possible. In addition, battery assembly is another prospect, Wood said. Both VW in Chattanooga and Mercedes in Vance, Alabama, are doing electric vehicles, he said. Also, a battery company could service household goods, the Chamber official said.
Additionally, pharmaceutical manufacturers require significant sites, he said.
Wood said that despite the coronavirus pandemic, he's seeing a lot of activity by a broad mix of manufacturers. Companies which have imported goods are now eyeing North American locations given the supply chain issues which emerged after China locked down for a period due to the virus, he said.
Dave Flessner contributed to this report.
Contact Mike Pare at mpare@timesfreepress.com. Follow him on Twitter @MikePareTFP.