OAK RIDGE, Tenn. - A pair of new and smaller nuclear reactor designs got the go-ahead for further development during an announcement here on Tuesday, but the first of the small modular reactors will probably not be built in Oak Ridge on the Clinch River site where the U.S. Department of Energy once planned to also build a breeder reactor.
The U.S. Department of Energy (DOE) announced Tuesday it has selected two U.S.-based teams to receive $160 million in initial funding under the new Advanced Reactor Demonstration Program. The initial funding is aimed at building two advanced nuclear reactors that can be operational within seven years under proposals from X-energy, a Rockville, Maryland-based company that is proposing a high-temperature gas-cooled reactor, and TerrePower, a Washington State corporation that is planning to build a sodium-cooled fast reactor.
"The awards are the first step of a new program that will strengthen American leadership in the next generation of nuclear technologies," U.S. Secretary of Energy Dan Brouillette said. "Our goal is to demonstrate an advanced reactor and we want to make nuclear more affordable to operate."
The Tennessee Valley Authority, which received an early site permit to potentially build small modular reactors on a 1,200-acre site on the Clinch River in Oak Ridge, had sought additional DOE funding to demonstrate the Clinch River project. The DOE award to other projects "certainly does not make or break this project," TVA spokesman Jim Hopson said. But it likely will mean other reactors are built before any new nuclear units are erected by TVA in Oak Ridge.
Photo Gallery
Oak Ridge cleanup complete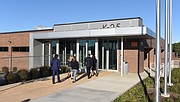 READ MORE: Oak Ridge, Tennessee, site cleans up 75-year waste legacy
TerraPower was awarded $80 million to demonstrate the Natrium reactor, a sodiumcooled fast reactor that leverages decades of development and design undertaken by TerraPower and its partner, GEHitachi. DOE officials said the high-operating temperature of the Natrium reactor, coupled with thermal energy storage, will allow the plant to provide flexible electricity output that complements variable renewable generation such as wind a solar.
Another $80 million was also awarded to X-energy to deliver a commercial four-unit nuclear power plant based on its Xe-100 reactor design. The Xe-100 is a high-temperature, gas-cooled reactor that is suited to provide flexible electricity output as well as process heat for a wide range of industrial heat applications, such as desalination and hydrogen production. The project will also deliver a commercial scale TRi-structural ISOtropic particle fuel (TRISO) fuel fabrication facility.
The DOE funding will be matched by manufacturers and utilities in the demonstration projects.
U.S. Sen. Lamar Alexander, the chairman of the Senate appropriations subcommittee that funds DOE, said he hopes the ongoing work on new reactor designs will help propel nuclear power, which he said is carbon free and a clean energy option for the future. In the Tennessee Valley, Alexander said nuclear power has helped TVA rates to stay below the national average. TVA currently operates seven nuclear reactors that supply about 40% of the electricity in the Tennessee Valley.
Alexander has called for a nuclear renaissance to build more reactors, but falling natural gas prices and cost overruns at existing nuclear plants have limited new construction and reduced the number of operating reactors in the past decade in the United States.
"We need to find new and less expensive ways of making nuclear power," Alexander said.
U.S. Rep. Chuck Fleischmann, a member of the House Appropriations Committee that funds DOE, said he hopes the new designs can make nuclear power more competitive.
"Many of our existing nuclear power plants have outlived their time," Fleischmann said. "As people who want to see clean energy from a diverse portfolio, nuclear power must be a part of our future."
Contact Dave Flessner at dflessner@timesfreepress.com or at 423-757-6340.