Kathy Tate's phone rang again Wednesday morning. The manager of the Appalachian Women's Guild quickly moved through the introductory pleasantries of an unexpected call.
"Is anything wrong?" Tate asked the caller.
Outside Tate's office, workers sorted through donations for the guild's resale store. In the store aisles, customers picked through shoes, jeans and Halloween costumes sold for single dollar bills.
For decades the store and its various offerings have served its neighbors on the mountain in Grundy County. Some visitors come in needing food. Others cannot pay the bills. The guild does not ask questions, Tate said.
"If your name is Rockefeller and you come in and need a coat, we'll give it to you," she said.
For two months in the spring, the guild closed because of the statewide COVID-19 shutdown. It is open now, and has to stay open, because of the need it fills for Grundy County, a place with the worst health outcomes and one of the highest rates of poverty in Tennessee.
The mountain community is facing another crisis as the coronavirus moves from urban centers into rural communities. Nationwide, the virus is spiking in Midwestern and Plains states that faced relatively few cases during the early months of the pandemic when media coverage and panic focused on places like New York City or Seattle.
In the past month, Grundy County was hit harder with the coronavirus than any other area in Southeast Tennessee. In the past week, the county of 13,346 people averaged 6.1 new cases per day per 10,000 residents compared to Hamilton County's average of 2.29 new cases per day.
At the same time, ZIP codes in Grundy County are not being tested at the same level as their neighbors. Limited testing is frustrating the county's mayor, while the screenings that have been done average a nearly 30% positivity rate in the past seven days, according to the Tennessee Department of Health.
Tate, who estimates she has lived outside of Grundy County for maybe four months of her life, said she believes in the fighting spirit of the local residents. While she works, she monitors activity in the store through a TV on her desk displaying security footage.
"There's one person putting Germ-X on," Tate said. "We're all just doing what we need to do."
Photo Gallery
COVID-19 spreads in Tennessee's rural areas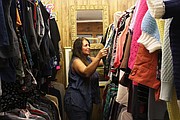 'WE'RE ON AN ISLAND'
Rural counties in Southeast Tennessee have urged residents to wear masks but have not required them, just as Gov. Bill Lee has not issued a statewide mask mandate. In July, hospitals that primarily treated patients from areas without mask requirements saw, on average, a more than 200% increase in hospitalized COVID-19 patients, according to a report from Vanderbilt University.
Hospitalizations across the state are at record levels in recent weeks, fueled by the rise of infections in rural areas. On Thursday, the Hamilton County Health Department reported 78 hospitalizations with only 19 coming from Hamilton County residents.
The spread of the virus worries Grundy County Mayor Michael Brady, who said tracking the virus in his community is increasingly difficult.
"It's good to give folks masks and hand sanitizer and things like that, but we got to identify where it's coming from so those folks can quarantine and know that they have the virus," Brady said. "I am actually very frustrated."
Brady said he has put in for grants to bring more testing to his county but those applications were either turned down or he never heard back. Brady said he cannot get answers about why Grundy is not getting more testing considering the high rates of cases and at-risk residents who live there.
"I kind of feel like we're on an island," he said. "To really be effective with the COVID, you've got to have a place to get these folks tested."
Testing is available for two hours each morning, Monday through Friday, at the Grundy County Health Department located in Altamont, which sits in the center of the area. On Wednesday, Gov. Lee announced free drive-thru testing on Saturday in three rural counties, including Grundy County.
"We've seen an upward trend in COVID cases in rural Tennessee that are cause for concern," state Health Commissioner Dr. Lisa Piercey said in a statement at the time.
Getting a sense of the spread of the virus in Grundy County, and places like it, could be crucial for stopping the spread statewide. Brady said there are approximately 5,000 residents in the working-age population in the county and 4,200 of them travel outside Grundy County for work.
Rural populations tend to skew older and, in general, have more underlying health conditions than urban communities. In 2018, the Sycamore Institute ranked Grundy County last in the state for health outcomes as the area has rates of obesity, diabetes and uninsured adults exceeding Tennessee averages. Health insurance records show only one licensed primary care physician in the county.
Jacy Warrell, executive director of the Rural Health Association of Tennessee, said the virus is taking advantage of problems of poor health and problems with access to care that have existed in rural communities for years.
"In a lot of the places where we're seeing more adverse responses to COVID - be it death or illness - I don't think it's a coincidence that those places are going to be in communities where the population is less healthy, too," Warrell said.
LIFE WITH THE VIRUS
Like their urban counterparts, rural residents are balancing the immediate health risks with the long-term economic impacts of the virus. Grundy County already struggled with high rates of poverty and unemployment before the pandemic.
"Most people are doing what they can but they have to make a living," said Tracy City Mayor Nadene Fultz Moore.
Moore sat for lunch in the Annex Cafe, where the Wednesday special was steak and gravy or porkchoppettes with a choice of several vegetables. The mayor sat across from Peggy Griffith, the restaurant's operator, who has been connected to the cafe for more than four decades.
Moore said there are promising signs for her community's resilience. Businesses have not reported major losses in revenue or had to close, she said. The community agreed to go forward with its annual trunk-or-treat celebration in the city center.
Rural areas are being forced to change their practices in ways that did not feel as necessary back when the entire state shut down. On July 26, while Hamilton County was averaging 103 new cases a day, Grundy County reported 83 total cases in the previous four months.
Now, more than seven months since the first cases were reported in Tennessee, the uptick in local cases forced the Tracy City City Council out of its normal meeting room and into an outdoor pavilion for a recent meeting. The leaders are discussing using Zoom since daylight hours are waning and temperatures are dropping.
"A lot of our people are very, very scared," Moore said. "But then the mountain people have the thought that everyone has a number from the man upstairs and when that number gets called it doesn't matter what you're doing."
Above the mayor and the restaurant operator, a framed picture offered a prayer: "Good morning. This is God. I will be handling all your problems today. I will not need your help. So, relax and have a good day!"
Contact Wyatt Massey at wmassey@timesfreepress.com or 423-757-6249. Follow him on Twitter @news4mass.