The deceased driver of the Meigs County school bus that crashed Tuesday afternoon has been identified as 53-year-old Lisa Dillard, according to the Tennessee Highway Patrol.
The 7-year-old girl who also died has not yet been identified. Officials did not explain why.
Seven other children who were hospitalized were in stable condition as of Wednesday afternoon.
Thirty-two children and one adult - the bus driver - were aboard the bus, according to school officials, when a utility vehicle slid sideways into its path in the 7700 block of Highway 58. Officials initially said there were 22 children on board, and the THP has said there were 24.
Five children were airlifted to hospitals, and two were taken by ambulance. Several others were treated and released from multiple hospitals, in Chattanooga, Cleveland, Athens and Rhea County, school officials said.
Photo Gallery
Meigs County fatal school bus crash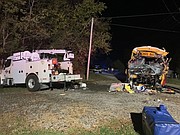 Three of those hospitalized had been released as of Wednesday afternoon. A boy who was in critical condition Tuesday night was said to be stable by Wednesday.
Meigs County director of schools Clint Baker said Dillard had been with the school system for three years.
"She was an outstanding driver but an even better person," he said. "We're going to miss her. She's irreplaceable."
Among the injured were elementary, middle and high school students, Baker said.
When first responders arrived at around 3:50 p.m., he said, they found the older children comforting the younger ones.
"I got the call there about 3:45, 3:50, and headed straight there from the office. And when I got there, there were high school students and middle school students caring for them [the younger students]," Baker said, his voice cracking with emotion. "Sorry I'm emotional, but if you could have seen it, you would understand."
(READ MORE: 7-year-old girl, school bus driver killed in Meigs County crash)
Chattanooga's regional blood bank issued a "critical need" alert for blood donations to help the victims of the crash. Several Chattanooga and Cleveland residents showed up.
According to the Tennessee Highway Patrol, the school bus was traveling south on Highway 58 as an electric utility service vehicle was traveling north. The utility vehicle veered off the road and then over-corrected by swerving into the bus's lane. The service vehicle then skidded sideways into the front of the bus, officials said.
The bus had just left Meigs South Elementary after first picking up middle and high school students. It did not have any seatbelts.
The driver of the utility vehicle, from Chattanooga-based Service Electric Co., was identified Wednesday as Terry Trammell, 56. He was treated for minor injuries.
The crash remains under investigation by the National Transportation and Safety Board and the Highway Patrol. Once the investigations are complete, authorities will decide whether criminal charges are warranted.
Service Electric Co. issued a statement following the tragic crash confirming the driver of the truck involved was one of its employees.
"The investigation is ongoing, and so our ability to provide information is limited," Service Electric spokesperson Lynn Hancock said in the statement. Hancock is with the Houston, Texas-based company Ward Causing Communications, which is handling media inquiries for Service Electric.
"We are assisting law enforcement authorities in the ongoing investigation, and our hearts and prayers go out to those involved in the accident," Hancock said.
About 700,000 Tennessee students ride 8,700 bus routes every day, according to the Tennessee Department of Education. The state requires all school bus drivers to meet strict licensing requirements, including successful completion of driver training, background checks and drug and alcohol testing.
Across the U.S., more than 500,000 buses carry more than 25 million students to school every day, according to information from the National Highway Transportation and Safety Administration and the National Transportation Safety Board.
Federal officials say school buses "are the safest vehicles on the road, and one of the safest modes of transportation overall."
(READ MORE: Favors welcomes Haslam plan to create $3 million grant program for school bus safety belts)
Modern school buses use a technology called compartmentalization, which is defined as a "passive occupant protection system," according to the NTSB.
The system on school buses protects occupants like "eggs in a carton," according to the safety board.
The agency says that despite the high level of safety, injuries and deaths still happen.
While the NTSB acknowledges the safety provided by this design, the agency also recommends all newly-purchased school buses be fitted with seat belts.
The best seat belt system, federal officials say, is one with lap and shoulder belts.
(READ MORE: Legislation requiring seat belts on school buses could cost Tennessee $58.7 million)
NHTSA statistics from a data set spanning from 2006 to 2015 show 1,313 people were killed in school transportation-related crashes during the 10-year period, averaging 131 fatalities per year involving passengers both in school vehicles and personal passenger vehicles.
Fifty-four out of those 1,313 total people killed were occupants of school vehicles.
Nationwide data for the period shows the most deaths among occupants of school vehicles happened in multiple-vehicle, front-impact crashes, according to NHTSA. There were 35 school vehicle occupants killed in 28 crashes involving a fatality from a front-end impact. The numbers are almost halved in single-vehicle, front-end crashes involving school buses by themselves.
It was almost four years ago in Chattanooga when six Woodmore Elementary School students lost their lives and an estimated 30 more were injured in a crash on Talley Road on Nov. 21, 2016.
Bus driver Johnthony Walker, whom authorities said was speeding when he lost control and crashed, was found guilty by jurors in 2018 of 11 counts of reckless aggravated assault, six counts of criminally negligent homicide, six counts of assault, and one count each of reckless driving, reckless endangerment and use of a portable device by a school bus driver.
That crash led to discussion among lawmakers in the Tennessee General Assembly about requiring seat belts on school buses. But despite recommendations from federal authorities suggesting safety benefits of seat belts and the introduction of bills seeking to make them mandatory, the requirement didn't become law.
According to the National Conference of State Legislatures, only eight states - Arkansas, California, Florida, Louisiana, Nevada, New Jersey, New York and Texas - have laws requiring installation of seat belts on school buses.
Asked whether it's time for the state to revisit school bus safety restraint requirements, Gov. Bill Lee said "I think it's a little early to try to figure out. We're still assessing exactly what happened there. There are families there that are so profoundly, tragically affected. We need to give that some time."
But Lee added that "I'm certain that will likely be brought forth in the legislature again and [legislators will] study why and do other places do that? What's the data round up, what are the statistics, what are the reasons for and not for from a safety perspective. But I'm sure we'll all make that analysis moving forward."
Then-Rep. JoAnne Favors, D-Chattanooga, and Sen. Todd Gardenhire, R-Chattanooga, brought legislation to make school bus seat belts and restraints mandatory but it stalled in the face of strong opposition, primarily from rural lawmakers who cited costs to bus drivers who own their vehicles and school systems. The proposal would have cost hundreds of millions of dollars. Lawmakers wound up approving a $3 million grant program for school districts.
In 2018, the National Transportation Safety Board looked at the Woodmore crash as well as another one in Baltimore and voted 3-0 to recommend to the National Highway Traffic Safety Administration that all new school buses be required to be made with seatbelts.
Contact Rosana Hughes at 423-757-6327, rhughes@timesfreepress.com or follow her on Twitter @HughesRosana.
Contact Ben Benton at bbenton@timesfreepress.com or 423-757-6569. Follow him on Twitter @BenBenton.
A Twitter List by TimesFreePress