Hamilton County Mayor Jim Coppinger renewed a countywide mask mandate on Thursday through Oct. 8, backed by members of the local medical and business community.
The mandate, initially put into place in July, was set to expire on Sept. 8, but was extended by 30 days in order to prevent the spread of the coronavirus which has infected over 8,000 and killed 78 in Hamilton County.
"It affords us opportunity when people mask up," Coppinger said after asking the county health department to extend the mandate. "I ask the public to bear with us and remember that this is not going to be for the rest of your life."
"We need your support, it's imperative that we get your support, so that we can get tourism back in here," he added.
Photo Gallery
Hamilton County Mayor calls for extended mask mandate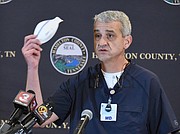 (READ MORE: What you need to know about Hamilton County's mask mandate during the COVID-19 pandemic)
Coppinger - accompanied by several local physicians, business owners and community leaders advocating for the mandate - spoke at a news conference Thursday morning.
The community representatives, members of Coppinger's recently-formed advisory task force, all echoed the importance of masks to stop the spread of the virus and to allow the economy to reopen and to benefit businesses hobbled by earlier shutdowns.
"This virus has been devastating to our industry and many, many businesses in our community. The fact is, many businesses simply will not make it, to no fault of theirs," local hotel owner Mitch Patel said, noting the financial stresses of local businesses and fight to maintain jobs. "This current environment is creating stress for many employees in the service industry, but this mask mandate has also relieved some of that stress, as these employees are also counted on to mandate that customers wear masks."
"This mask mandate is not only saving lives, but saving businesses and livelihoods, and jobs," he added.
Even beyond health and financial implications of the mandate, mask wearing has effected some of the most innate parts of the community.
Hamilton County Schools Superintendent Bryan Johnson said Thursday that the schools progressed to stage three of reopening this week -meaning a full schedule of in-person learning with some sports, but masks and other safety protocols in place- where Johnson expects them to stay for most or all of this school year, thanks in part to the mandate.
With four more weeks of the mandate, infectious disease specialist Dr. Mark Anderson said the county will get to look at another cycle of the slow-rolling impact of the mandate.
(READ MORE: Hamilton County's mask mandate: Is it working to curb coronavirus?)
"It's going to take about 2-4 or 5 weeks to see a change from a change in behavior like that, because people are infected, there's an incubation period that can be as long as 14 daysso there's going to be a lag time," Anderson, a doctor at CHI Memorial said. "And indeed, that's what we saw after several weeks. We began to see the numbers of positive cases go down, and then the numbers of people in the hospital are going to go down even slower than that, because when people get sick with this, it is quite frequently devastating and they're sick for a long, long time."
With that in mind, Coppinger says he will follow similar data and re-evaluate a further renewal of the mandate as the Oct. 8 expiration approaches.
While Anderson noted that seasonality does not appear to have an impact on the virus, meaning there may not be a "cold season" spike, he did say the county may see another surge if individuals and businesses are not mindful of the mandate and other safety precautions.
(READ MORE: Hamilton County sues first business for noncompliance with mask mandate)
"What the virus does do is go up when we're not taking the precautions that I just talked about, in particular, masks," he said, in a long line of experts emphasizing the importance of masks and social distancing. "When people started opening up more, doing more stuff, getting together more and not wearing masks, we saw things just explode across the country, we saw it o up in this community."
"Now that we're doing things with this mask mandate, we're seeing it go down in this community as well, which emphasizes again the absolute importance of these measures," he added.
In order to encourage compliance, the mandate carries a potential $50 fine and 30 days of jail time for anyone cited for violating the ordinance, though the sheriff has not cited anyone related to the mandate since it began. While Coppinger said he has personally seen 100% compliance of the mask order in the businesses he frequents, the county will continue to monitor and enforce the mandate.
(READ MORE: Hamilton County sheriff will lean toward warnings in COVID-19 mask enforcement)
"I don't think I've seen hardly anybody without, and again, that speaks volumes of our community for doing that," Coppinger said, noting that one offending business was recently sued by the county for violating the act repeatedly. "The intent of this is not to be punitive, but there is a mechanism, obviously, and I think it's been reported lately, for people that are just totally resistant to it."
Hamilton County Health Department Administrator Becky Barnes confirmed that the department will re-sign the order, noting that the department and mayor had worked closely on the decision.
For more information about face covering requirements, view the order here.
Contact Sarah Grace Taylor at staylor@timesfreepress.com or 423-757-6416. Follow her on Twitter @_sarahgtaylor.