Perched on the side of a winding country road dotted by single-story homes, the blue letters on the white sign introduce the campus tucked behind the trees: Harvest Deaf Ministries.
For more than a decade, the North Georgia site has served as a refuge - an opportunity for deaf education that aligns with conservative Christian principles, a community of like-minded neighbors. Families across the country, from as far as New York and Oregon, relocated near Ringgold so their children could attend the day school off Old Three Notch Road.
Glossy yearbook photos from years ago show children at the school with faces pressed together in gleeful joy. There are camp photos and ones in the classroom. They hold up craft projects or twist their faces for a goofy shot.
Amelia Milling appears in at least a dozen of the pictures. Yet, looking at the yearbooks now, back to her youthful smile, brings few traces of nostalgia for the 23-year-old.
"It looks so 'happy' when in reality, it was the opposite," Milling, who is deaf, said in an interview conducted by passing a computer keyboard back and forth with a reporter. "Harvest is generally talented at painting this great image of the ministry to the outside people. Only those who are students either at college or academy really know what happened behind the closed doors."
More than a dozen former students and staff spanning decades at Harvest described to the Times Free Press a culture they believe was manipulative and damaging to students, a tone set by leaders at Harvest Baptist Church of the Deaf.
Former students said they were verbally berated by leaders and shamed publicly in front of peers. The strict discipline encouraged by the ministry led to physical abuse from parents, they said. Those who did not comply with the strict rules were shunned, the students said.
Many of the allegations against the school and church fit its belief system, one built on strict discipline with an intense focus on living right in the eyes of God. The forms of discipline are to get the attention of children and turn them to the correct path. The walling off of the outside world is necessary protection from an increasingly secularized society and what is believed to be ongoing attacks on Christian principles.
This year, the ministry's day school closed due to a lack of enrollment but the college is still operating.
The Times Free Press attempted to meet with the ministry and hear about the learning environment from current and former students. Instead, an attorney served as a point of contact.
In a statement from the attorney, David Lockhart, Harvest denied any verbal or physical abuse of students and said the ministry does its best to encourage its students. In response to several allegations, including those involving LGBTQ rights, the ministry said it was following Biblical principles.
In a later statement, Lockhart said questions from the Times Free Press amounted to a "witch hunt" based on "unsupported and false allegations, and subjective opinions on how a Christian ministry should function."
"Harvest Deaf Ministries has done nothing objectionable apart from teaching that the Bible, including Jesus' exhortations to love one another, being second only to Christ's command to love God, is the authoritative Word of God," Lockhart said.
Photo Gallery
Deaf school in North Georgia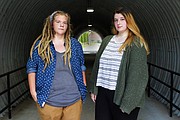 'I thought that was normal'
Milling spent 11 years at Harvest, starting in 2003 when she was in first grade and leaving in 2014 just before her senior year in high school. Both of her parents, along with her sister, are hearing, so her family was concerned about ensuring she got a good education, she said.
Harvest, with its curriculum tailored to deaf students, seemed like a good fit. The school was Christian and was relatively close to the family's home in Hixson, Tennessee.
The ministry's founder, Reggie Rempel, and his wife, Kim, were so nice and inviting, Milling said. Nearly every student contacted by the Times Free Press said the same. The school and church leadership, as well as the teachers, seemed loving and caring, Milling said.
But they later instilled an intense fear of God in students. Former students said teachers constantly hounded students to do right, live right and think right. They wanted to make sure even a person's thoughts were pure, the students said. Not following the rules meant God would punish them, they said.
The students' lives were controlled to the point that it seemed church leaders did not let students think for themselves, Milling said.
A girl and a boy were never allowed to be alone and could not make physical contact. Students who could hear were not allowed to speak and had to only communicate in sign language. Books, music and anything else not approved by the church were labeled "dangerous" and banned.
"They blocked out normalcy as much as possible," Milling said through an interpreter. "Every little detail, they were told what they could do."
The ministry told the Times Free Press that items that were not allowed at school were made explicit in the student handbook, given to students and parents each year.
"It is inaccurate to suggest that all things outside the campus of Harvest Deaf Ministries were banned or deemed sinful, but Harvest readily concedes that there is much in this world that is sinful and harmful to its students and has sought to keep such harm from its students," the organization said in its statement.
Students said the punishment for breaking any rules was swift and often embarrassing. They would be scolded in front of the class or made to publicly confess their wrongdoing. When students were pulled into the principal's office or taken to the pastor, they were castigated in sign language by multiple people. Sometimes the scolding would go on for more than an hour.
Harvest said the ministry encourages students to reach their potential.
"It has never been the practice of Harvest teachers to belittle students but, instead, to encourage them and build them up," Harvest said in its statement.
Mari Reaves, who attended the school between 2007 and 2012, remembers being taken to the principal's office often as a preteen.
"I was told on a daily basis I wasn't pretty. I wasn't cute. I need to stop acting like I am because God doesn't like things like that," the 23-year-old said. "Pretty much anything I did, I was told I would go to hell."
In its statement, Harvest said no incidents of students being told they are not good looking or smart had been reported to leadership. The group follows the Bible, which says all of God's creation is good, the group said.
"The Bible is also clear that pride is destructive, and Harvest has taught its students to be humble and grateful for the abilities that God has given them," the statement said. "Harvest believes that all of its students are beautiful because they are created by God."
Reaves, who is hearing, said the church's emphasis on strict discipline gave one of her close relatives cover to physically abuse her. Church leaders often emphasized Proverbs 23:13, "Withhold not correction from the child: For if thou beatest him with the rod, he shall not die."
"They definitely fueled that fire," Reaves said.
Until recently, students said, they were spanked or paddled until they cried. They said that during a lake day at Chester Frost Park, a school leader choked a student in front of other children for misbehaving.
In another instance, several students, including Milling, said they saw a teacher drag a student across a gravel road to be taken for disciplining.
"If a child was upset or if there was a dispute, their main goal was punishment," Reaves said. "There wasn't any problem-solving. It was just punishment."
The ministry denied these incidents ever happened.
"Harvest Deaf Ministries would never condone the choking of anyone and is unaware of any such incident ever occurring," the ministry said in its statement. "Harvest has never used physical punishment out of anger."
The ministry said its teachings about raising children are "Biblically-based and include, when appropriate, corporal punishment." This type of punishment was used "only infrequently, with parental consent, and as a last resort."
Harvest said it stopped the practice a decade ago.
Reaves is now a student at Kennesaw State University, majoring in education. During an ethics exam in one of her classes, she said she realized the teachers in Ringgold were doing the opposite of what was right.
"At the time, I thought that was normal," Reaves said. "Going through school to be a teacher, I think that shouldn't have happened at all."
'A blessing and help'
Most Independent Baptists believe the Bible is without error, specifically the centuries-old King James Version. All other translations are viewed as corrupted and a gateway to bad theology, said Curtis Freeman, director of Baptist House of Studies at Duke Divinity School. The churches adhere to a very legalistic approach to religion, including strict gender roles.
Most churches are pre-millennial, meaning they believe the rapture and rise of an Antichrist will occur before the second coming of Jesus and the eventual 1,000 years of peace. For many believers, the world is divided into the saved and unsaved, good and evil. They believe they have to weather the storm of an increasingly sinful world and create communities to support one another, Freeman said.
Entering the 20th century, Protestant churches were engaged in a debate between modernism and fundamentalism, or recognition of the Bible as the one source of knowledge. Independent Baptists fought for church autonomy, believing that being part of a denomination would mean conceding some theological ideas, especially liberal ones. Religious scholars said Independent Baptists later even rejected the Southern Baptist Convention for being too liberal.
While their overall numbers are relatively small, Independent Baptists are a key driver of fundamentalism in America, said William Trollinger, a professor of religious studies at the University of Dayton. In a 2014 Pew Research Center survey of American religions, 2.5% of Americans identified as Independent Baptists.
Like many conservative Christian groups, they joined the trend of creating networks of schools to push against the perceived wave of secular, sinful thinking. The schools and communities provided protection as well as freedom to live out a close following of their interpretation of the Bible.
After studying at Tennessee Temple University, Reggie Rempel, who is deaf, and his wife Kim Rempel, who is hearing, spent more than a decade traveling and establishing churches, according to 2019 church testimony from Reggie.
In 1994, the couple founded the Bible college to train young men to be ministers and evangelists to the deaf. The church and day school were created several years later.
Classes at Harvest's day school and Bible college have always been small with a few dozen students total each year. Through hosting a summer camp and advertising at other camps and colleges, the Rempels recruited students from across the country. The Reaves family moved to Ringgold from Oregon. Other students commuted hours to come to the school. Deaf schools in other countries send students to Ringgold for the college.
"Harvest Deaf Ministries has been a blessing and help to a multitude of deaf and hearing people for many years," said David Snyder, president of Baptist International Missions Inc.
The ministry's work is often heralded as an example of Christian outreach and education to people with disabilities. For deaf parents, the school was an opportunity they may have never had themselves.
In many ways, Harvest fits a specific need in the deaf community, said Jon Barr, president of Silent Word Ministries in nearby Trenton, Georgia.
"There are so very few Christian schools for the deaf," Barr said. "In our circles, we're Baptist and Harvest is Baptist, and in these circles, I don't know of another Christian school for the deaf for elementary through high school."
Having a community of deaf individuals and a church designed for the deaf is especially important, too, rather than what typically happens in larger, hearing churches where there is a deaf ministry for a few individuals, Barr said. Places like Harvest train people as ministers who also understand deaf culture, he said.
But four former students told the Times Free Press their concerns about the quality of education they received at Harvest. They had to retake classes or struggled to find jobs after graduating from Harvest because the school is not an accredited institution. Some teachers at the school were not certified and sometimes did not understand the material they were being asked to teach, students said. Private schools in Georgia are not required to be accredited or licensed.
College students living at the school were required to complete hours of "Christian service" each week, which involved landscaping, campus upkeep or working in the school kitchen. The work was unpaid and described as working for God.
Harvest said the service was voluntary and outlined in the student handbook. Most of the students took the opportunity and were grateful for it, the organization said.
When college students broke rules or talked back to leaders, they would be given demerits. Each demerit required they pay the school $5. Multiple students said, for example, touching someone of the opposite sex could mean 25 demerits, or having to pay $125.
Trollinger said Independent Baptist church pastors, who are always men, have a lot of freedom to teach and lead as they see fit. A core idea in the religion is total church autonomy, he said. Without meaningful oversight, this can lead to greater opportunities for wrongdoing.
"In the Independent churches, there isn't necessarily that accountability structure," Trollinger said. "That doesn't mean all Independent Baptist churches are abusive, but it does mean that they are very self-contained and that does matter on some occasions."
Nearly every former student who spoke with the Times Free Press said they believed the church and school were founded with good intent but something warped that.
Potential abuse
The control by Harvest leaders apparently extended beyond the classroom. Students said their parents were asked to sign a waiver allowing church leadership to punish children for things done outside of school. The leaders would visit families late into the evening to intervene on other domestic issues, Reaves and other students said.
People who left the church were described as backsliding into sin. Church leaders would say they were no longer part of the flock, former students said. People's social media pages were monitored for hints of sinful activity, such as enjoying worldly music or being around alcohol.
In 2008, the ministry purchased a 10-acre lot in Rock Spring, Georgia for what would become "The Haven," four miles south of the church. Church families and college students live in the apartments, which are managed by church leadership.
Harvest described students in the LGBTQ community as openly defying God. The church's statement of faith equates "homosexuality, lesbianism, bisexuality, bestiality, incest, fornication, adultery, and pornography" as equal perversions of "God's gift of sex."
For a time, Harvest pushed so-called conversion therapy, a discredited practice sometimes using physical or emotional pain to attempt to change someone's sexuality. Those who came out were ushered out of the community or forced to end relationships, students said in interviews.
Harvest denied forcing students to leave but said it did "insist that students follow its guidelines."
"Harvest Deaf Ministries has the same view on same-sex relationships as has all of Christendom for two millennia. Harvest is not ashamed that it maintains a Biblical view on sexuality," the group said in its statement. " ... Harvest believes and teaches that homosexuality is not God's plan but that God can change a person's desires to match His."
An instance of sexual abuse has been connected to the church or church community, though it did not involve church leaders. In 2012, the son of the vice president of the Bible college molested multiple children at the day school. After serving nearly two years in prison, the abuser lived at The Haven.
Harvest said, in its statement, that the abuse did not occur on church property and that staff turned the offender over to law enforcement. The group acknowledged the sex offender was allowed to live temporarily at the Haven.
None of the students or their parents filed a lawsuit against Harvest. The church's statement of faith bars members from doing so. "We believe that Christians are prohibited from bringing civil lawsuits against other Christians or the church to resolve personal disputes," the statement reads. "We believe the church possesses all the resources necessary to resolve personal disputes between members."
Long-term effects
The constant verbal attacks coupled with how nice the church leaders appeared to the outside world led Reaves and other students to struggle with making friends for years after they left Harvest, they said. When people were genuine or asked a question with a smile, they feared the person had evil intentions, they said.
"I can't tell the difference if someone is being nice or not," Reaves said. "If someone gives me a compliment I'm waiting for that moment where it's not really a compliment because it's an insult."
Some students who attended the school said they developed depression, anxiety and eating disorders after the way they were treated. Students were scared to stand up for themselves, to push back against church and school leaders, because it would only lead to more scolding, they said.
Children at the day school became scared of the surrounding world, students said. Jalen Yocum, who attended the school for a year, said teachers often broke into preaching during a lesson, often talking about the risk of living in sin. Young kids are impressionable and believe what adults tell them, he said.
"The way that they preach is that if you don't stand by Jesus, you're going to hell and [they] emphasize it all the time," he said through an interpreter. "They say it all the time: If you don't do this, you're going to die and go to hell."
Former students said they were taught everything in the outside world was scary and they were hated by the world because they were true believers.
"The way they described the outside world to me, I thought I was going to get killed on my first day of public school," Reaves said. "The way they described the outside world, it was that you were only safe here and if you go into the outside world it was like you're going to get raped or murdered or you're going to get involved in drugs and alcohol and you're going to die."
Some students said they believe this fear and mistrust of anyone other than Harvest leaders allowed more manipulation to occur in the church.
While the day school closed this year, the Bible college continues to operate. This is particularly concerning to Milling. The school trains ministers and church planters.
"What I'm scared about is that with those missionaries, they are being sent all over the world," Milling said through an interpreter. "What if they are actually copying this pastor's behavior and developing new places just like Harvest?"
Contact Wyatt Massey at wmassey@timesfreepress.com or 423-757-6249. Follow him on Twitter @news4mass.